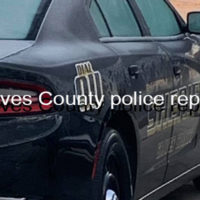 On June 26th 2022 at approximately 5:45 AM, Deputy Tyler Crane was travelling northbound on Interstate 69 near the 24-mile marker when he observed a black pickup truck swerve over the white fog line several times. A traffic stop was conducted and it was determined that Shane Curtis Chatman, 35 of Columbia, TN, was the operator. Chatman was confirmed through dispatch to be driving on a suspended operator's license as a result of a previous DUI conviction. While speaking to deputies, Chatman admitted that he was in possession of "Ice" that could be found inside of the truck. Chatman was detained while a vehicle search was performed and deputies located a box containing approximately 4.5 grams of suspected methamphetamine inside, along with various items of drug paraphernalia.
Chatman was arrested for the following offenses:
-Driving on DUI Suspended License
-Possession of a Controlled Substance 1st Degree, 1st Offense
-Drug Paraphernalia Possession
-Careless Driving
-Failure to Produce Insurance Card
-No Registration Receipt
Deputy Crane was assisted by Deputy Chandler Sirls and Deputy Zac Smith.