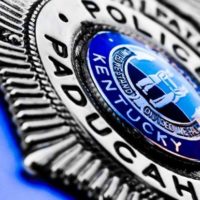 On June 19th at approximately 6:30pm, The vehicle was a 2006 Pontiac Grand Prix operated by 38-year-old Dustin R. Wistafke of Paducah. This vehicle matched the description of a vehicle that was reported stolen out of McCracken County.
Upon the traffic stop being conducted, Wistafke exited the vehicle, and quickly fled on foot through several yards and over several fences. After a brief foot pursuit, Wistafke was taken into custody. Wistafke was found to be in possession of a large quantity of Crystal Methamphetamine, a quantity of Marijuana, Drug Paraphernalia, and money believed to be illegal proceeds from Trafficking Crystal Methamphetamine.
When exiting the vehicle, Wistafke failed to put it in park, to which it then traveled across Cook St. into another vehicle causing minor damage. The vehicle then came to a rest in a ditch. This vehicle was confirmed to be stolen through NCIC and was recovered.
Records indicate that Wistafke has an extensive serious criminal history involving several guilty convictions of Manufacturing Methamphetamine along with Fleeing or Evading law enforcement.
Arrested: Dustin R. Wistafke, 38 of Paducah, KY
Charges:
Operating on a Suspended License
Receiving Stolen Property $1000<10,000
Fleeing or Evading Police 1st Degree (On Foot)
Wanton Endangerment 2nd Degree
Criminal Mischief 3rd Degree
Resisting Arrest
Trafficking Methamphetamine 1st Degree 1st Offense
Possession of Marijuana
Possession of Drug Paraphernalia