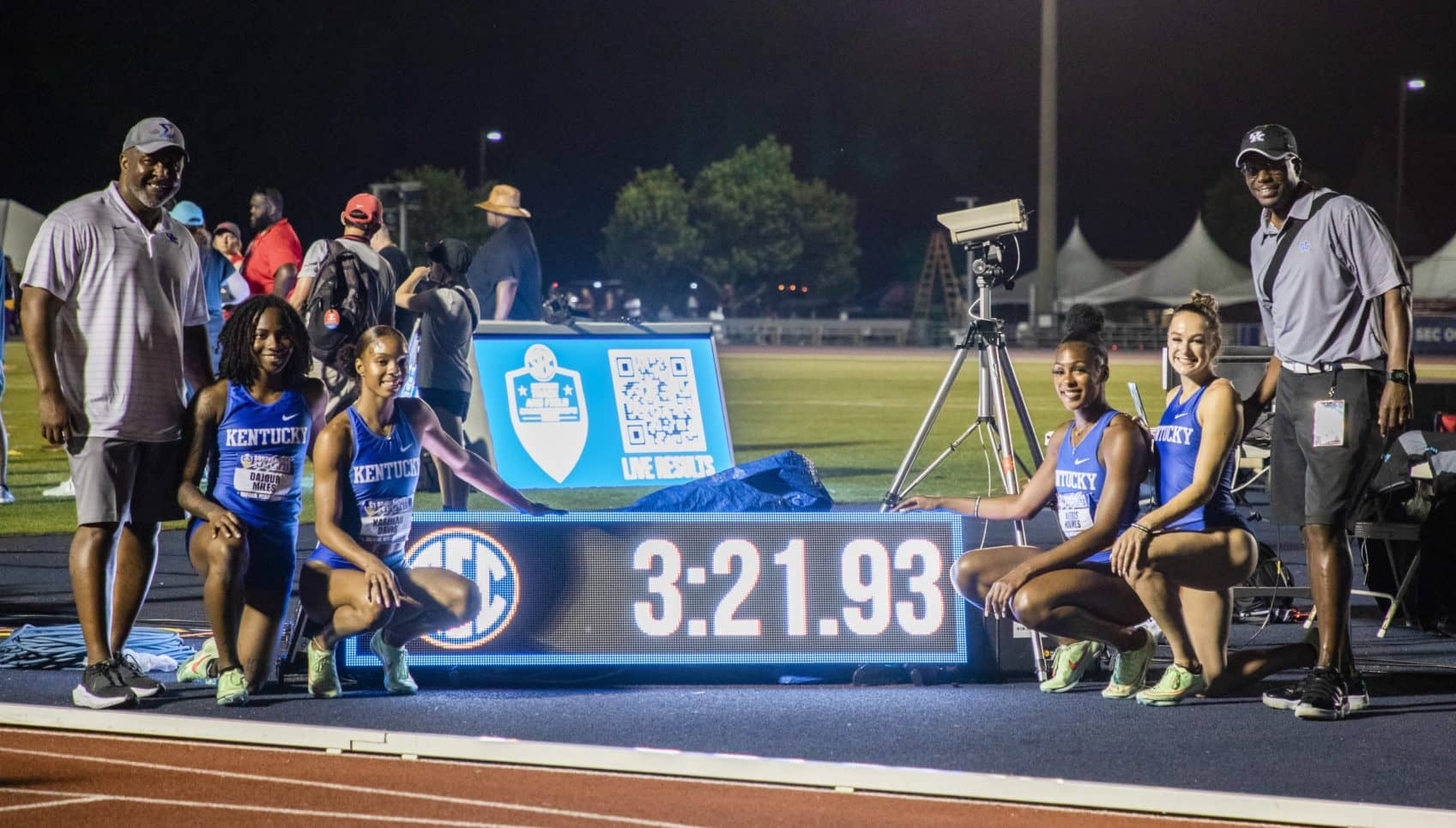 By LARRY VAUGHT
Lonnie Greene thinks his wife has the best description of Kentucky All-American senior sprinter Abby Steiner.
"Superstar. That is my wife's words," said Greene, UK's head track coach. "Abby understands the gift God has blessed her with. He has honored all her diligence. Even in times when she wasn't at 100 percent she was still in my mind head over heels better than any athlete in the country."
Steiner has been a superstar. She has won the 200-meter dash at the Southeastern Conference Indoor Championship three straight years and ran the second fastest 200 in world history (22.09 seconds) at this year's SEC indoor meet. She ran the third fastest outdoor (22.05 seconds) in collegiate history in late April and ran the second fastest 100-meter dash in the world earlier this season.
She was second in both the 200 and the 100 at the SEC Outdoor Championship last weekend. She ran the 200 in 22.07 and 100 in 11.02 but barely lost each race to LSU's Favour Ofili. However, Steiner did combine with teammates Karimah Davis, Dajour Miles and Alexis Holmes to finish the 4×400 relay in 3:21.93, the fastest time in collegiate history.
"I told these ladies before this relay that I was gonna run my heart out for them," Steiner, who ran a 48.772 third leg to put the UK in front, said. "We really wanted this win. Collegiate record is just a bonus on top of that."
Greene made it clear before the SEC meet that the ultimate goal for Steiner was winning the national championship next month.
"She does not back down. She will give you whatever is in the tank and that's all a coach can ask," Greene said. "She represents the (Kentucky) brand well on and off the track. She is an excellent student (3.845 grade point average).
"The sky's the limit for where she is getting ready to go. At the end of the day if done well, if done right, her name is going to be up in lights. I might be at the World Championships crying like a big sissy when she medals."
Greene says there's no reason for him not to think she will be successful at the World Championships.
"Why not believe she is the best in the world?" Green said.
Steiner smiles when she hears Green's praise and isn't worried about his words motivating competitors even more to beat her and says there is no pressure on her.
"I just have a lot of people supporting me, believing in me and I'm excited to do the best that I can and just have fun," she said.
Steiner won four straight Ohio high school outdoor titles in the 200 and state titles in the 100 her final three years. She tore her right ACL at a soccer camp before her high school junior season and then had a left Achilles tendon injury last spring derail her outdoor season.
Greene said the best decision last year was to shut Steiner down after she felt discomfort early in the outdoor season. She tried to compete at the  NCAA outdoor meet but it was obvious she was not healthy.
"We wanted to live to see another day," Greene said. "(Assistant) Coach (Tim) Hall shut her down and she was hotter (mad) than fish grease. Now she is the American record holder. I am biased. I am a Steiner fan. I believe she can break world records.
"That's no pressure on the baby girl. That's just me. When she wins, I am her biggest fan."
Greene says his current star sprinter was not easy to "pull the reins back" on when she was injured. He knows she has a "gift" only special athletes have and they want to compete.
"We had to shut her down. She had the type of challenge (injury) that needed rest and that's exactly what we did. We did all in our power to get medical attention but she needed rest. We had to do what was best for  her," the UK coach said.
"Some can run, some have got talent and some have a gift. God gives certain people a blessing. She has the gift and works the gift. A lot of people want success but don't put the work in. She works the gift and God honors that."
Steiner is also gifted academically. She recently graduated with a Bachelor's degree in human health sciences/kinesiology. Steiner was recently named the Southeastern Conference Women's Outdoor Track & Field Scholar-Athlete of the Year by a vote of the league head coaches. Steiner also won the award for the indoor track & field season.
---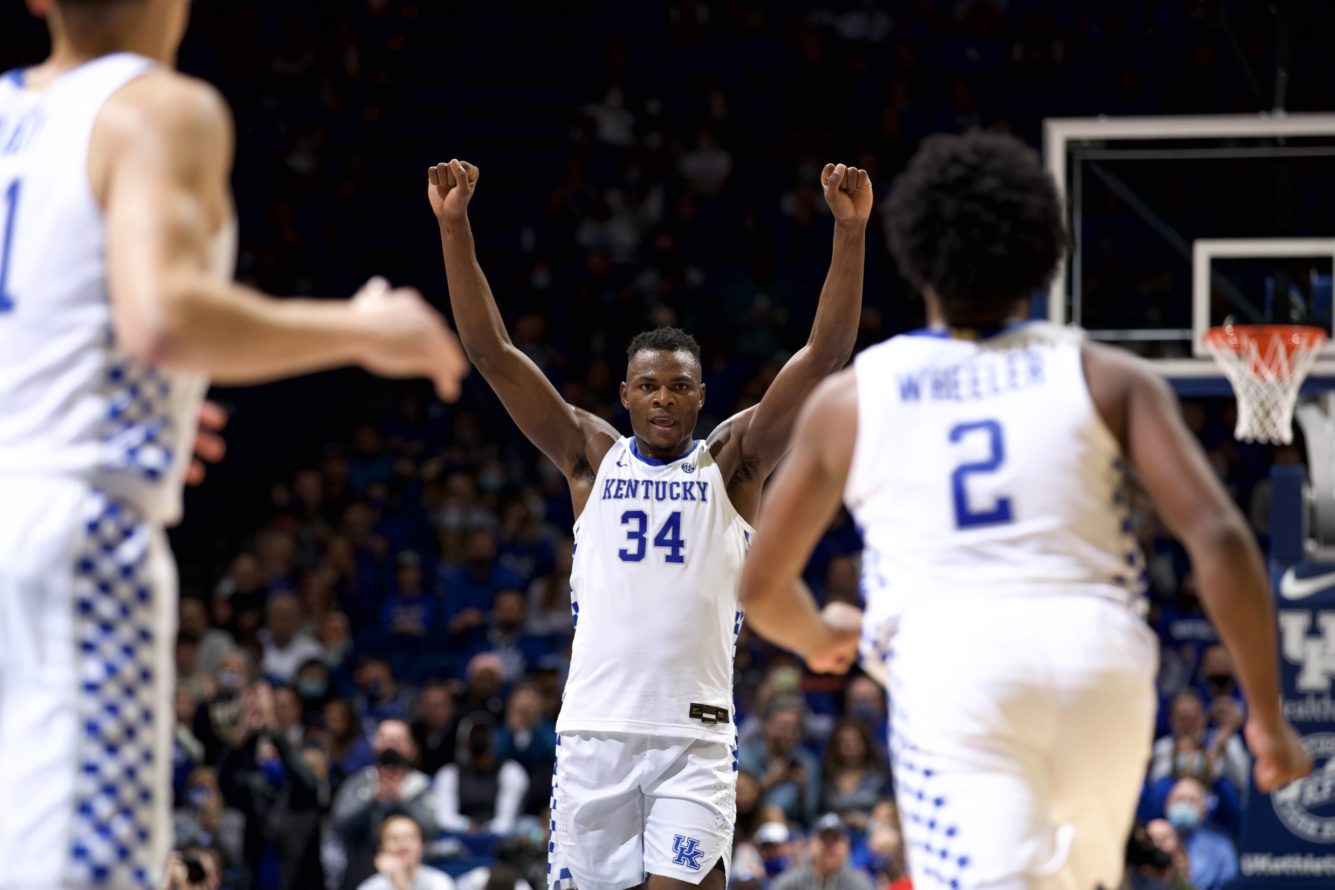 National basketball writer and Fox Sports Radio national host Aaron Torres likes the way that Kentucky's basketball roster has come together.
"As I've said on my show quite a bit , when you have Oscar Tshiebwe, you have a chance. Against anyone, on any night. For all the Shaedon Sharpe hubbub, I still believe getting Oscar back was the single most important piece," Torres said.
"Beyond that, I like how all the other pieces fit around him. Sahvir Wheeler is a polarizing guy, but at his best, he was the point guard of arguably the best team in college hoops, and I think CJ Fredrick, Antonio Reeves and Cason Wallace are nice pieces to put around him. I think a front court of Tshiebwe with Daimion Collins, Jacob Toppin and Chris Livingston is solid as well. Obviously Lance Ware provides depth.
"Obviously there will be no replacing Shaedon Sharpe, and my hunch is, Calipari is probably looking for one more backcourt piece. With the injury histories of Wheeler and Fredrick, this seems like the right move."
Tshiebwe didn't put his name into the NBA Draft because NBA personnel evaluations told him he needed to improve his shooting range and defensive footwork. But can Kentucky be better taking Tshiebwe, the nation's leading rebounder, away from the basket?
"Short answer, no. Do I want Oscar to develop into the best player he can be, because he's an amazing kid and it's impossible not to root for him? Sure. And do I understand that some spacing issues get solved if he isn't in the paint as much?" Torres said.
"But you can't tell me that pulling one of the best rebounders in the history of college basketball away from the basket is good for the team overall."
---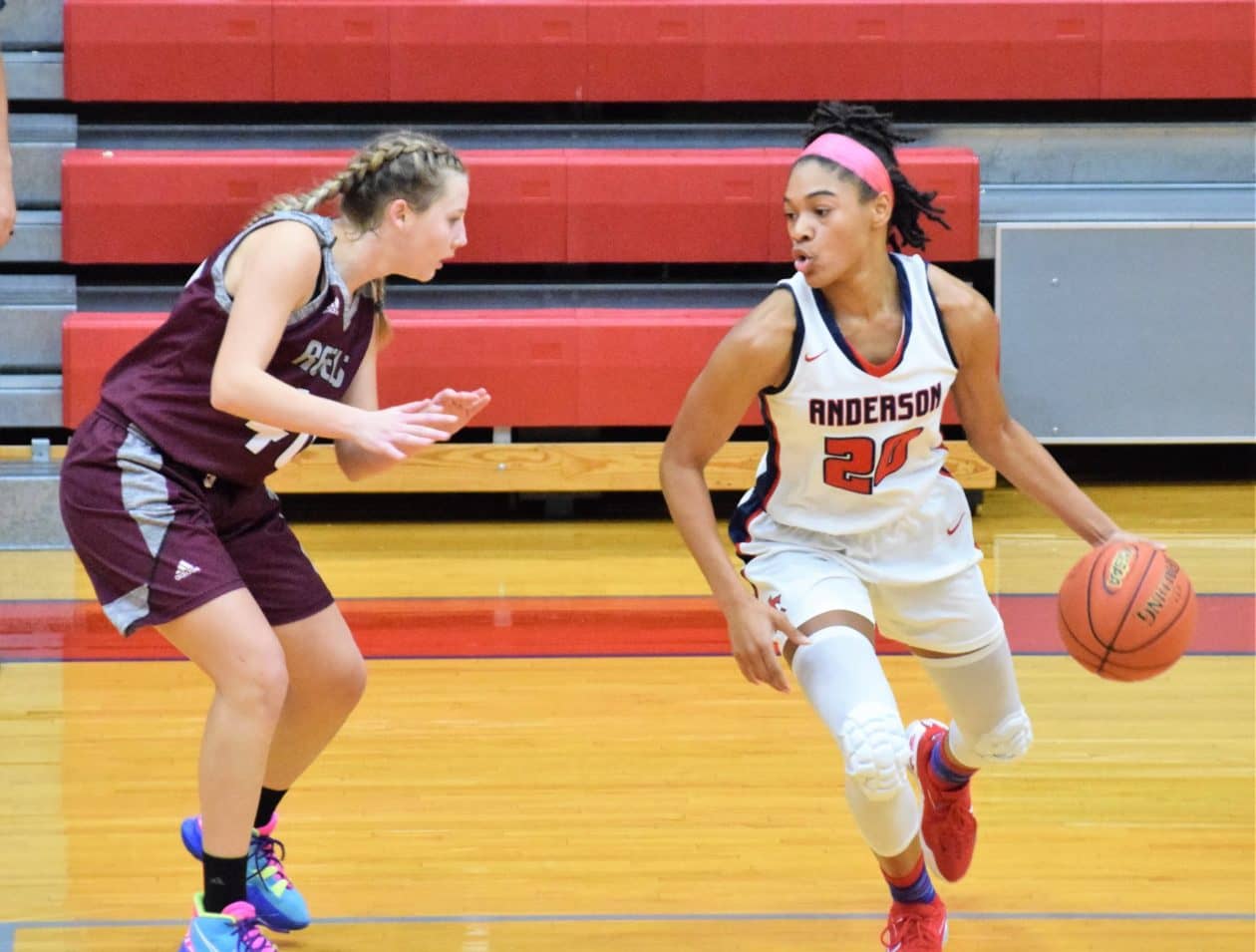 Kentucky Miss Basketball Amiya Jenkins of Anderson County will lead the Kentucky all-stars in the two-game series against a loaded Indiana in June and Kentucky all-star coach Judie Mason is thrilled with all the things the UK signee can do.
"Jenkins just does things that you cannot teach. She is fun to watch," Mason said after seeing her again at the all-star tryouts. "She is a good kid and very, very humble and personable. At the tryouts she tried to make others look better because she knew she had a spot on the team already.
"I love her competitiveness. When the going gets tough, she wants the ball. I saw the Kentucky-Ohio game and Kentucky was getting beat when she hit three 3's in a row and also took it to the bucket. That's a drive to win you cannot teach."
Mason anticipates her playing either shooting guard or small forward against Indiana, which has seven future Division I players.
"Her outside shot is a lot better than people think. She can really jump. She is long and is a great defensive player," Mason said. "She is a team player first and will put the team on her back if that is what it takes. If the game is on the line, just give her the ball and she will usually deliver in a big way."
---
Former Kentucky guard Tyrese Maxey has grown into a star during his first two seasons with the Philadelphia 76ers and is a player that current high school standouts notice.
Texas basketball prospect Tre Johnson, one of the top scorers and overall players in the 2024 recruiting class, admitted to Pro Insight in a recent interview that Kentucky is his "dream school" because of Maxey, who is also from Texas.
The 6-6 shooting guard is ranked third in the 2024 class by the 247Sports composite rankings after averaging 23.7 points and 5.7 rebounds per game as a sophomore.
He has scholarship offers from Kansas, Texas Christian and Jackson State but has been hearing a lot from Kentucky, Arkansas, North Carolina and Duke.
"When I was in middle school, my dream was Kentucky because that's where Tyrese Maxey went to college," Johnson told Pro Insight. "I like Tyrese as a player because I grew up watching him a lot when I was younger and when he went to Kentucky, they became my dream school."
Johnson said he models his game after NBA stars Jayson Tatum and Kevin Durant.
"My greatest strengths in my game are my shooting and just my shotmaking," Johnson told Pro Insight. "I also have a great IQ and great passing ability. My on-ball defense is also becoming better, so I'm pushing to become more of a two-way guard."
---
Former Kentucky all-SEC defensive back Van Hiles offers analysis on social media as well as his podcast with former UK all-SEC running back Anthony White. It's often from a more technical standpoint than others might but he never sugar coats what he thinks.
He believes the SEC Eastern Division is a three-team race this season between Georgia, Kentucky and Tennessee.
"Florida has fallen off. They have lost a lot of talent. They just are not at the talent level they are used to being at," Hiles said on WLAP Sunday Morning Sports Talk. "But I think they will be batting Missouri for fourth and fifth in the East. I think one, two and three are just above them."
Georgia is the defending national champion and just had 15 players picked in the NFL draft, including the No. 1 overall pick. However, Hiles does not think Georgia is unbeatable this year.
"I don't trust Georgia offensively and they lost a lot on defense," Hiles said. "They will reload but it is hard to replace that much talent immediately even for a team like Georgia."
---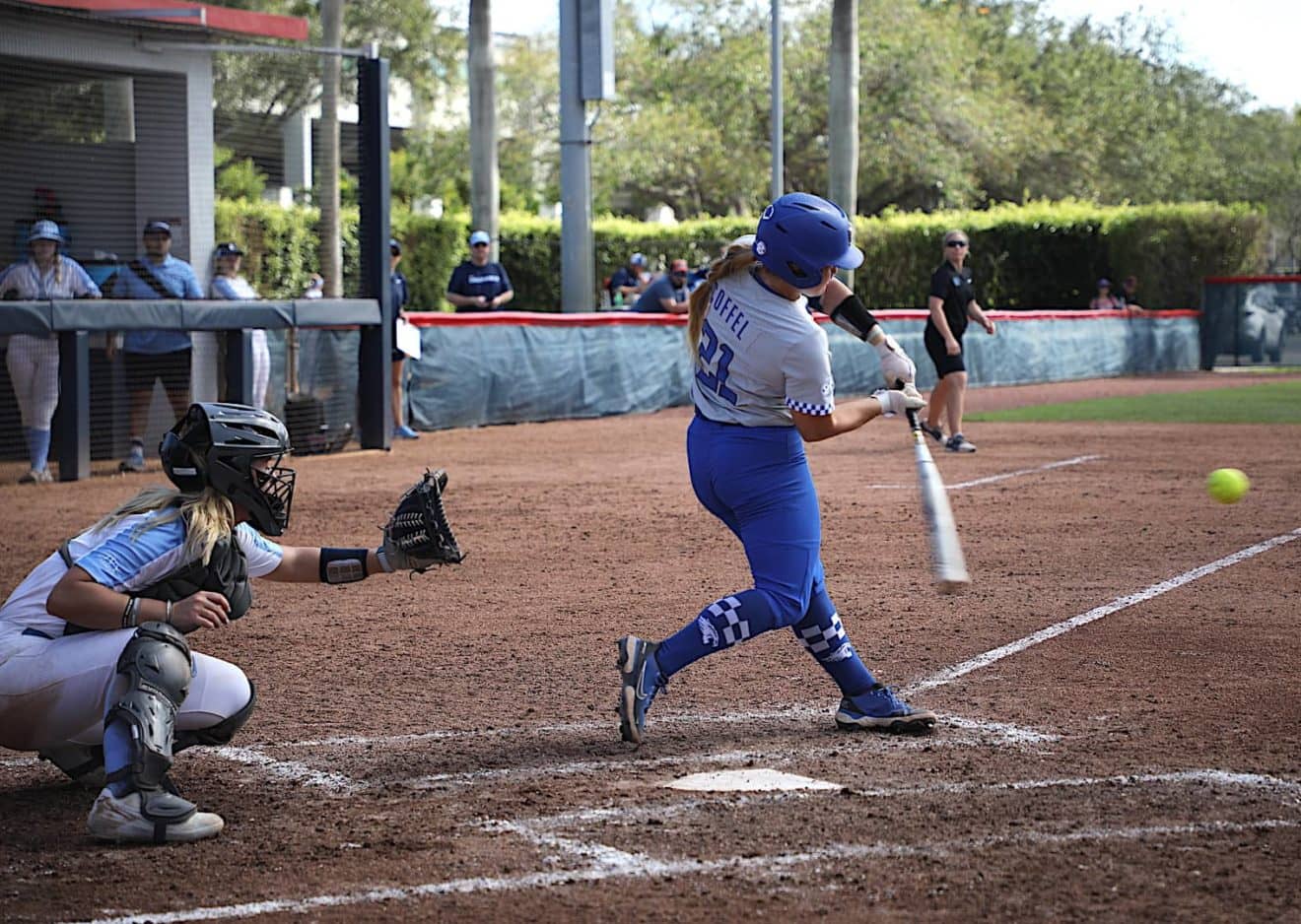 Sophomore shortstop Erin Coffel is Kentucky's leader in home runs and batting average going into NCAA Tournament play this week and coach Rachel Lawson thinks she should be mentioned with the best players in the SEC.
"She is an outstanding athlete and is very strong," Lawson said. "Nobody practices harder in the (batting) cage and field. She puts her heart and soul into everything.
"Erin has put up numbers to be in consideration for SEC Player of the Year as a sophomore and is going against players three years older than her."
The league's coaches named Coffel to the all-SEC first team after hitting .412 with 17 home runs (27 total extra base hits) and 58 RBI's. She struck out only 16 times in 158 at-bats.
Coffel was good as a freshman but Lawson said she made a "big jump" this season in her overall play.
"She has continued to learn the game and study the game," Lawson said.
Lawson said playing shortstop in the SEC is as much mental as physical.
"There is a lot happening that the average person does not see," the UK coach said. "She has done a good job being a student of the game and figuring stuff out. Because of that, she has been able to elevate her play."
---
Quote of the Week: "A strong-framed combo forward who is physically ready for the college level, playing the type of hard-nosed, aggressive style on both ends of the floor that John Calipari likes from his forwards. Very effective attacking in a straight line, pushing the ball in the open court, and using his strength around the rim," ESPN draft analyst Jonathan Givony on UK freshman basketball player Chris Livingston.
Quote of the Week 2:  "I idolized the guy growing up. I think one of my personal goals is for him to still be in the league when I get there eventually. And to kick his ass when I get there. He's the best and I can't wait to meet him. He's definitely someone who I will just be locked on anything he says, taking notes. That's a conversation that's so valuable to anybody," UK quarterback Will Levis on NFL star quarterback Tom Brady on Harvester Sports.
Quote of the Week 3: "To me, playing quarterback at the highest level requires toughness, football intellect, processing ability and the physical ability to pull it off. The ability to be an athlete and that toughness and smarts are always what I am looking to work with," UK offensive coordinator Rich Scangarello on his ideal quarterback.