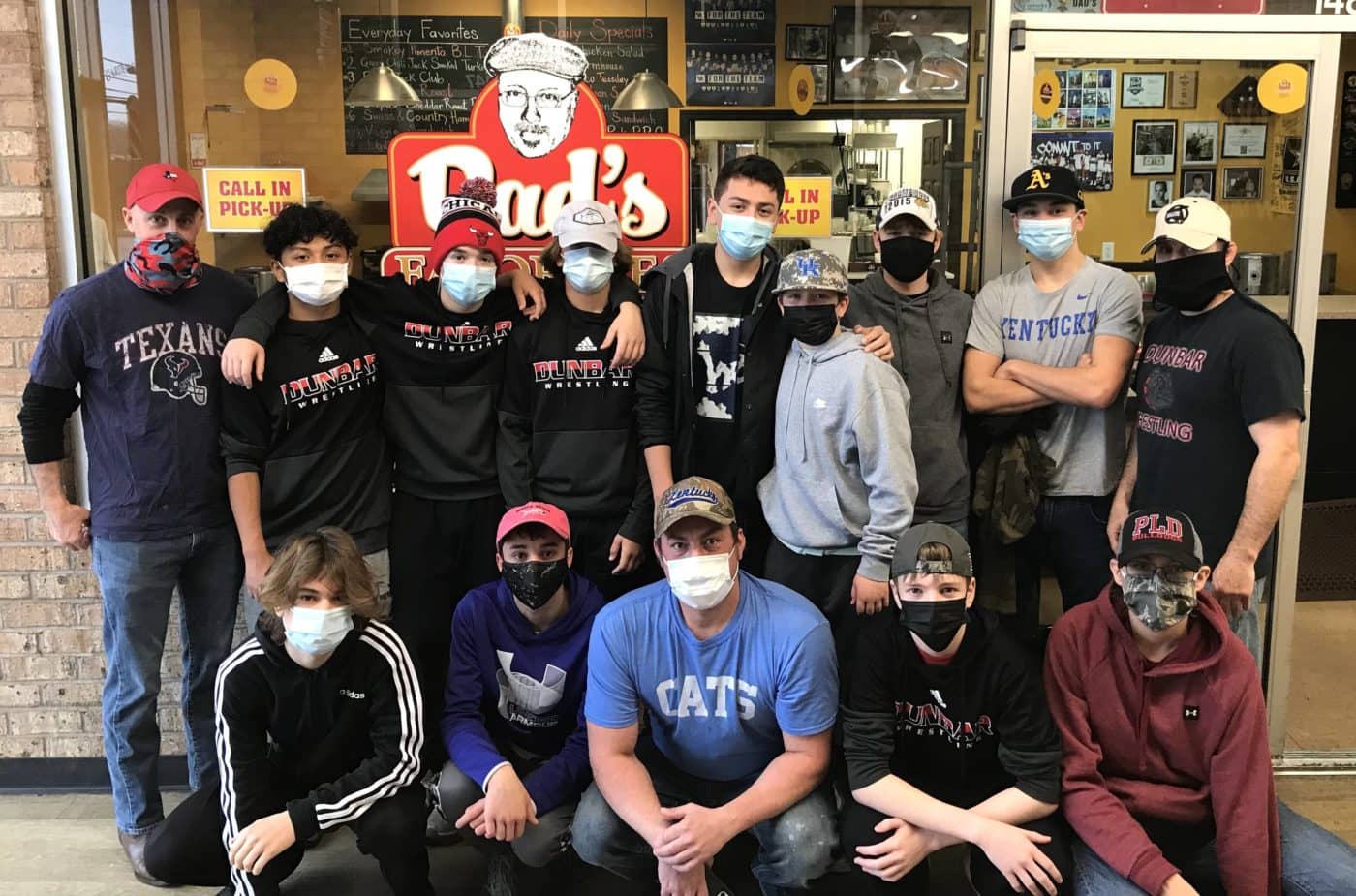 By LARRY VAUGHT
Remember how Kentucky coach John Calipari is always talking about servant leadership and how important he believes that is to instill in his basketball players at UK. The players annually are involved in various service projects because of Calipari and often that service/philanthropy continues after they have left college.
Former UK All-American Karl-Anthony Towns, the top pick in the 2015 NBA Draft and NBA Rookie of the Year, certainly demonstrated a desire to help others with what he did for the Paul Laurence Dunbar High School wrestling team this season.
Public schools in Lexington are responsible for raising funds for uniforms, tournament fees and other expenses. For some teams, that can be a financial challenge and has been for the Dunbar wrestling team. Dunbar had been wearing the same singlets for wrestling events for at least eight years when Towns found out about the situation and reached out saying he wanted to help.
Help? He offered to pay for new singlets (home and away), sweatshirts, T-shirts and shorts.
"I found about the team's needs through Twitter actually," said Towns. "Dan Burch (who had a son on the team) reached out and let me know that the team needed new uniforms because they have been wearing old uniforms, and I immediately knew I wanted to help in any way I could."
It was easy for Towns, who won the 3-point competition at the recent NBA All-Star Game, to want to help.
"When I was young, I received most of my clothes as hand-me-downs from my church," Towns, a NBA All-Star, said. "I knew what it was like to not have the newest uniforms or shoes. Being able to give back to young athletes and helping them feel more confident is an honor for me."
Towns did not seek any attention for his gesture. He signed a five-year, $158 million contract with Minnesota and was happy he could financially help youngsters.
Duncan Taylor, president of Taylor Made Farm, also assisted by paying the team's tournament fees for the entire 2021-22 season.
The wrestlers decided to thank Towns and Taylor by giving back with the help of Jason Caudill of Dad's Favorite Deli. They made sandwiches/soups for the Hope Center, a homeless shelter in Lexington. The wrestlers did it in honor of Jackie Towns, Karl's mother who passed away at age 59 from COVID in 2020, and plan to do it every year.
"I was so moved by the team's gesture to give back in honor of my mother. My mom was such a giving woman who always went the extra mile to help those in need, so this was such a kind thing for the team to do," Towns said.
Towns doesn't like to draw attention to himself for what he does to help others.
"It's really important to give back in many different ways," Towns said. "Sometimes people know about it, sometimes they don't but I continue to reach out to communities in need on different levels. I am lucky to have the platform I do as an NBA player to be able to connect with those in need all year long."
One wrestler, Jaris Bloom-Doyle, qualified for the state tourney and finished in the top 10 wearing his new gear donated by Towns last weekend.
---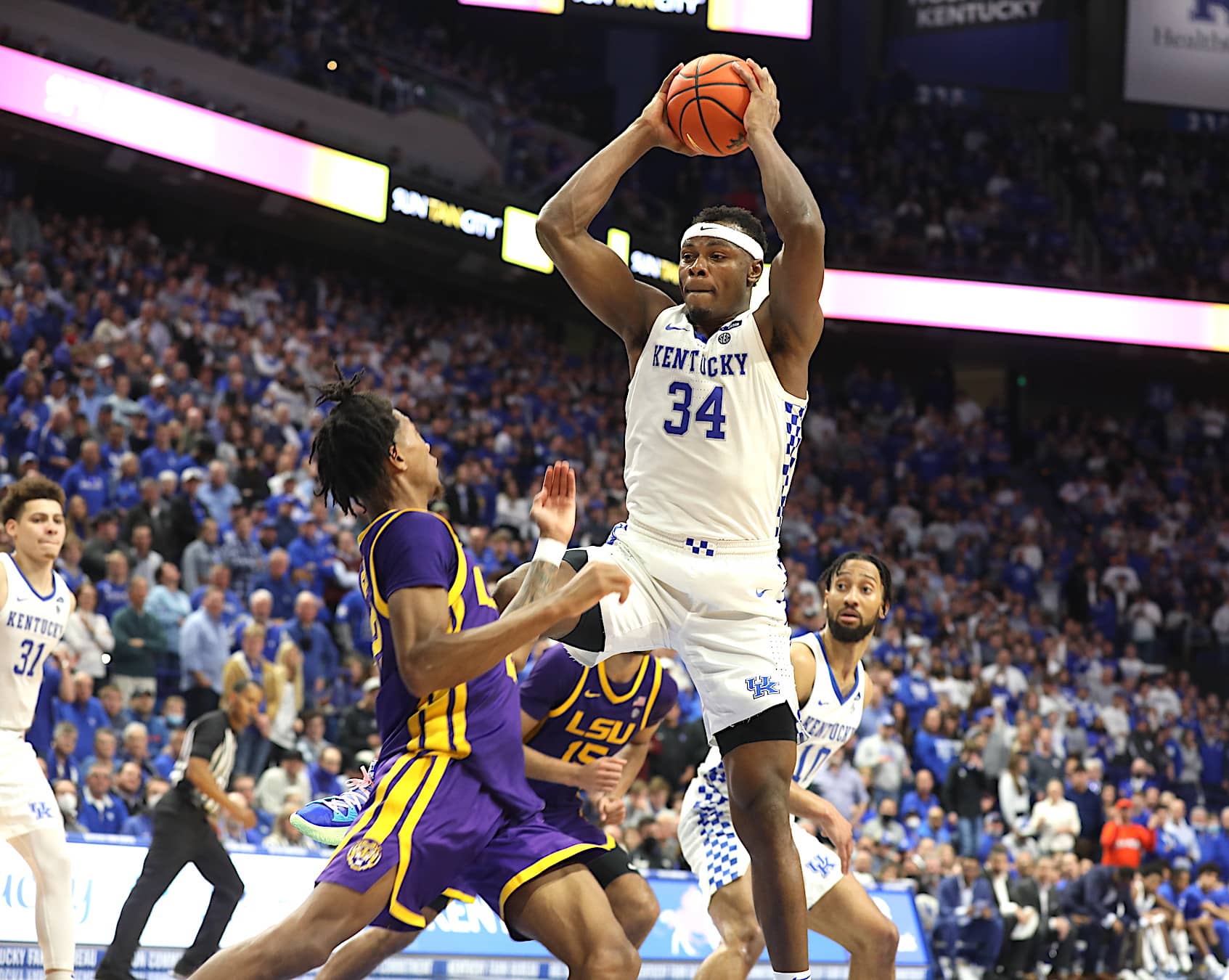 Only seven UK players have ever had 400 or more rebounds in a single season and Oscar Tshiebwe is one of them. After pulling off 18 rebounds against Arkansas, he has 445 this season — fourth best on the list and now ahead of Frank Ramsey (434), Julius Randle (417) and Anthony Davis (415).
If all goes as expected, he should pass Bob Burrow (459) during UK's two games this week.
Tshiebwe should become only the third UK player ever to reach 500 rebounds if the Cats perform as expected in postseason play. Bill Spivey (567) and Cliff Hagan (528) are one-two on UK's all-time single-season rebounding list.
Davis needed 40 games to get his 415 rebounds. Randle needed 40 to reach 417. Tshiebwe has now played in 29 games.
Going into this week he has 11 straight double-doubles, one short of the school record 12 in a row set by Dan Issel during the 1969-70 season. He has also scored in double figures 11 straight games and 16 straight games with 10 or more rebounds.
"He's always in the gym," Kentucky point guard Sahvir Wheeler said. "He's always looking to get better and takes constructive criticism, even when the coaches are a little harder on him.
"He always does it with a smile on his face. For us to see him perform the way he does, you've got to want him to be player of the year."
What makes this even better is that Tshiebwe is having so much fun with his teammates.
"We bring joy and happiness with how we love each other," he said. "We care a lot about each other. We are not selfish. We share the ball.
"I just love being part of this team. I am motivated that everybody plays so hard. For us it is not about individuals but it is about the team. We got to play as a team to accomplish what we are looking to do."
Tshiebwe is averaging 5.3 offensive rebounds per game and Arkansas coach Eric Musselman said he showcases his "incredible energy" in the open court.
"When he runs in transition offense, it's like he's in a track meet. He's probably the best rim-runner that I've seen in college basketball," Musselman said.  "He's incredibly explosive as an offensive rebounder.
You're going to have to hold your ground, too. You're going to need to have a wide base when you box out. If you're not a physical block-out player, and you skinny block out, you're going to get pushed underneath the rim, and he's going to grab the ball and dunk it."
---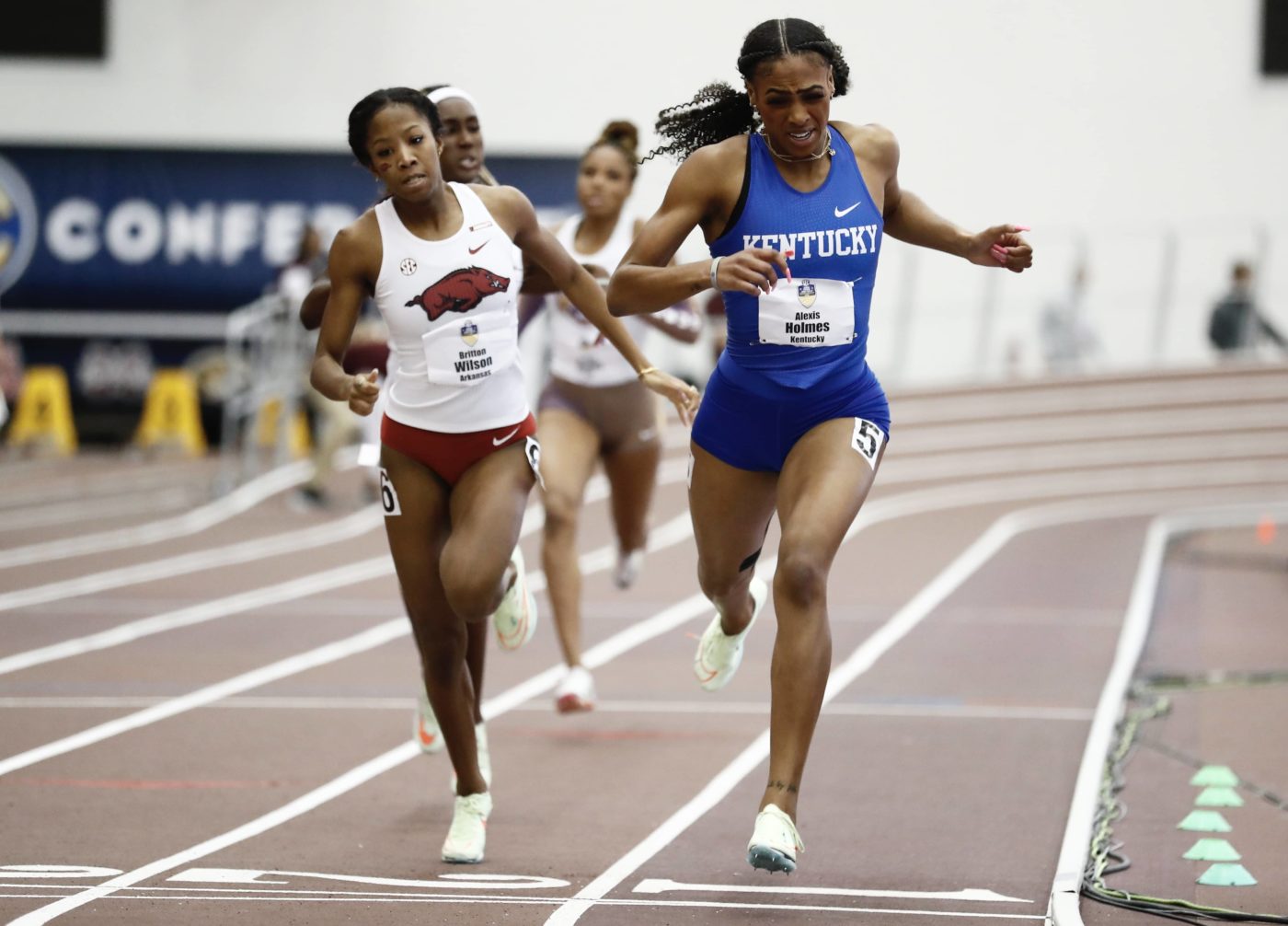 Kentucky's track team has produced some outstanding performers in recent years and now will have its own on-campus facility soon as part of a major upgrade plan.
The new track facility will be built on the site where Cliff Hagan Stadium, formerly the school's baseball field, is and will have a hydraulic track that enables the raising and lowering of the surface. That will make UK eligible to again host the indoor SEC championships — only three other SEC schools (Arkansas, South Carolina and Texas A&M) have indoor facilities with hydraulic tracks.
"I mean that's real commitment. For us to have a standalone facility that is just dedicated to track and field. In terms of what it would do for us, you bring up the number one kid in the country and say, 'This is where you will train, this is where you will compete and this is dedicated specifically to you,'" said UK head coach Lonnie Greene.
"The likelihood or the chances of us actually landing that young man or young woman is very high. So for me as the director of track and field at the University of Kentucky, man, I'm a kid in the candy store. I'm excited."
Senior Alexis Holmes, a standout sprinter, agrees about the facility upgrading recruiting because of what it does training-wise for athletes.
"I think it's going to be really big for training every day as far as pounding on your body, just having a really nice track and facility. I'm super excited for coach Greene and for the program," Holmes said.
Holmes won her second gold medal in the 400-meter dash at the SEC Indoor Championship last weekend at Texas A&M. She ran a personal best 50.77 seconds, the best time in the NCAA this year and second best time ever at UK.
She also combined with Megan Moss, Karimah Davis and Abby Steiner in the 800 relay to take third in 3:25.89, a new school record by nearly two seconds, to finish third. Arkansas, first, and Texas A&M, second, along with Kentucky all had faster times than the previous collegiate record.
---
Offensive lineman Tashawn Manning, 23, played four seasons at Auburn before transferring to Kentucky and could provide needed depth for Kentucky this season. He says veterans Kenneth Horsey and Eli Cox have been a huge help with the transition from Auburn since he arrived on campus in January.
"I think it is awesome that the offensive line is a big deal here. I love getting the O-line attention. I feel like the big boys need their love to make them play better. I am here for it," Manning said. "With the offensive line, you need to have that chemistry and trust with everybody so you can play fast and hard."
Manning says he has been watching and studying film to get ready for spring practice and bonding with other linemen all he can.
"Right now I am just trying to feel everything out but eventually I feel like I will emerge as a leader," Manning said. "This is my last year (of college) and I am coming to give everything I have got."
He's also excited to have the opportunity to block for running back Chris Rodriguez and quarterback Will Levis, a proven runner also.
"You have a back as good as him (Rodriguez) behind you, then there are so many possibilities," Manning said. "And with Will, it's different from having a quarterback that just stands in the pocket. If they are going to fight for yards, I am going to fight for them."
---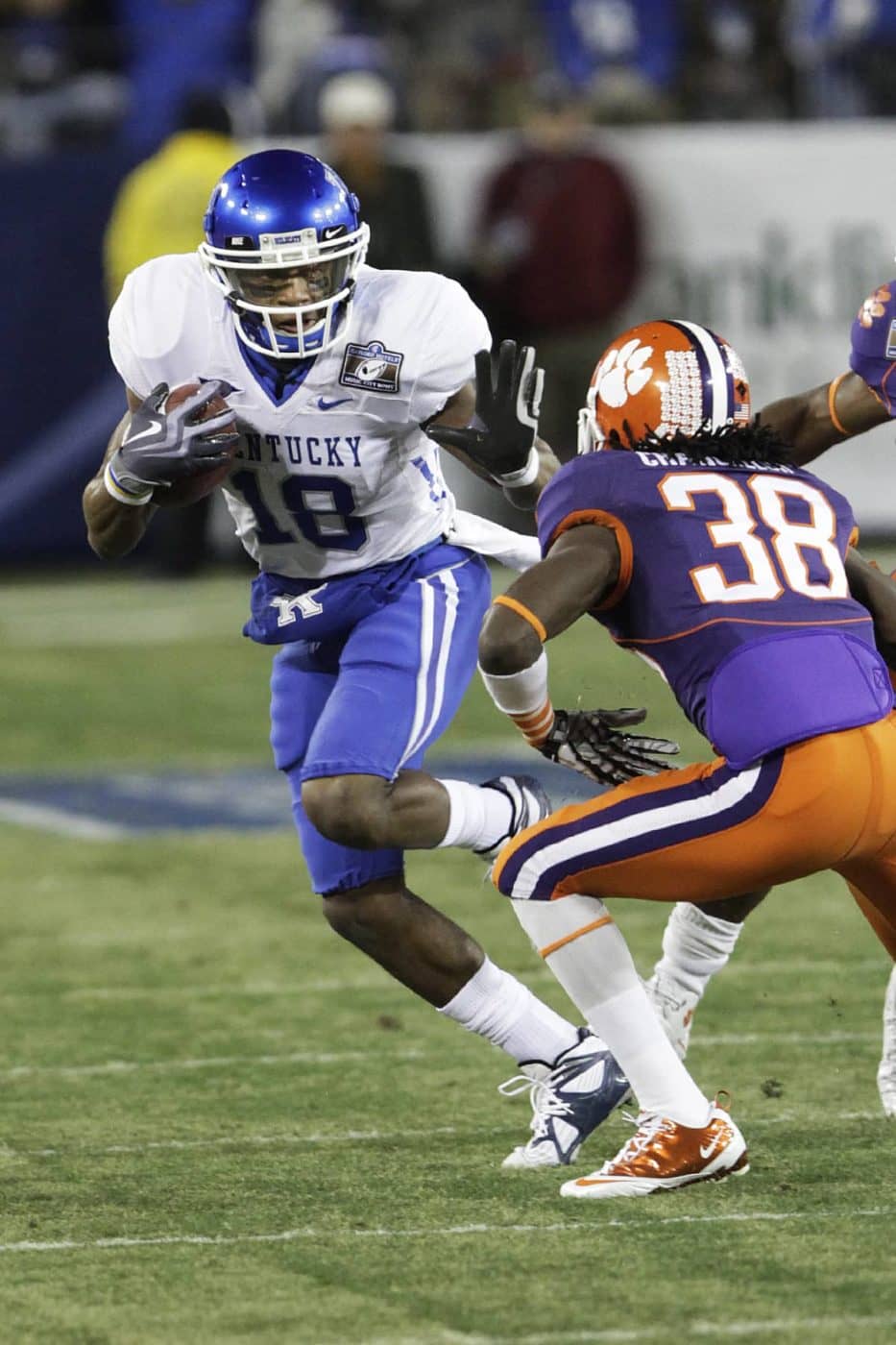 Former UK standout Randall Cobb will be inducted into the Kentucky Pro Football Hall of Fame June 23. He has been an NFL receiver now for 11 years and is signed for one more season in Green Bay.
Cobb has always said his goal was to play 12 years in the NFL. He has two young sons and has made it clear he would like to spend more time with them but a big 2022 season could alter his plans.
The former UK star had just 28 receptions last season, his fewest since 2011, but five went for touchdowns, his most TD catches since 2015.
He has been friends with Green Bay quarterback Aaron Rodgers a long time and if Rodgers is back with the Packers, the odds of Green Bay keeping him on the roster increase.
Cobb was with the Packers until 2019 when he played for Dallas and he played for Houston in 2020 before rejoining the Packers in 2021.
"Sometimes you take things for granted and you're reminded, and sometimes it's too late," Cobb said during a conference call about his Hall of Fame induction. "I thought that ship had sailed (with the Packers) and I would never have the opportunity to put the green and gold on again.
"Being able to be back there this past year, it was a reminder for me of what makes that place so special. I'm thankful to be there."
---
Quote of the Week: "This team is a joy to watch because they really love the game and love playing with each other. This is the common denominator of championship teams. This is what all champions say. The difficulty with coaching is getting the players to buy into this," former UK player Reggie Hanson on this year's UK team.
Quote of the Week 2: "Just remember when people say NIL hurts the locker room that the best player in America couldn't make money most of the year and he never complained once and no one is happier than his teammates. Bad culture and bad coaches kill the locker room, not kids with some money," Kentucky Director of Player Development TJ Beisner on Twitter after Oscar Tshiebwe was cleared to receive NIL offers.
Quote of the Week 3: "The first time I met him there was just something about him that I liked him immediately. We have bonded over the years. When they played here he came into the stands and hugged my wife, daughter and son in-law," former LSU coach Dale Brown on UK coach John Calipari.