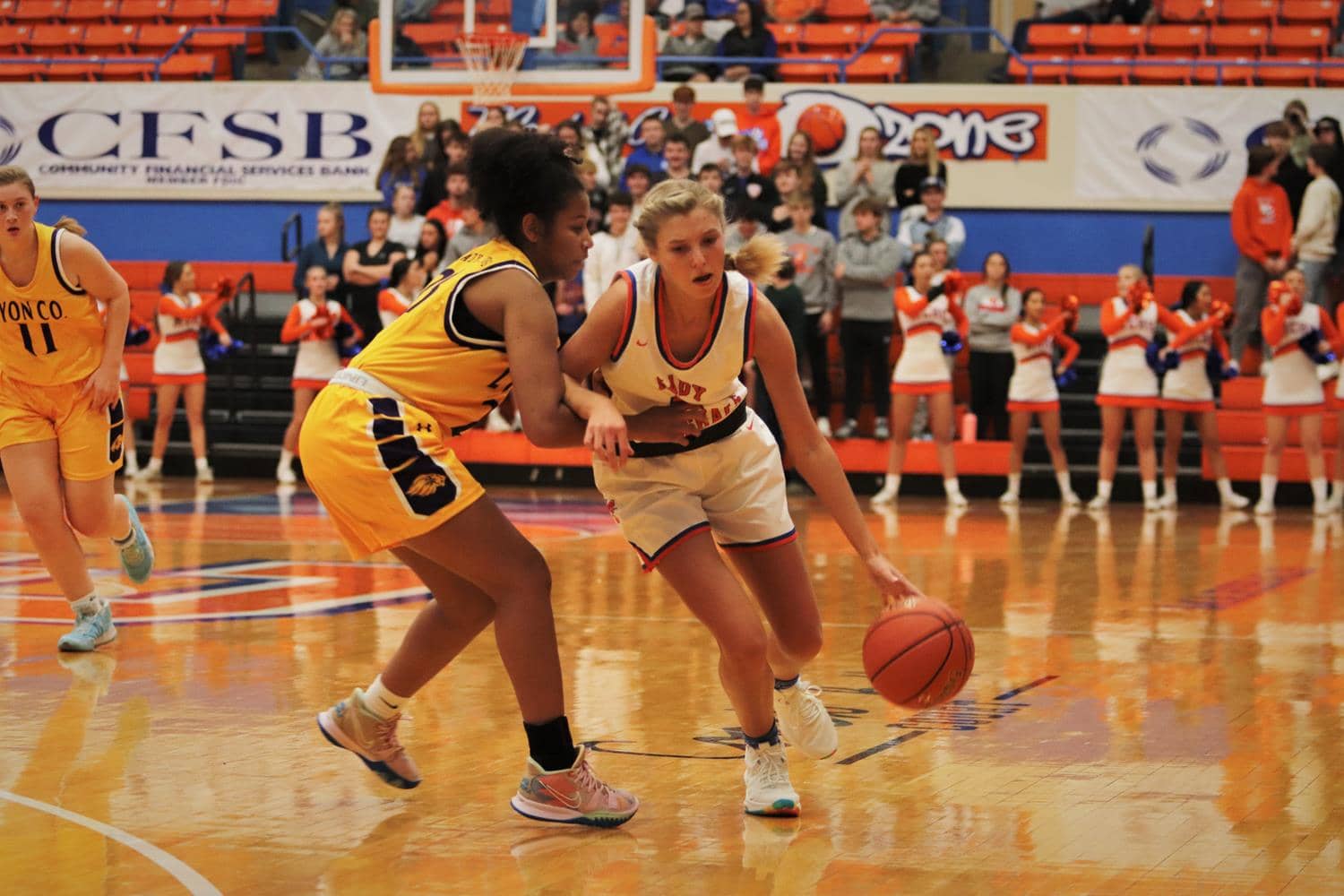 Marshall County's Hoopfest began Thursday with three games kicking off the 25th edition of the event at Reed Conder Gymnasium. Christian Academy-Louisville beat Graves County 76-64 in the first game followed by the Graves County girls 64-38 win over Massac County, Ill. The Lady Marshals took the floor in the final game of the evening against Region 2's Lyon County.
Third year head coach Aaron Beth has a different look to the players taking the floor after losing six seniors from last season's state runner-up team with the exception of seniors Halle Langhi and Jada Driver. Also returning with experience from last year's squad, senior Neely Northcott and juniors Mia Teague and Georgia Hall.
Sophomore Chevelle Henson, not even a bench player on last year's varsity team, led the Lady Marshals in their 58-25 win with 17 points which earned her Player of the Game honors. Langhi scored 14 points along with a team-leading seven rebounds. Driver had 12 points, all coming from beyond the 3-point arc.
The Lady Marshals amassed an early 18-0 lead behind eight points from Henson before the Lady Lyons got on the board with a free throw from Gracen Wynn. Driver hit a buzzer-beater three, just steps inside the half court line, for a 24-4 lead at the end of the first quarter.
Keeping the pressure on, the Lady Marshals put up 21 second quarter points led by Langhi and Driver with six each, Laken Schroader with four, Northcott a 3-pointer and two more points from Henson to lead 45-12 at halftime.
A quick second half with a running clock kept the scoring numbers low, each team putting up 13 points.
Senior Calista Collins led the Lady Lyons with eight points and 13 rebounds.
Saturday at 10:30 a.m., the Lady Marshal will play Clarksville Academy in their second game of the Hoopfest.
Lyon County             4     8     4    9  –  25
Marshall County   24   21   6   7  –  58
Lyon County: Calista Collins 8, Rose Smith 4, Gracen Wynn 4, Ella Defew 4, Lexi Holland 3, Hadie Butler 2
Marshall County: Chevelle Henson 17, Halle Langhi 14, Jada Driver 12, Laken Schroader 4, Neely Northcott 3, Madyson Morton 3, Mia Teague 2, Peyton Weitlauf 2, Izzy Washburn 1
Lyon County: FG 9/40, 3 PT 2/13, FT 5/8, REB 34 (Collins 13), PF 12, AST 5, TO 21
Marshall County: FG 22/50, 3 PT 5/13 (Driver 4), FT 9/16 (Langhi 4/4), REB 32, PF 10, AST 13, TO 8

Lady Marshals vs Lyon County – Hoopfest