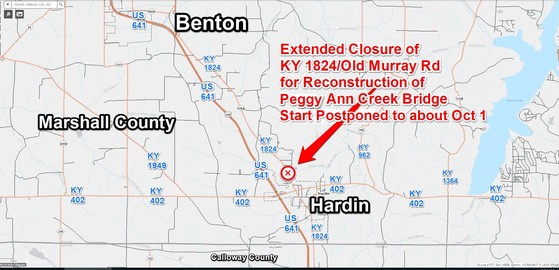 Work to take up to 60 days to complete
PADUCAH, Ky. (Sept. 13, 2021) – A contractor for the Kentucky Transportation Cabinet (KYTC) has postponed the start of an extended closure of KY 1824/Old Murray Road in southern Marshall County to about October 1, 2021.
A crew that had planned to move to the project has been held up on another worksite.
This extended closure of KY 1824/Old Murray Road at mile point 1.564 is to allow the Peggy Ann Creek Bridge to be reconstructed.  This is along KY 1824/Old Murray Road about 1/2 mile north of the KY 402 intersection in Hardin.
There will be no marked detour.  However, motorists may self-detour via each end of KY 1824 to KY 402 or U.S. 641.
The contractor and KYTC personnel will announce a more specific start date as the project timeline develops.
Jim Smith Contracting, LLC, of Grand Rivers is the prime contractor on this $977,219 group bridge reconstruction project.  A target completion date will be established once a start date is set.
This is group contract includes reconstruction of a bridge along KY 1290/Slater Road in Ballard County to be scheduled at a later date.
NOTE:  Peggy Ann Creek is also referred to as Ellison Creek at this site.