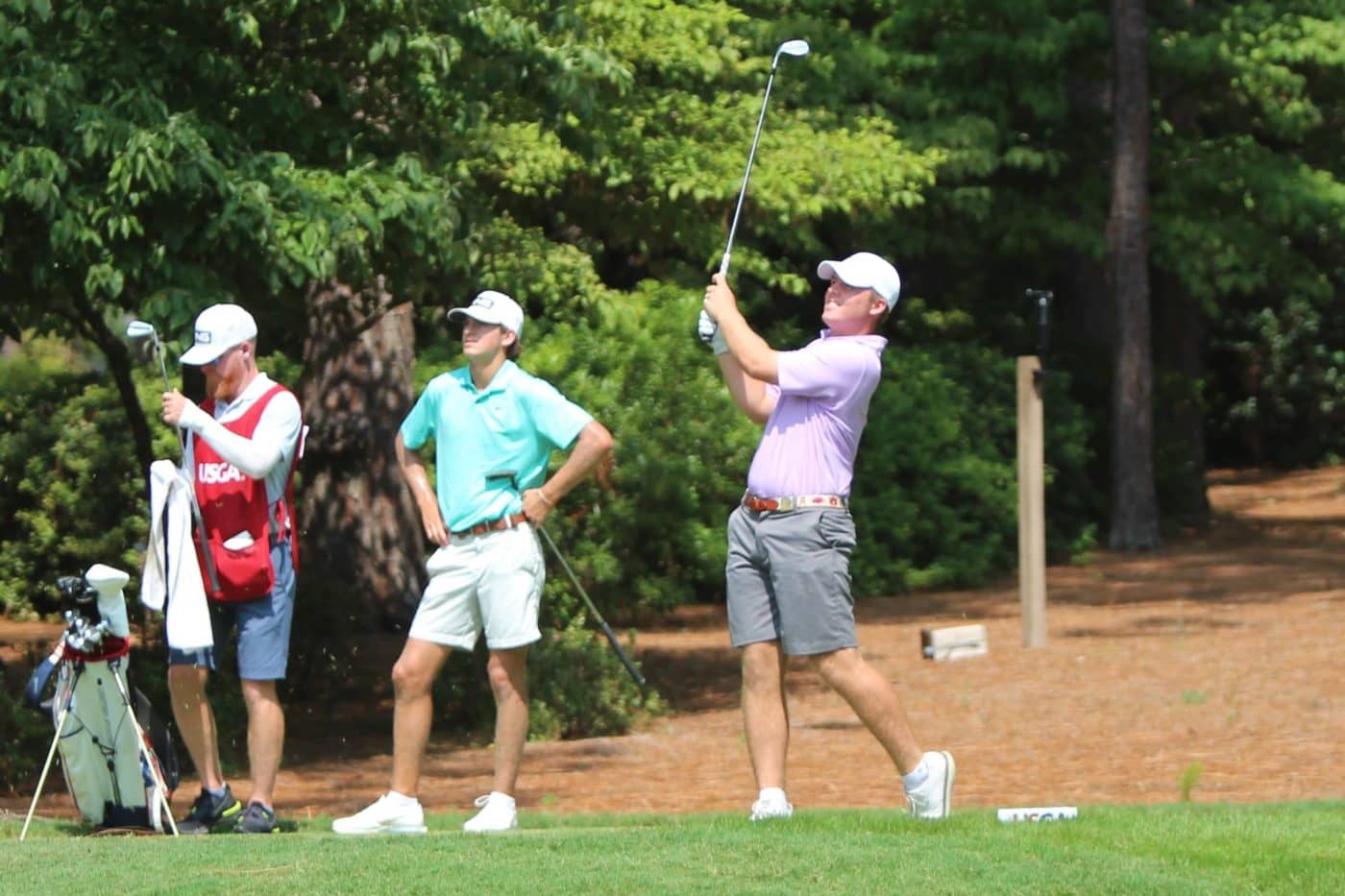 In his final junior tournament before entering the college arena and playing for Mississippi State, Jay Nimmo advanced on Tuesday through the stroke play field of 264 players to compete in the match play field of 64 played on Wednesday at the 73rd U.S. Junior Amateur at The Country Club of North Carolina in Pinehurst – earning the chance to play for the U.S. Junior Amateur title.
Nimmo was 2-over (74-71/145) after two days of stroke play in a tie for 35th with the match play cut coming at 4-over par. Kelly Chinn of Great Falls, Va. posted a course record 8-under par 64 on the Dogwood Course, one of two courses used for stroke play, and followed that up with a 3-under 68 to lead at 11-under – the incoming Duke University freshman matching the championship 36-hole scoring record of 132 earning the top seed for match play.
With a 10:48 tee time on Wednesday, Nimmo went 1-up on the par three third hole with a birdie and held it through the 12th hole of match play against Aaron Pounds of The Woodlands, Tx. – the two players matching scores for the next nine holes. Pounds won the 13th hole to square the match up and birdied #14 to go 1-up. The two played the final four holes even giving Pounds the 1-up win. It was one of just nine matches of the 32 that went the full 18 holes.
Nimmo's outstanding junior golf career came to a close with an exceptional 3-under round in Wednesday's match play in Pinehurst. Pounds advanced to the round of 32 on Wednesday.
Maxwell Ford of Peachtree Corner, Ga. defeated Pounds 3-up on the 16th hole on Thursday in the round of 32 and Luke Clanton of Miami Lakes, Fla. beat #1 seed Chinn 1-up.
Match play continues Thursday through Friday and the 2021 U.S. Junior Amateur will be crowned following Saturday's 36-hole championship. The final two days will be aired on The Golf Channel – Friday 6:30-8:30 p.m. and Saturday's championship 4:00-6:00 p.m.