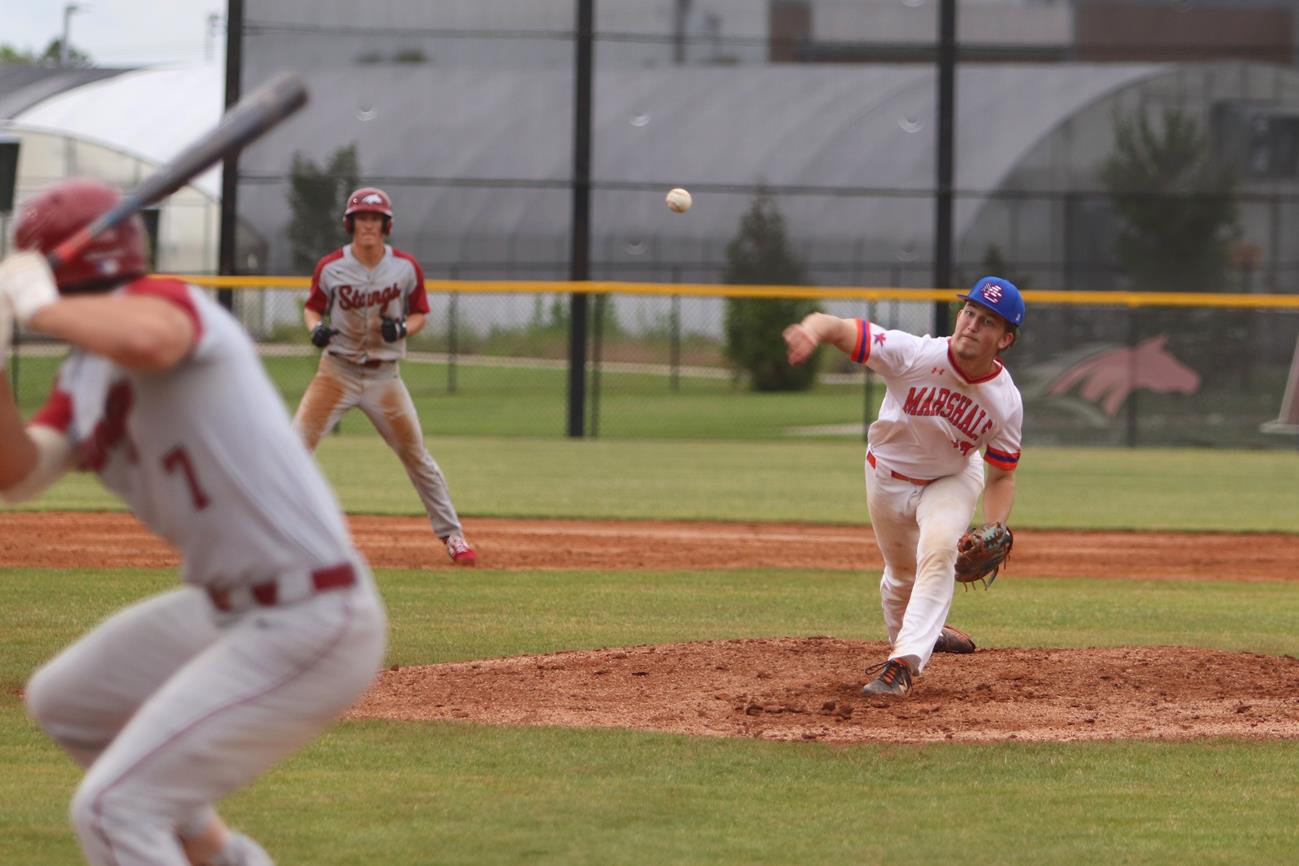 McCracken County has won the last six First Region titles, including an 8-5 win over the Marshals in 2017 – the last time they appeared in the title game. Marshall County would need a perfect game to knock off the #5 Mustangs in Sunday's semi-final, whose .367 batting average is fifth best in the state and 293 RBIs rank second.
In an effort to avoid rain predictions for this week, the First Region baseball and softball semi-finals were moved from Monday to Sunday. Over in Graves County, the girls tournament went off on time but in McCracken County it was a different story. The 2:00 game was delayed an hour and with coaches and umpires meeting at home plate, the rains came again and the game was pushed back to 5:30.
Behind 10 hits, three coming off the bat of sophomore Eli James, the Mustangs advanced to today's (Monday) championship game in the 10-3 win. They will meet St. Mary, whose trip to the championship included a 7-5 win over Graves County and 7-1 semi-final win over Calloway County. This will be the Vikings first appearance in the title game since 2014.
Leading off with a bunt by Ben Higdon, who ranks fifth in the state in hits, and a double by Rivers Moffatt that scored their first run. The Mustangs were up 2-0 before the Marshals first time at the plate.
With Higdon on the mound, the first three up for the Marshals – Conner Mannon, Ethan Landis and Brady Ives – all drew walks to load the bases. A one-out walk by Chase Hayden scored the first run prompting a pitching change for the Mustangs who sent Josh Tucker to the mound to replace Higdon.
Facing senior Evan Oakley, the Mustangs put together a six run top of the second to lead 8-1. They added two more runs in the top of the fourth and fifth to go up 10-1.
In the bottom of the fifth, Mannon singled and Landis walked before Ives hit into a double play and Landis was left stranded with the third out.
Still battling to put runners in scoring position, one out singles by Griffin Darnall, Ty Davenport and Clay Hale loaded the bases for the Marshals in the bottom of the sixth which led to their final two runs when Chase Gibbs was hit by a pitch and Mannon's ground ball scored the third run.
Oakley threw six innings and allowed nine hits, six earned of 10 runs and struck out two.
The Marshals 2021 season ends with a record of 14-11 and six seniors played their final game – Griffin Darnall, Chase Gibbs, Clay Hale, Brady Ives, Evan Oakley and Cameron Wyatt.
McCracken   2  6  0  1  1  0  0   10  10  0
Marshall        1  0  0  0  0  2  0   3  6  2
McCracken: Higdon 1/2, Moffatt 2/4 (2B, RBI), Godwin 1/4 (2B, 3 RBI), Dodd 1/3 (2 RBI), Vinyard 1/4, Bennett 1/4, James 3/4 (2-2B, 2 RBI), Riley (RBI)
Marshall: Mannon 1/3 (RBI), Hayden 1/3 (RBI), Darnall 1/3, Davenport 2/3, Hale 1/3, Gibbs (RBI)
McCracken: Higdon 0.1 (0 hits, 1 run, 1 SO), Tucker 6.2 (6 hits, 2 runs, 6 SO)
Marshall: Oakley 6.0 (9 hits, 10 runs, 2 SO), P. Gibbs 1.0 (1 hit, 0 runs, 1 SO)
Record: McCracken 31-5, Marshall 14-11

Marshals vs McCracken County – 1st Region semi-final