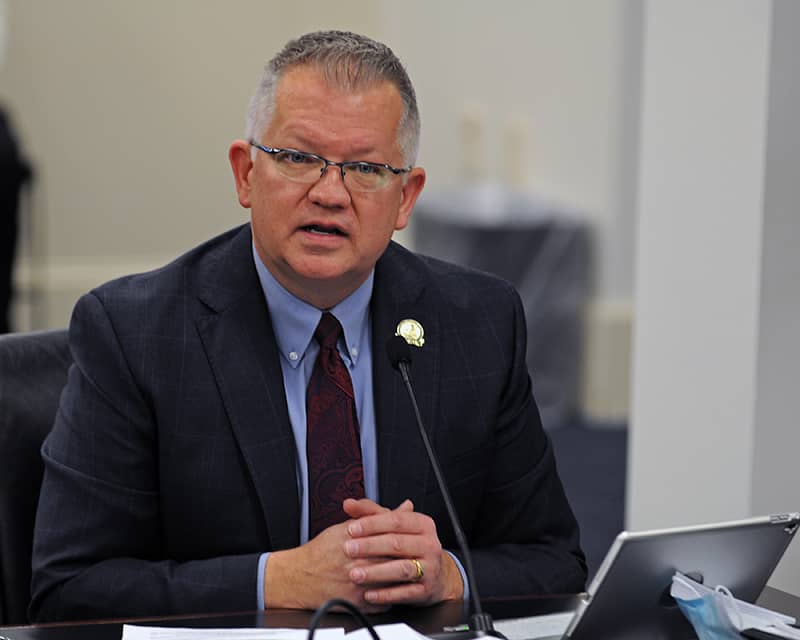 Last week's 30-day Regular Session activity ended with over 100 bills on the Governor's desk. Having already completed 28 legislative days, both the House and the Senate raced to approve bills through the process until the figurative and literal eleventh hour.
We've now entered into the veto recess period, which means last week was the final opportunity for lawmakers to pass bills and still have the opportunity to override any gubernatorial vetoes before the final day of the legislative session. The Governor has ten days to sign a bill, let it become law without his signature, or veto it.
The Kentucky General Assembly approved the second half of the state's 24-month spending plan after uncertainties from COVID-19 cut budget negotiations short nearly a year ago.
The executive budget, contained in House Bill 192, is as a near continuation budget from the previous fiscal year with necessary modifications. In addition to making structural changes that would ensure the road fund is spent on roads, the executive budget would put $134 million into the rainy day fund this year and another $609 million next year. The executive budget also includes a 2 percent increase in funding for higher education through a performance-based model, targeted raises for crime lab technicians, and money for the coroner's office. This budget also addresses Kentucky's severely outdated unemployment insurance system.
Senate changes to the budget's accompanying revenue measure, known as House Bill 249, would allow the motor vehicle commission to charge new fees, expand the film industry tax credit, increase the cap on the historic preservation tax credit, allow a one-year property tax exemption for veterans' service organizations, and manage an emergency disaster relief account within the road fund.
We are taking a careful and conservative approach as we continue to navigate the uncertainty of the pandemic. The state has received millions in one-time dollars from the federal government through the Coronavirus Aid, Relief, and Economic Security (CARES) Act and the most recent federal stimulus package. Due to these federal funds boosting our society's various sectors, the economic outlook and state revenue may be artificially inflated. There is no sure way of knowing what state revenues or the economy will look like once there is no stimulus money to help prop things up. It would be financially irresponsible for the state to use one-time dollars to put Kentucky taxpayers on the hook for recurring expenses in future years when we will not lean on federal funds.
An essential aspect of the budget is maintaining legislative authority on the allocation of funds, as required by the Constitution of Kentucky. The bill stipulates that the General Assembly must authorize the use of these monies. Thirty-seven million dollars in federal funding will go toward grants to detect, diagnose, trace, and monitor COVID-19 infections in congregate and vulnerable populations. Additionally, $10 million in state funds will go to the School Facilities Construction Commission for schools recently damaged by flooding.
A critical element in the economic growth of our state is access to reliable internet services for Kentuckians. Reliable broadband can be the difference in companies' decisions to establish themselves in our communities. With the reliance on virtual learning our students have had this past year, it is evident how a lack of reliable internet access only exacerbates Kentucky students' struggles. While COVID-19 forced us to rely on more virtual services, we have also seen growth in telehealth services. Securing reliable internet access to areas currently without it can help our economy, education, and even improve health outcomes.
With this in mind, the legislature passed House Bill (HB) 320, allocating $250 million of federal money to expand access to broadband connectivity. However, the bill stipulates that no more than $50 million can be spent before April of next year to make sure efforts are deliberate, effective, and will go to the areas that need it most. This initial $50 million will get the ball rolling. Legislators will return next January to provide ample opportunity to assess the efforts made between now and then to determine the best path forward. The funding will be targeted to utilize existing infrastructure and the experienced workforce through electric co-ops. In reality, the allocated funds will equate to $500 million because the $250 million will be used as matching funds for the projects.
The House and Senate have overridden the Governor's vetoes on Senate Bill (SB) 3 and House Bill (HB) 6. Since both of these measures contain what's known as an emergency clause, the bills go into effect immediately upon becoming law rather than 90 days after adjournment. 
Senate Bill 3 moves the Office of Agricultural Policy under the jurisdiction of the Kentucky Agriculture Commissioner's Office. Moving these critical state boards under the authority of the Commissioner of Agriculture streamlines our efforts to strengthen Kentucky agriculture and help our farmers. The office's official role is the promotion of interests of agriculture and horticulture, agricultural revenues, and the protection of Kentucky's livestock industries.
House Bill 6 strengthens an already existing legislative committee which, with the passing of this bill, would become the Legislative Oversight and Investigations Committee. It codifies subpoena powers, gives the committee the ability to maintain the confidentiality of investigative documents, and imposes fines on those in non-compliance with the committee's efforts.
Several bills now with the Governor for consideration include:
Senate Bill 80 is a bill I sponsored that strengthens oversight of peace officers who conduct themselves in a criminal or unprofessional way by enhancing the Kentucky Law Enforcement Council's ability to revoke certification. The bill also puts in place an appeals process and hiring procedures that will help ensure officers cannot avoid the consequences of their actions simply by retiring or resigning in the midst of an investigation. Finally, the bill strengthens KLEC's ability to share information with out-of-state agencies. This bill was endorsed by the Kentucky Association of Chiefs of Police, the Kentucky Sheriffs' Association, the Kentucky Fraternal Order of Police, and the Kentucky Law Enforcement Council.
Senate Bill 148 is a bill I sponsored that will allow childcare providers to return to the classroom sizes allowed pre-pandemic and allow combining classes at the beginning and end of each day.  The bill also establishes childcare as an essential business vital to the Commonwealth's state and local economies.  Finally, the bill requires local governments to consider family child care homes as a separate entity when determining conditional use permits in residential areas.
Senate Bill 84, known as the "Dignity Bill 2.0," forbids correctional facilities from placing in restrictive housing, administrative segregation, or solitary confinement inmates who are pregnant or in a 6-week postpartum period.  The bill also requires that correctional facilities allow infants to stay with their mothers for 72 hours after delivery and requires that the facilities advise pregnant inmate's regarding information and access to community-based pregnancy-related programs.
Senate Bill 102 expands the Kentucky Proud agricultural marketing program to allow products produced from Asian carp, paddlefish, or sturgeon to be qualified to use the Kentucky Proud logo on packaging as long as the fish were harvested from a body of water in Kentucky.
House Bill 312 limits the ability of people who do not live, work or conduct business in Kentucky to obtain records through the state's open records law. These restrictions would not apply, however, to out-of-state journalists. A second section of HB 312 would explicitly allow open records requests to be made via email. A third portion would provide a standardized form for the requests but not require that it be used. Under this bill, the time to comply with requests would also be lengthened to five days from three.
House Bill 518 would change the makeup of the Kentucky State Fair Board and clarify how it operates. Not only does the fair board operate the Kentucky Exposition Center where the state fair is held, but it also operates the Kentucky International Convention Center in downtown Louisville. The two properties have an annual $500 million economic impact and generate $40 million in taxes.
House Bill 95 aims to help Kentuckians struggling with diabetes by capping the cost of out-of-pocket insulin at $30 for a 30-day supply. It applies to state-regulated, comprehensive, private health insurance plans, and the Kentucky employee health plan. It does not apply to Medicare, Medicaid, or self-funded health plans.
For too long, the high cost of insulin has caused patients to ration their supply, resulting in a loss of life. Others have had to make desperate financial decisions to maintain their access to their insulin. Kentucky ranks eighth in the nation in diabetes prevalence and is the fifth highest state in diabetes-related deaths. Between 2000 and 2018, the percentage of Kentuckians diagnosed with diabetes doubled. Diabetes can be associated with heart failure, stroke, blindness, and more.
Senate Bill 8 provides for opting out of mandatory vaccinations for people with religious or conscientiously held beliefs. The bill maintains employer immunization policies for employees of schools, universities, and health care organizations.
House Joint Resolution 77 extends certain COVID-19 orders and regulations an additional 60 days. This joint resolution, which can carry the force of law, will be effective only if the court ultimately rules in favor of the legislature on pending litigation. The governor is challenging HB 1 and SBs 1 and 2. Those three bills, if upheld, provide the legislature a seat at the table as life-altering executive decisions are made. It is worth noting that Kentucky is the exception to executive authority rule during a state of emergency. The bills being challenged by the governor would merely bring Kentucky more in line with other states in regard to oversight of executive authority during times like these.
House Bill 126 would raise the threshold of felony theft to $1,000. Under current law, stealing anything worth $500 or more is a felony punishable by up to five years in prison. It would also allow law enforcement to charge members of organized shoplifting rings with a felony if a member stole a total of $1,000 worth of merchandise over 90 days.  It's important to remember that this amount is still far below what the amount would have been if the Consumer Price Index (CPI) had be used to calculate the increase from the time the threshold was raised to $500.
This bill seeks to ease prison overcrowding and save the state money on corrections. A correctional impact statement attached to HB 126 estimated its passage would save the state $4 million per year in prison costs alone. 
House Bill 230 would provide sales and other tax breaks to businesses that are located in facilities of at least 200,000 square feet for cryptocurrency mining. The exemptions would be for electricity used in the mining process. Mining cryptocurrency, such as Bitcoin, is a process in which high-powered computers are used to solve complex math problems and unlock new currency. 
House Bill 273 is a bill I was proud to work on with my friend and colleague, Rep. Chris Freeland. The Bailey Holt-Preston Cope Victims Privacy Act would exclude from the open records act photographs or videos that depict a person's death, killing, rape, sexual assault, or abuse. It is named in honor of Bailey Nicole Holt and Preston Ryan Cope, who were killed in the 2018 Marshall County High School shooting at the age of 15.
House Bill 328 would re-establish the state's regulatory authority for roadside billboards after a federal court ruling called the state's prior regulations into question. One concern had been that Kentucky was at risk of losing as much as $70 million in federal transportation funding for not meeting a federal requirement concerning roadside billboards.
House Bill 497 would help convicts transition out of prison get jobs, health care, state IDs and access to social services such as the Supplemental Nutrition Assistance Program, or SNAP. It would also create a "certificate of employability" to help former inmates find jobs for which they are trained.
Another crucial measure I am sponsoring passed in the Senate chamber last week. The legislation, Senate Bill 211, comes in response to the riots across our country last summer, including in our own flagship city of Louisville. This bill would primarily increase the punishment for crimes committed during, and in relation to a riot, like those in Louisville that led to millions of dollars in damage, injury, and even loss of life.
The goal of SB 211 is simple: protect our communities, protect our first responders, and protect public and private property.
I named this bill "The Community and First Responder Protection Act," as it seeks to discourage in-state and out-of-state agitators from inciting riots here in the Commonwealth.
Language in SB 211 would also provide consequences for local governments that are grossly negligent by failing to protect their residents' personal safety and property. Another section would discourage local governments from attempts to defund law enforcement agencies by requiring that, "Government entities responsible for funding the various law enforcement agencies shall maintain and improve their respective financial support…"
One particular provision of SB 211 has received much attention nationwide.  This provision would amend the disorderly conduct statute by adding this language:
"Accosts, insults, taunts, or challenges a law enforcement officer with offensive or derisive language, or by gestures or other physical contact, that would have a direct tendency to provoke a violent response from the perspective of a reasonable and prudent person."
This language is related to the term "fighting words," which, although diminished by Supreme Court rulings over the years, are not constitutionally protected by the First Amendment.  I want to make it clear that under this language it would take much more than a simple insult or taunt to cause an officer to arrest a person for disorderly conduct, as the mainstream media has reported in their headlines.  The situations covered under this provision are situations that occur in a public place and when the offender, "has the intent to cause public inconvenience, annoyance, or alarm, or wantonly creates a risk thereof." These are situations that put the officer and public at risk when an officer is being verbally assaulted to the extent he or she cannot adequately protected themselves or others in the vicinity.  This provision would give law enforcement the option to remove the offender from these situations, which may help de-escalate the situation.
I had planned to amend this language in the House in order to narrow the focus.  However, at the end of the week I learned that due to the brief amount of time remaining in the session the House was not going to move the bill.  Although I was disappointed that the bill will not pass this session, I'm committed to working with members of the House, Senate, and other groups during the interim to make the bill better.
The following is the language I plan to use to amend the above language:
"While engaged in direct interaction with a law enforcement officer, accosts, insults, taunts, or challenges to a law enforcement officer using abusive, indecent, profane, or vulgar language used as instruments of assault and that serves no legitimate purpose, or by gestures or other physical contact, all of which would have a direct tendency to provoke a violent response from the perspective of a reasonable and prudent law enforcement officer."
I would be remiss if I did not reiterate my unwavering support for peaceful protests. This is a constitutional right I will always support. However, no one has the constitutional right to terrorize, threaten, assault, abuse our people, or destroy or steal property within our Commonwealth. These riotous behaviors greatly diminish the impact of peaceful and productive protests and serve no legitimate purpose.
Looking ahead, the General Assembly will return on March 29 and March 30 for the final two days of the session and sine die adjournment.
Thank you for staying engaged in the legislative process. I continue to be proud and humbled to represent the 2nd Senate District.
If you have any questions or comments about these issues or any other public policy issue, please call me toll-free at 1-800-372-7181 or email me Danny.Carroll@LRC.ky.gov. Or, you can review the legislature's work online at www.Legislature.ky.gov.