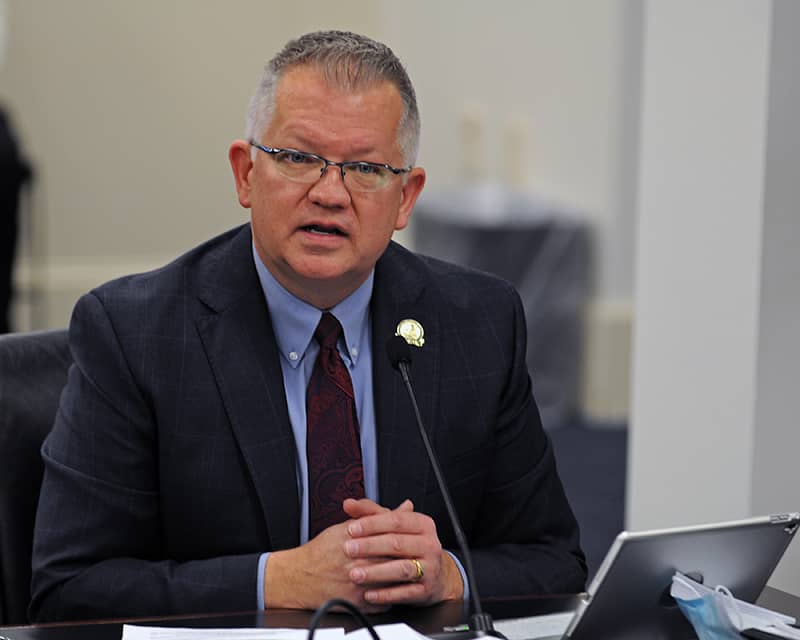 Through icy road conditions and frigid temperatures, the Kentucky General Assembly completed another 3-days of legislative business in Frankfort. I hope you have remained safe during the winter weather that's rolled into the bluegrass recently. Join me in taking a moment to thank the fantastic folks who have braved it to keep our lights on and our roads clear.
Amid ongoing budget discussions, key legislation to address challenges facing our state continues through the legislative process here in Frankfort. Several priority measures have already passed this session, including Senate Bills (SB) 1 and 2, and House Bills (HB) 1, 2, 3, and 5.
Another priority bill came one step closer to join that list this week after it cleared a Senate committee with approval.
Senate Bill 5 aims to reassure many sectors of our society as they continue to navigate in the era of COVID-19. It would provide liability protection for everyone who owns, leases, or controls premises that the public enters to obtain goods or services or to conduct activities. If passed, public and private schools, churches, entertainment/sports venues, government agencies, homeowners, and more would be provided liability protection. SB 5, however, would not protect any business or other organization that acts grossly, negligently, or with malice regarding safety requirements.
The bill outlines services that may prove essential during a given state of emergency. We have all gained a greater appreciation for the various sectors in our society that are essential, even if only to an individual reliant on them. Parents have struggled to balance the need for childcare and work to provide for their families. Students have felt the negative impacts of virtual learning compared to their full in-person learning experience at school. Business owners and employees have experienced the stresses of meeting safety guidelines while still earning enough to keep doors open and bills paid. Under SB 5, those individuals and businesses providing services would be protected from liability during a formal state of emergency and for a year after the emergency is declared.
One of my priority bills also passed through Senate committee this week.
Senate Bill 148 would restore childcare classroom sizes to pre-Covid numbers and restore providers ability to combine classes at the beginning and end of the day. The bill also includes a provision designed to promote child care homes in the Commonwealth. I hope to present this bill on the Senate floor very soon.
Additional legislation receiving passage in the Senate included:
Senate Bill 12 preserves the nonprofit nature of eye tissue donation by prohibiting for-profit entities from procuring any eye, cornea, eye tissue, or corneal tissue. It ensures that a person may not, for valuable consideration, knowingly purchase, sell, transfer, or offer to buy, sell, or transfer any human organ for transplantation or therapy.
Senate Bill 16 updates the Colon Cancer Screening Program with its fund and advisory committee to include "and Prevention" in the title. It requires funds from the sale of special cancer prevention license plates to be directed to the program fund and used solely for colon cancer screening and prevention. The bill also updates the membership of the program's advisory committee. It requires the Department for Medicaid Services to present statistics on cancer services related to colorectal cancer annually and upon request.
Kentucky has done an excellent job in recent years on the cancer screening and prevention front. We were once ranked 49th in this area and have reached a ranking as high as 17th. We currently rank about 22nd. More work is left to do in our ongoing fight against cancer, but I am pleased that we are re-strategizing our efforts through improved legislation such as this.
Senate Bill 29 provides Kentucky's Attorney General, Commonwealth Attorneys, and County Attorneys security against financial liability resulting from their sworn duties' performance to prosecute state law. Losses would be compensated by funds appropriated to the Finance & Administration Cabinet.
Senate Bill 36 removes the automatic transfer of a child from a district court to a circuit court to be tried as an adult in cases involving the use of firearms. The bill brings juvenile cases involving a gun in alignment with the standards applied to any other juvenile case. It would require the district court to consider whether or not the child has a severe intellectual disability, as well.
Although I agree with most of the provisions of this bill, I opposed the bill because I believe that the law in its current form serves as a deterrent to gun violence by juveniles (14 years and above).  Juvenile offenders who commit violent crimes with firearms should automatically be transferred to Circuit Court and tried as an adult.
Senate Bill 73 extends the timeline for action for the Kentucky Commission on Human Rights in cases before them. Currently, the commission is struggling with caseloads that staffing levels are not fully able to manage.
Senate Bill 74 renames the current Office on Alzheimer's Disease and Related Disorders to the Office of Dementia Services. The bill serves to elevate dementia-related services within the Cabinet for Health and Family Services (CHFS). Additionally, it updates the membership and duties of the Alzheimer's Disease and Related Disorders Advisory Council. SB 74 establishes a Dementia Coordinator position that will help refresh the state health plan every four years to improve diagnosis and treatment of dementia and help apply for federal grants that can be used to treat dementia.
Senate Bill 80 is another bill I'm  proud to sponsor.  The bill strengthens oversight of peace officers who conduct themselves in a criminal or unprofessional way by strengthening the Kentucky Law Enforcement Council's  ability to revoke certification. The bill also puts in place an appeals process in addition to a hiring procedures that will help ensure an officer can't avoid the consequences of their actions simply by retiring or resigning in the midst of an investigation.  Finally, the bill strengthens KLEC's ability to share information with out-of-state agencies.  This bill is endorsed by the Ky. Association of Chiefs of Police. The Ky. Sheriffs' Association, and the Fraternal Order of Police, the Kentucky Law Enforcement Council. I anticipate strong support on this bill as it moves to the House.
Senate Bill 84 provides women in state correctional facilities who are pregnant with an understanding of the community-based resources available to them by connecting them with social workers to help in the child's placement. This bill ends placing pregnant inmates, or those within six weeks of delivery of the child, in solitary confinement.
SB 120 allows for the continuation of historical horse racing gambling following the Supreme Court of Kentucky ruling. I think this process is wrong. According to Section 226 of our state constitution, only the lottery and charitable gaming are permitted in Kentucky. The appropriate approach to achieving this bill's goal is to amend the Constitution of Kentucky. That would have to occur by placing an amendment on voters' next general election ballot to decide. The Kentucky Lottery was established in this manner back in 1988. It is only appropriate we apply that standard to other forms of gambling. The only way this issue finally gets settled is when the people of Kentucky get to voice their opinion.
Opposition to the process notwithstanding, I also opposed SB 120 because I believe the government's endorsement of this destructive addiction is wrong. It is harmful to communities and preys on the poor. Gambling ruins lives and is a regressive tax on those financially struggling. Finally, I see this bill as a step toward further expansion of forms of gambling. It provides no reassurances to the contrary. SB 120 is likely to be challenged in court.
As you can see, the General Assembly is hard at work. I am hopeful that inclement weather will not slow down our efforts. If the weather should remain as brutal as it has been, please be safe and mindful when you're out.
I look forward to keeping you updated through the remainder of the session. Your prayers are appreciated as I participate in decisions that impact our great Commonwealth!
If you have any questions or comments about these issues or any other public policy issue, please call me toll-free at 1-800-372-7181 or email me Danny.Carroll@LRC.ky.gov. Or, you can review the legislatures work online at www.Legislature.ky.gov.