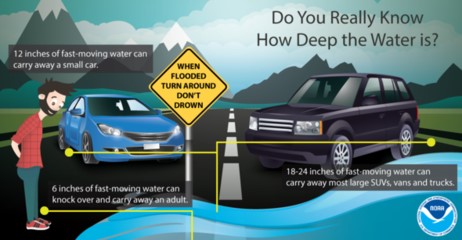 Highway crews prepare for 24 hours of nasty weather
PADUCAH, Ky. (Jan 10, 2020) —Kentucky Transportation Cabinet crews have spent the last couple of days gearing up for what is expected to be about a 24-hour onslaught of wind and rain Friday night into Saturday.
The National Weather Service has issued a wind advisory from 9 p.m., tonight, to 9 p.m., Saturday. Kentucky's Ohio River border counties are under a Flash Flood Watch, along with Illinois counties to the north and Missouri counties to the west.
The NWS is forecasting 30 to 40 mph sustained winds with gusts to 45 mph on Saturday, maybe high in localized thunderstorms. The weather service says tornados may be possible within the approaching system.
KYTC personnel across Western Kentucky have spent time checking storm drains for debris. They've also sharpened chain saws to be prepared to deal with the potential for downed trees as the system moves through. Highway crews have also pre-loaded "Water Over Road" and "Road Closed" signs and barricades onto trucks to be prepared to roll out on short notice if needed.
The National Weather Service has expressed concern about flash flooding along area roadways.
KYTC crews remind the driving public to avoid driving through flooded roadways and remember to Turn Around- Don't Drown. As little as 6 to 12 inches of moving water can push a vehicle off a roadway.
Motorists are reminded to take the threat of heavy rain and high winds seriously. Motorists who encounter flooded roadways that are not marked by signs should take note of the specific location using a mile point or landmark and immediately report it to their local 911 Call Center.
KYTC personnel will attempt to provide timely updates on roadway flooding. However, during flash flooding events it can be difficult to report quickly changing roadway conditions.
Timely traffic advisories for the 12 counties of KYTC Highway District 1 are available by going towww.facebook.com/kytcdistrict1. You do not have to be a Facebook member to access this page.
Navigate traffic at goky.ky.gov, at waze.com, or with the WAZE App.