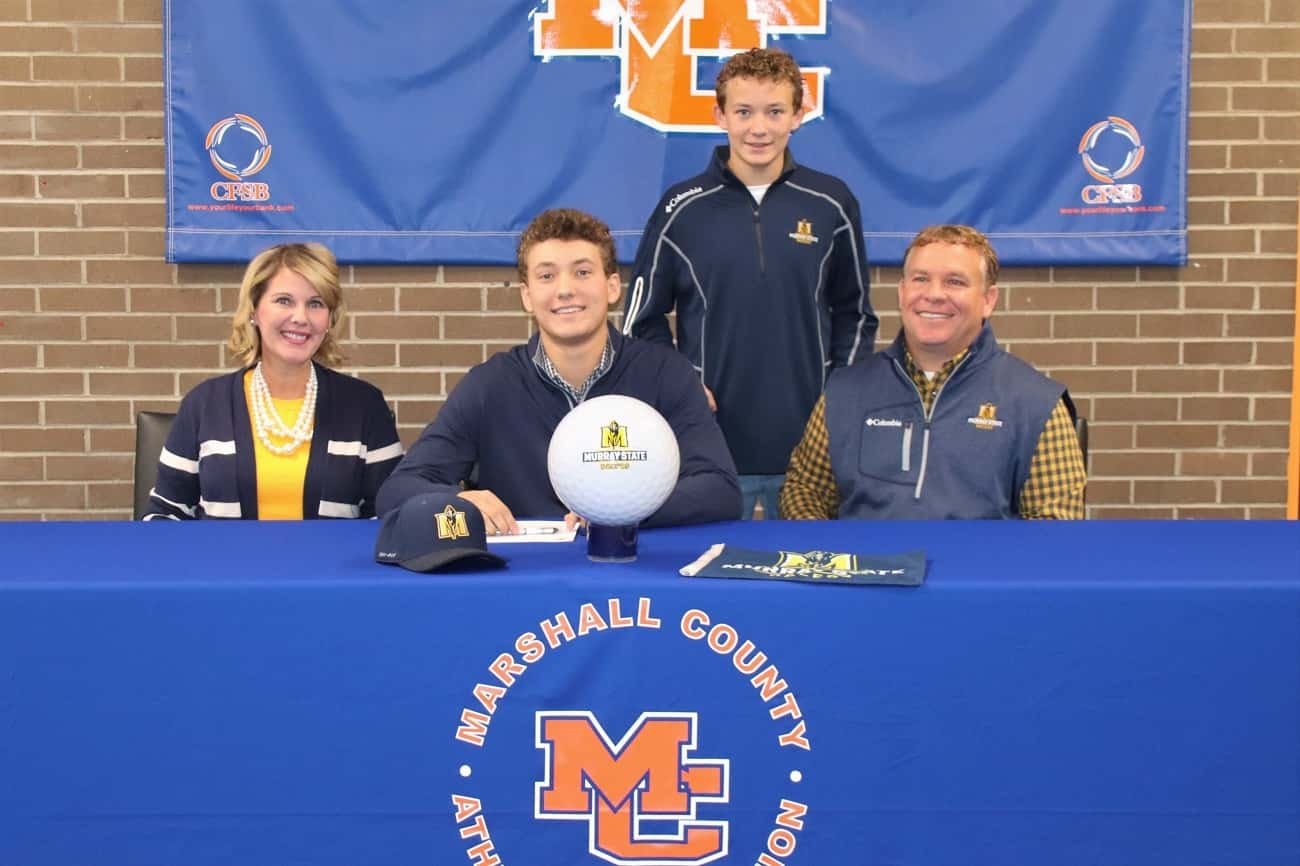 Tyler Powell signed his National Letter of Intent on Wednesday to play golf at Murray State University. Powell has been a key member of the Marshall County golf team for the past four years, helping lead them to four straight appearances in the KHSAA State Golf Championships and this year at state, finished tied for 22nd.
Powell was named to the All-Region team three times and was the individual runner-up in the First Region Tournament on October 1 to help lead the Marshals to back-to-back regional titles. In his senior season, he had two top five and six top 10 tournament finishes.
During the 2018 season, Powell was the individual medalist at the Dawson Springs Invitational and Marshall County Invitational and runner-up in two other tournaments. He also had five top-five finishes and four top 10's in 2018 and placed third in last season's First Region Tournament as well as earning a selection to the KGCA All-State 2nd Team.
In his four-year high school career, Powell's tournament average as a freshman was 81.9, as a sophomore it was 79.6, his junior year it was 73.8 and his senior season average was 74.8.
Powell is a member of the Marshall County boy's basketball team and was named to last season's Fourth District and First Region All Tournament teams. Cat's Pause magazine has ranked Powell the fourth best player in the region heading into the upcoming season. He comes into his senior season with 807 career points.
Powell was recently named to the KHSAA Academic All-State First-Team. He is a member of the Fellowship of Christian Athletes, the Interact Club and is a Leadership Student Mentor at MCHS. He has volunteered for Special Olympics, Marshall County Youth Basketball and the Kentucky Junior PGA.
His plans are to earn an RN degree at Murray State and pursue a career as a nurse anesthetist.
Pictured below, Tyler was joined at his signing by family members, coaches, teammates from the golf team and basketball team and many friends.