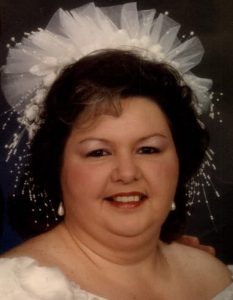 Sharon Kay Turner Gough, 63 of Paducah, Kentucky left her earthly home on Wednesday October 23, 2019  at her home in Paducah.
Sharon was a retired CNA.  She enjoyed staying home, watching tv and arranging flowers.
She is survived by her husband of 29 years, Charles Gough of Paducah; one son, Shane (Helen) Blasingim of S.C.; one daughter, Nancey  (Harry) Howard of Paducah; grandsons, Clayton Ali, Zachary, Austin, and Dakota Blasingim.  Granddaughters, McKenzie, and Chelsey Croft; five sisters, Barbara Jones, Sue Barnhill, Donna Adams, Sandra Peyton, Bonnie Carrico; two brothers, Ralph and Lee Turner; and several nieces and nephews
She was preceded in death by her parents, Herman "Doc" Turner and Susie Elnora Young Turner Gleeson; and one sister Ruth Howe.
Visitation will be 5 to 7 p.m. Monday October 28, 2019 at Lindsey Funeral Home with funeral services to follow at 7 p.m. with the Rev. Tommy Gleeson  officiating.
Lindsey Funeral Home is in charge of arrangements.
Online condolences may be left at www.lindseyfuneral.com