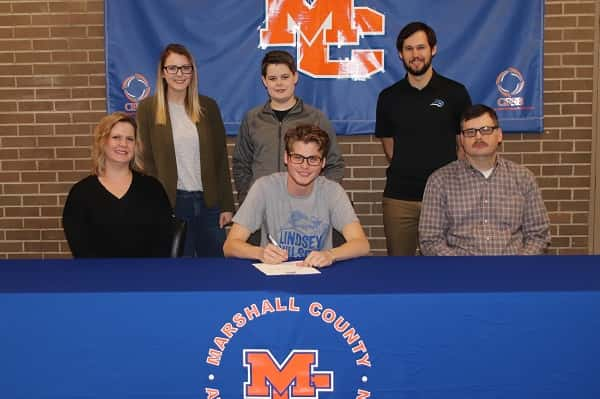 Grant Wilson signed Thursday at Marshall County High School to further his cycling career and education at Lindsey Wilson College in Columbia, Ky. The Blue Raiders race in the Southeastern Collegiate Cycling Conference (SECCC).
Grant has been a member of the six-time state champion Marshall County Mountain Bike Team the past four years. As part of the National Interscholastic Cycling League (NICA), he won the JV state championship race and overall state champion title his sophomore season and this past season won the Varsity state championship race in the Tennessee High School Cycling League.
In 2016, Grant was the recipient of NICA's Specialized Student Athlete Leadership Award. Grant also races in local, regional and national events and has competed in over 25 USA Cycling events across the United States, landing on the podium in many of them. He holds several state titles and top 10 finishes at USA Cycling National Championships.
"Lindsey Wilson has the perfect combination of academic and cycling options", Grant said. "I really like their cycling program and the classes I needed would be a good fit for my options for an advanced degree."
Grant plans to pursue a degree in mathematics.
I'm super excited for Grant signing with LWC to continue his cycling and further his education in the field of mathematics", Marshall County Coach Steve Beckett said. "He has continued to work hard in all aspects of his riding and training and it will pay off joining the Blue Raiders. The conference he will be racing in is a one of the strongest so he will fit in well as he is used to the high level of competition."