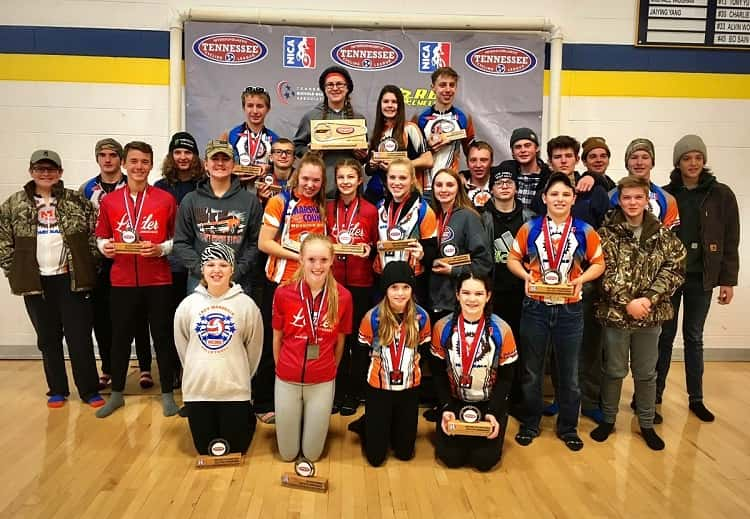 Season six of the Tennessee Interscholastic Cycling League wrapped up on Sunday at St. Andrews-Sewanee School in Sewanee, Tenn. The Tennessee League is a part of the National Interscholastic Cycling League (NICA) which was founded in 2009 and develops mountain bike programs for student-athletes across the nation. Currently there are 28 states with leagues and growing. Middle School through High School, 327 riders competed in the Tennessee State Championship race Sunday.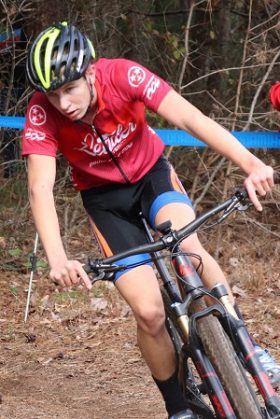 The Marshall County Mountain Bike Team team has been a part of the Tennessee League since its inaugural season and has won the State Championship each year, including taking their sixth straight title on Sunday.
Marshall County placed 11 individuals on the podium in the state championship race and 14 took podium spots in the overall series state champion competition. Individual State Champions for Marshall County: Jaxon Story – 2018 Varsity State Champion, Presleigh Jenning – 2018 JV State Champion, Natalie Norwood – 2018 Freshman State Champion, Chase Binkley – 2018 8th Grade State Champion, Claire Austin – 2018 8th Grade State Champion.
Coaches Steve Beckett and Jourdan Griffith are proud of the effort the team has put in since practices began in the July heat and culminated in the teams sixth state title, in November's near-freezing temperatures.
"I'm really proud of our team and their hard work all season long", Beckett said. "It takes a lot of people to make this happen from our certified volunteer coaches…the majority of whom are parents…and families of the kids who get them to practices, travel to races, keep bikes in good condition and all the many things that go into making our season a success."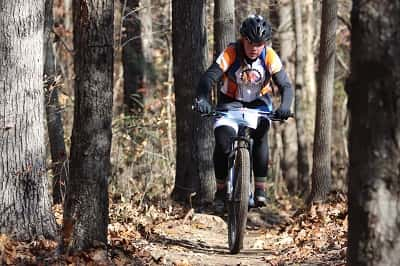 Beckett said the support at each race has been tremendous and not only just for the team, but for the league as well, which relies on volunteers to run a smooth and successful event saying, "Many of our parents step up in a big way as volunteers at each race."
Following Marshall County in team standing with 19 competing, Smoky Mountain Bears from Knoxville, Tenn. placed second and Harpeth Youth Cycling from Kingston Springs, Tenn. took third. Rounding out the top five, Williamson County Composite of Nashville, Tenn. was fourth and Christ Presbyterian Academy of Nashville, Tenn. was fifth. Paducah-McCracken Composite team placed seventh.
Marshall County individual race and state champion podium results.
| | |
| --- | --- |
| State Championship Race | State Champion Podiums |
| | Overall Points Leaders |
| Varsity Girls | Varsity Girls |
| 2nd Alyssa McClain | 2nd Alyssa McClain |
| Varsity Boys | Varsity Boys |
| 1st Grant Wilson | 1st Jaxon Story (State Champion) |
| 6th Kaleb Cosby | 3rd Grant Wilson |
| 7th Jaxon Story | JV Girls |
| DNF Clay Austin | 1st Presleigh Jennings (State Champion) |
| JV Girls | JV Boys |
| 1st Presleigh Jennings | 3rd Kaden Jameson |
| 9th Grace Boatright | Freshman Girls |
| JV Boys | 1st Natalie Norwood (State Champion) |
| 7th Kaden Jameson | 2nd Olivia Myhand |
| 10th Dusty Bass | 8th Boys |
| 23rd Kyle McClain | 1st Chase Binkley (State Champion) |
| 28th Joseph Roberts | 3rd Jace Story |
| Freshman Girls | 8th Girls |
| 1st Natalie Norwood | 1st Claire Austin (State Champion) |
| 2nd Olivia Myhand | 7th Boys |
| Freshman Boys | 3rd Memphis Ford |
| 9th Caleb Pahl | 5th Ty Elrod |
| 10th Trae Harbison | 7th Girls |
| 25th Marshall Gregory | 3rd Aniston Barnes |
| 39th Gabe Driskill | 6th Girls |
| 8th Boys | 2nd Evie Powell |
| 1st Chase Binkley | |
| 5th Jace Story | |
| 8th Rex Wadkins | |
| 24th Gunner Boatright | |
| 8th Girls | |
| 1st Allie Burkeen | |
| 4th Claire Austin | |
| 7th Boys | |
| 2nd Memphis Ford | |
| 5th Ty Elrod | |
| 6th Korbyn Scheidler | |
| 7th Girls | |
| 4th Aniston Barnes | |
| 6th Girls | |
| 2nd Evie Powell | |