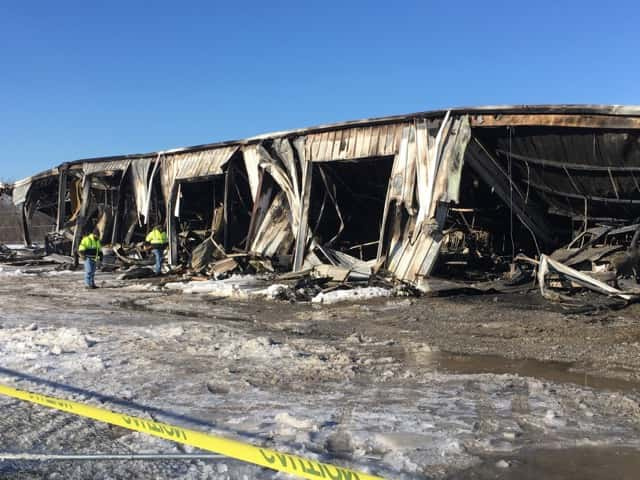 Marshall County highway crews were faced with a setback in winter weather and road repair projects Friday, when the Special Projects building at the Marshall County Road Department was destroyed by fire.
Marshall County Road Department Superintendent Wendy Greer said she received a call from 911 dispatchers about 1:30 a.m. Friday that a passerby had noticed flames in the window of the building, which sits right on U.S. Highway 68 in Draffenville. Crews from Palma-Briensburg, Gilbertsville, Calvert City and Possum Trot-Sharpe fire departments were on scene through the night and extinguished the blaze about 7 a.m., though crews remained on scene with a truck to monitor smoldering and hotspots.
The building, and all of the equipment therein, was destroyed in the fire. It's a tremendous setback for the department, Greer said.
"It's really going to hurt us," she said. " … Other counties have already called and offered to help, and the cities have offered to help.
"It was well over $1 million, several million dollars worth of equipment and damage with the building," Greer added.
Greer said of the county's seven dump trucks, six were parked inside the building, each equipped with salt spreaders, a water jetter and tailgates for all of the department's pickup trucks. In addition, numerous department tools and all of the road deparment bridge plans and records were kept in the building.
Maintenance crew offices and pickup trucks were also housed in the facility.
Road repair projects and snow removal efforts could be seriously hampered by the absence of the dump trucks.
"It's really going to hurt us, especially if we have another snow," Greer said. "We run 19 total (snow) routes with the dump trucks and pickup trucks, so that puts us down six routes. … The dump trucks are what we use to get the main roads."
Crews have more than 880 miles of highway to clear countywide in ice and snow events.
Greer said she had already been searching for potential replacements in the meantime. Still, it's difficult. Plows and salt spreaders are ordered in advance, Greer said, as it takes time to outfit the trucks with the equipment.
"It's just going to take some time," she said.
Greer said she expected insurance adjusters and investigators to be on scene Monday to discuss the equipment and building. The state fire marshal was expected to come inspect the scene today.
In addition to much of the county's road equipment, virtually all of the county's voting machines were housed in the facility, as well. County Clerk Tim York said crews managed to save 11 of the e-slate — or accessible" voting machines, however he feared debris and soot in the air may have damaged even those that were saved.
"They're all basically just computers," York said. "What I'm really concerned about is whether we actually saved any of them or if we're just going to have an additional problem later.
York said the county had 25 e-scan machines in the building and as many e-slate machines. Among items lost included supply bags that held rosters and other Election Day supplies, as well as furniture utilized election crews.
York said he'd been in contact with Harp Enterprises, which provides the county's voting machines and manages setup, and representatives had indicated no forseeable issues in obtaining replacements before the upcoming primary election.
"It shouldn't be a problem to get them replaced in time," York said. "We wouldn't do anything with them until about April, when Harp comes in to set them up and get them ready, so we've got a couple months. … They had an issue like this in Graves County right before an election, and they got them replaced and going within three weeks time. So I think we'll be OK."
York said the machines were also covered under the county's insurance. Still it's not a cheap replacement. Voting machines typically cost about $5,000 each, York said. Most of the county's machines were purchased and put into use in 2010.
The cause of the fire was unknown as of 9 a.m. Friday. No one was injured in the blaze.