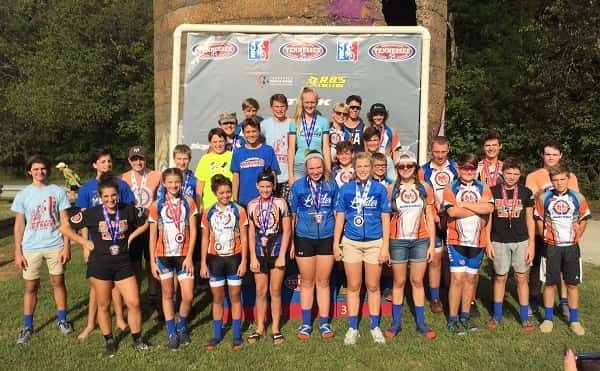 With Race #2 at Lock 4 in Gallatin, Tenn. dusted and done, the Marshall County High School mountain bike team is still in the lead over second place Harpeth Youth Cycling and third place Williamson County Composite. The Marshals placed 15 riders on the podium in the middle school through high school races.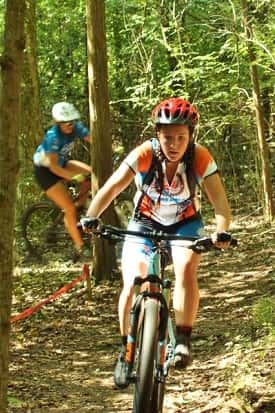 Audrey Grizzard claimed the top spot in Race #2 over Caroline O'Neal of William County Composite. O'Neal won Race #1 so the two riders are now tied for overall lead in the girl's varsity division. Harpeth Youth's Harrison Klapheke retained the lead in the boy's varsity division with second and third on the podium going to Marshall County's Bobby Jones and Grant Wilson.
Alyssa McClain earned her second first place in the girl's JV race along with Jaxon Story who also won his second straight JV boy's race and Clay Austin took third in a large field of 48 riders. Presleigh Jennings also took her second victory in the girl's sophomore race to retain the series points lead.
In middle school races, Gunner Boatright took the top step on the podium by winning the boy's seventh grade race with another first going to Claire Austin in the girl's sixth grade race. Olivia Myhand and Natalie Norwood placed second and third in the girl's eighth grade race, Kaylin Denfip placed second in the girl's seventh grade race and Landon Utley took third in the boy's eighth grade race.
The third race of the season will take place on October 8th at Bakers Creek in Knoxville. Full Marshall County results below.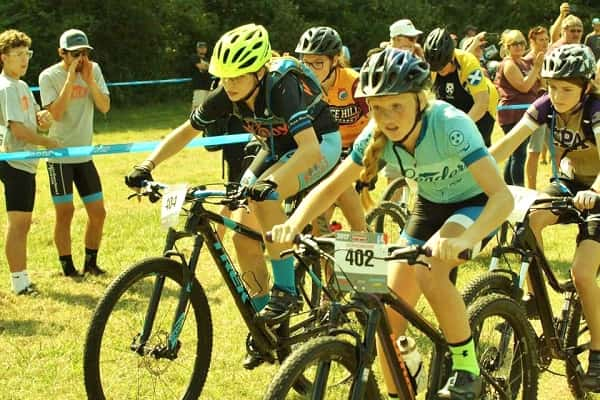 Marshall County results from Race #2
| | | | | | | |
| --- | --- | --- | --- | --- | --- | --- |
| GIRLS | | | | BOYS | | |
| VARSITY | 1st | Audrey Grizzard | | VARSITY | 2nd | Bobby Jones |
| JV | 1st | Alyssa McClain | | | 3rd | Grant Wilson |
| | 5th | Grace Boatright | | JV | 1st | Jaxon Story |
| SOPHOMORE | 1st | Presleigh Jennings | | | 3rd | Clay Austin |
| 8th GRADE  | 2nd | Olivia Myhand | | | 9th | Caleb Cosby |
| | 3rd | Natalie Norwood | | | 14th | Kyle McClain |
| 7th GRADE | 2nd | Kaylin Denfip | | SOPHOMORE | 5th | Dusty Bass |
| 6th GRADE  | 1st | Claire Austin | | | 10th | Joseph Roberts |
| | | | | | 12th | Carson Denfip |
| | | | | | 14th | Eli Day |
| | | | | FRESHMAN | 3rd | Kaden Jameson |
| | | | | 8th GRADE  | 4th | Landon Utley |
| | | | | | 9th | James Harbison III |
| | | | | | 23rd | Gabe Driskill |
| | | | | |    — | Carter Green (mechanical) |
| | | | | 7th GRADE | 1st | Gunner Boatright |
| | | | | | 4th | Chase Binkley |
| | | | | | 5th | Rex Wadkins |
| | | | | | 7th | Jace Story |
| | | | | | 12th | Jaggar Oakley |
| | | | | 6th GRADE | 5th | Ty Elrod |
| | | | | | 18th | Jackson Allen |