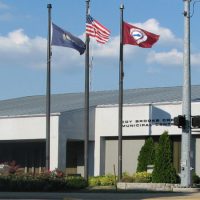 The City of Benton will be conducting smoke testing of the sanitary sewer system in the areas generally bounded by 5th Avenue (to the north), Birch Street (to the east) 14th Street (to the south) and Olive Street (to the west).
The testing is anticipated to begin June 28 and be completed by July 31. The smoke testing is being conducted as part of a sewer assessment to locate points of storm and groundwater infiltration and inflow into the sanitary sewer system. 
The smoke used for the testing is non-toxic. Residents and building owners in the area should make sure that their sink and floor drain traps have water in them to deter smoke from entering buildings by pouring water through each drain prior to the testing. 
A smoke testing notification door hanger will be placed on each residence/business one to three days prior to testing in a specific area. 
Persons with respiratory problems or questions regarding the project are requested to contact City Hall at 270-527-8677.