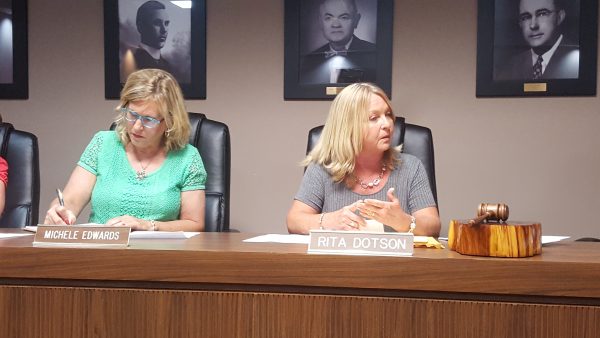 Benton City Council members have taken steps to prohibit stand-alone bars from setting up within city limits.
The council voted unanimously to disallow quota retail drink licenses during a special-called meeting Monday at Benton City Hall. The measure amended the city's existing alcohol ordinance in anticipation of changes to state legislation that would allow cities in wet counties with populations of fewer than 8,000 residents to have stand-alone bars, which are not restricted by food sales ratios to serve alcoholic beverages. The law – House Bill 183 – passed in the General Assembly earlier this year, and Gov. Matt Bevin signed the measure into law March 21. It will go into effect June 29.
Benton Mayor Rita Dotson said the new legislation would allow Benton to have two such businesses within city limits.
"We've always been able to have a beer bar, but this is a stand-alone liquor bar," Dotson said. "They're not required to serve any food whatsoever. It's like you would go to Paducah to some of the bars where they might have dancing, or you just buddy up to the bar and have a drink, and there's no food required at all. … If we decided (to allow) somebody in the city come along and said, 'Hey, I'm going to put a bar in right over here on Main Street Java,' they could get a license to do so."
Councilmembers overwhelmingly rejected the notion; however, some had questions as to whether amending the city's ordinance to disallow bars would hamper other development.
"I'm all for no bars," Murray said. "I don't have a problem with that. But, say if a hotel decided to put out here on the edge of I-69, and a lot of the name brands, they do – most of them – have a little bar in there where they can have a drink or whatever. But they're not honky-tonks. … So, does that mean if a hotel came to the city and wanted to put a hotel in over here, and their design is to have a little bar, does this mean they cannot put a bar in their hotel? … Sometimes it makes a difference to a hotel chain, and I'm not saying we'll ever get one, but I … wouldn't want that to stop a hotel chain from coming in town."
City Attorney Zach Brien said hotel chains fell under a different license, and did not apply in the situation.
"I think that when you deal with license holders who operate different types of business, you're not talking about the retail quota drink licenses," Brien said.
The council will hold the second reading of the amended alcohol ordinance during its regularly-scheduled meeting at 6 p.m. Monday in City Hall.
In addition to addressing changes in the alcohol ordinance, the council also approved a resolution to allow Dotson to serve as the signing authority to execute paperwork related to the purchase of property near the Benton Fire Department. The city recently during executive session discussed purchasing a 1.4-acre tract of land located at 541 Mayfield Highway. The property joins the fire station.
The land was a foreclosed upon property owned by a conglomerate (MTG LQ Investors), and comes at a cost of $25,100.
"Our fire station is land-locked," Dotson said. "We can't expand any at all. So when this property became available we (wanted it)."
In other business, the council:
Accepted a $105,206 bid on concrete work from Wilkins Construction, based in Paducah, to repair the roadway on Master's Circle, for which the city will apply for emergency road aid money from the Kentucky Transportation Cabinet; and
approved advertising for bids to repair City Hall, including plaster work