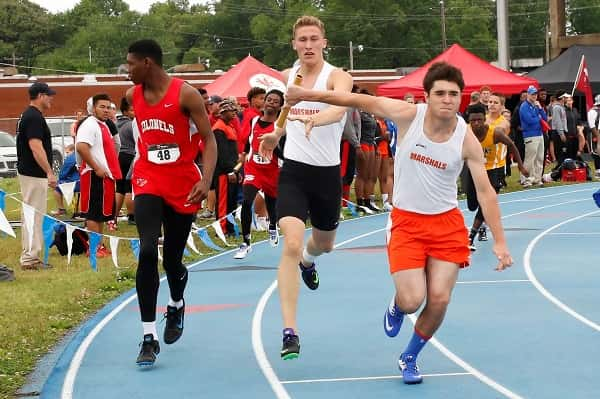 PADUCAH – McCracken County High School and Paducah Tilghman were hosts to the Swift and Staley Midwest Team Challenge. Day 1 on Friday was at McCracken County with preliminary heats in the 100 and 200 meters, 1oo hurdles and  finals in the 400, 800, 1600, 300 hurdles, 4 x 800, discus, high jump and long jump.
Saturday at Tilghman, finals were held in the 100, 200 and 100 hurdles along with the fastest 8 times from Friday night and all relays and fast heats in all other events.
Top 10 finishes for the girl's on Friday came from Spring Dolbee and Jordyn Ray who finished 1st and 2nd in the 1600 meters, Taylor Bare placed 4th in the 400 meters, Bailey Sandlin and Ray were 6th and 7th in the 800 meters, and 10th place finishes went to Kaylie Riley in the 100 hurdles and high jump and Erica Johnson in the 400 meters.
Top 10 finishes for the boy's on Friday were from Kyle McClain who placed 2ndd in the 1600, Joseph Reed 4th in the 800, Jackson Brown 5th in the 110 meter high hurdles, the 4 x 800 relay placed 5th, Parker Jennings 6th in the 400, Tyler Hega 6th in high jump and 7th in 110 high hurdles, Drey Reed 8th in high jump and Jacob Hainaut 9th in the 400.
After Saturday's results the Marshall girls finished 12th with the team from Jefferson City, MO taking 1st.
Top Saturday results:
Spring Dolbee, 6th – 1600 meters
Jordyn Ray, 7th – 1600 meters
Kaylie Riley, 9th – high jump, 10th – 100 hurdles, 11th – triple jump
Sydney Temple, 8th – pole vault
Taylor Bare, 11th – 400 meters
Abigail Oakley, 12th – discus
Emily Colley, 13th – discus
The Marshall boy's placed 9th with Jefferson City completing the sweep taking 1st.
Top Saturday results:
Collin Gunn, 3rd – 1600 meters
4 x 100 relay, 5th
4 x 800 relay, 5th
Jackson Brown, 6th – 110 hurdles, 5th- 300 hurdles
Tyler Hega, 6th – high jump, 7th – 110 hurdles, 10th – 300 hurdles
4 x 400 relay, 7th
Jackson Reed, 8th – 400 meters
Garrett Fulghman, 8th – 800 meters
Drey Reed, 8th – high jump
Aaron Reed, 8th – triple jump
Jackson Yates, 9th – 1600 meters