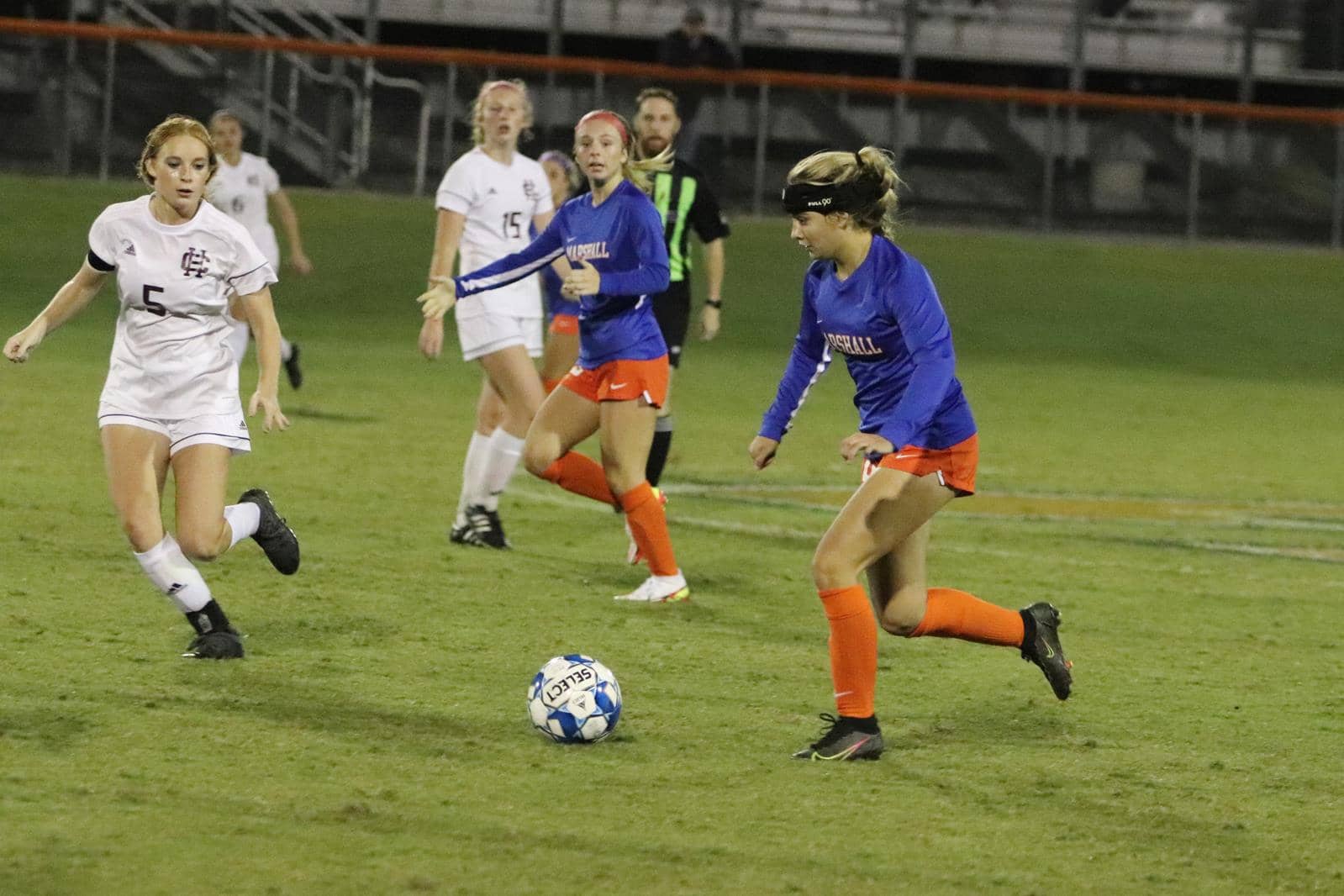 In front of a great home crowd at Colburn Stadium, the Lady Marshals hosted their opening round of the KHSAA State Girls Soccer Tournament. It was their fifth straight appearance but the Lady Marshals hopes of advancing to the round of eight were dashed once again with a 3-1 loss to Henderson County on Tuesday.
One of their previous four losses in the first round was against Henderson County in 2018, a game that was scoreless at the end of regulation and decided in penalty kicks, the Lady Colonels getting the 1-0 win. This years' three seniors – Hope Howard, Hannah Holsapple and Emma Green – were freshman on that 2018 team.
The Lady Marshals were scheduled to play Henderson County earlier this season but it was cancelled due to weather so Tuesday was their first meeting on the pitch.
"Our scouting report…at least their first two goals…were exactly what we described on the scouting report", Coach Michael Boone said, not having the benefit of playing the Lady Colonels.
Henderson's first goal was scored  by senior Careese Toombs fifteen minutes in. Zoe Maxlow sailed one into the right corner on an assist from Mia Teague to tie the game with seven minutes left in the first half and it remained 1-1 at the break.
The first corner of the game was taken by the Lady Marshals four minutes into the second half as they picked right back up with control of the field where they left off in the first half. At the 49′ mark, a nice long shot on goal by Teague was saved by Henderson keeper Chloe Honeycutt.
A foul on Kelsey Crass came near the 54th minute and the free kick by Teague 10 yards out from the box hit hard off the cross bar and straight to the ground where Honeycutt dropped on it.  Anna Robertson sent a long hard kick toward the goal that went right into the keepers arms and the two teams were still locked.
At 1-1 over 70 minutes in, the game had the feel of one that would take more than regulation to decide.
With eight minutes left on the clock, freshman Marley Collins put the Lady Colonels up 2-1 and they doubled their lead with four minutes to go on Toombs second goal of the night off their first corner of the game.
"We just couldn't finish or didn't finish…you know we talk about inches here and there and for whatever reason, it wasn't falling our way", Boone said. "Part of that was self induced but part of that was good play on their part and some bad luck on our part."
This year's talented Lady Marshals squad tied the record for most wins in program history with 21 and tied the record for most shutouts in a season with 17. They finish with a record of 21-3.

Lady Marshals vs Henderson County – State Tournament