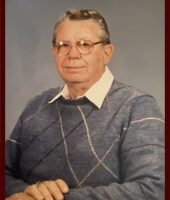 Mr. Lawrence Clayton Copeland, 91 of Benton, KY, passed away Sunday, September 19, 2021, at his home.
Born Thursday, March 27, 1930 in Marshall Co., KY, he was the son of the late Benton Martin Copeland and the late Reba (Ham) Copeland. He was retired from SKW Alloys (now CCMA) in Calvert City, KY where he worked in the Maintenance department. He honorably served his country in the U.S. Army in Germany. Mr. Copeland was a member of the Honorable Order of Kentucky Colonels, a 70-year member of the Briensburg-TL Jefferson Lodge 401 F.&A.M. and was a member of Bethel Baptist Church.
Surviving are his wife of 67 years, Bobbie Sue (Reynolds) Copeland, Benton, KY; children, Linda Ann (Copeland) Whybark of Gilbertsville, KY, Gary Lynn Copeland of Gilbertsville, KY, Debra Sue (Copeland) Kipers of Benton, KY and Ricky Clayton Copeland of Gilbertsville, KY; 8 grandchildren, Tara Irwin, Kelly Hall, Karrie Whybark, Angela Morris, Trista Larkin, Jenna Crouch, Clay Copeland and Amy Copeland; 16 great-grandchildren and 2 great great-grandchildren.
He was preceded in death by his parents and one brother, James Copeland.
Funeral services will be conducted Thursday, September 23, 2021 at 11:00 a.m. in the chapel of the Collier Funeral Home, Benton, KY, with Rev. Charles LaChance and Rev. Albert Gaboriault officiating. Interment will follow the service in Marshall Co. Memory Gardens, Benton, KY.
Masonic funeral rites will be held Wednesday, September 22, 2021 at 6:00 p.m. in the chapel of the Collier Funeral Home. The service will be open to the public and all are invited to attend.
The family will receive friends from 4:30 p.m. to 8:00 p.m. on Wednesday, September 22, 2021, at Collier Funeral Home, 211 West 5th, Benton, KY.
To send flowers to the family or plant a tree in memory of Lawrence Clayton Copeland please visit our 
Tribute Store.