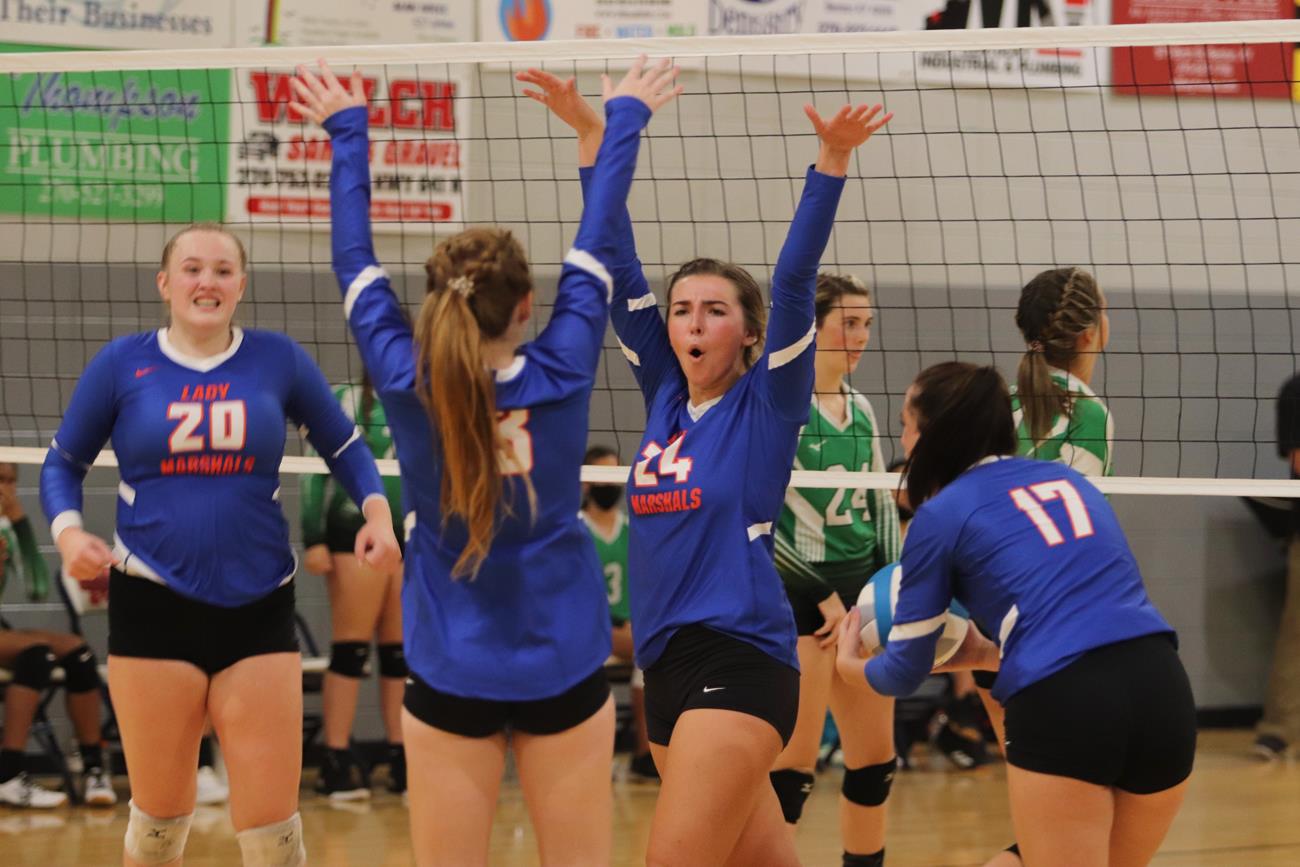 A 4-0 start to the season was on the line when the Lady Marshals hosted Ballard Memorial on Tuesday. The Lady Bombers (7-1) finished the 2020 season 22-3, falling to McCracken County in the First Region Tournament. The Lady Marshals last win over Ballard was in August 2018 and they have lost the last four since.
Tied two sets a piece, Tuesday's match went into the fifth tiebreaker set with Ballard pulling away for the 3-2 win.
"I told my girls ahead of time that we were probably going to go to five sets", Coach Alyssa Finnegan said. "It was going to be a dog fight the whole time and whoever made the least amount of mistakes was going to be who came out on top. The last set we just kind of got into our own heads."
A dog fight it was. The Lady Marshals held a slim lead in the first set until Ballard tied it 7-7 and took their first lead at 8-7. Ballard's largest lead of the set came at 19-15, cut down to 19-18 in part on a couple of kills by senior Halle Langhi. Tied 23-23, Ballard finished out the final two points to take the first set 25-23.
Junior Annie Beard was back to serve for the first three points of the second set and the Lady Marshals stretched their lead to 7-1 before Head Coach Adam Solomon, in his 14th year leading the Lady Bombers, called a time out to try and end the run. Ballard cut the lead down to two points at 14-12 on a kill by senior Isabella Myers but the momentum was with the Lady Marshals and they took the second set 25-20.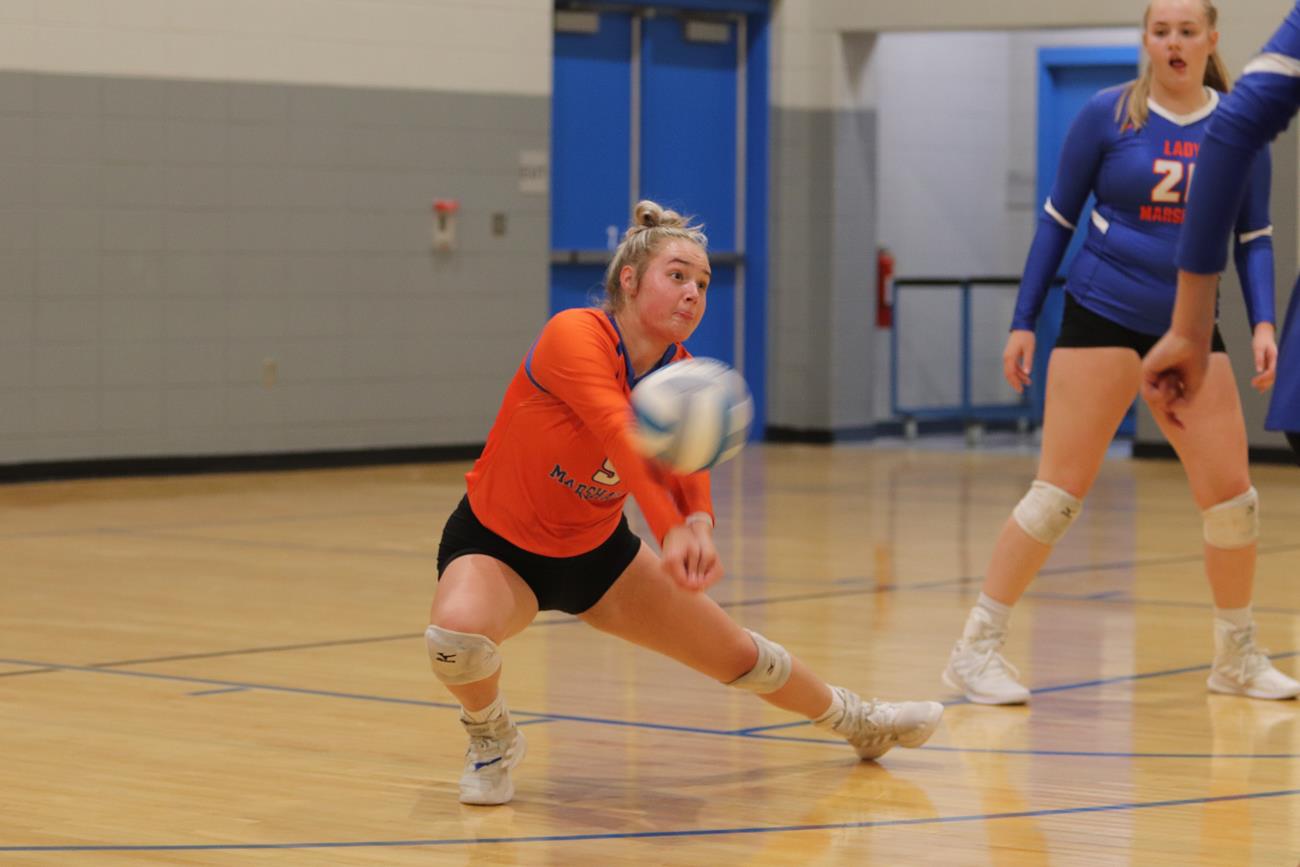 Langhi opened the third set with a kill much like she did the previous two and again, the Lady Marshals were out to an early 5-0 lead on a kill from senior Neely Northcott. The first tie of the set came at 13-13 and eight more ties would follow along with a yellow card issued to each bench by the referee before set three went to the Lady Marshals 26-24.
Another Langhi kill opened set four, one the Lady Bombers needed to win to stay alive in the match. Like the three previous sets, the Lady Marshals held the lead through the midway point before Ballard tied 12-12. Tied 16-16, the Lady Bombers began to stretch out their lead, out-scoring the Lady Marshals 9-2 to finish out set four 25-18 and extend the match into the tiebreaker fifth set.
Following a couple of points on hits from junior Tori Shaw, the Lady Marshals held the edge at 5-3. Kills by Ballard's Bailey Lee and Kinley Doublin fueled an 11-8 lead and they went on to take the tie-breaker 15-9 and the win.
"I love having a good competition and Ballard's good competition and they are every year so I love it, I love the atmosphere Ballard brings and then our fans in turn feed off of that and it helps the girls when everybody gets involved", Coach Finnegan said.
Halle Langhi finished with 24 kills, four blocks, six digs and three aces. Neely Northcott had seven kills and three blocks. Sarah Bremmerkamp and Tori Shaw had five kills and four each from Alyssa McClain and Annie Beard. Beard finished with 24 assists and Lanie Evans had 18. Ashley Bremmerkamp led in digs with 30, Maddie Irvan had 21 and Sarah Bremmerkamp 17. McClain led in aces with four.
Ballard was led by Isabella Myers with 18 kills, 20 assists, 19 digs and four aces. Bailey Lee had 19 kills and 10 digs.
Following their 3-0 season opener win over CCA, the Lady Marshals beat Paducah Tilghman 3-0 (25-22, 25-23, 25-19), Graves County 3-1 (15-25, 25-18, 25-19, 25-7) and Mayfield 3-0 (25-15, 25-20, 25-23). In the three games combined, Halle Langhi led in kills with 48, Sarah Bremmerkamp and Alyssa McClain both with 20. Annie Beard led in assists with 62 and Laney Evans had 28. Ashley Bremmerkamp led in digs with 38 followed by Sarah Bremmerkamp with 24 and Maddie Irvan had 20. Langhi had nine aces and McClain seven.
The Lady Marshals will host Fourth District rival Christian Fellowship (3-4) on Thursday. The Lady Eagles are also coming off a five set loss to Calloway County on Tuesday.

Lady Marshals vs Ballard Memorial