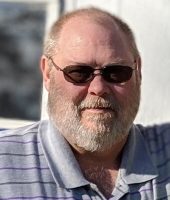 Mr. Charles Dale Enoch, 63, of Hazel, passed away on Thursday, July 29, 2021 at Murray Calloway County Hospital.
Charles was born on May 24, 1958 in Paris, TN at Henry County Hospital to the late Rex and Margarette Enoch.
Charles had been a truck driver since he graduated from high school. The last company he worked for was Milan Express out of Milan, TN having spent 21 years with this company. He attended Green Plains Church of Christ where he was a song leader. Charles loved riding the highways and interstates of America, seeing the sights of our beautiful country. When his youngest brother, Larry, was diagnosed with terminal brain cancer he along with brother, Steve, drove Larry in an RV to several of his bucket list destinations. Charles had a giving heart and an unconditional love for his family.
Charles was preceded in death by parents.
Those left to cherish his memory include his wife, Betty Enoch of Hazel; brothers, Steve Enoch of Hazel, Larry Enoch and wife Teresa of Murray and seven nieces and nephews of which lovingly deemed him "Uncle Turtles" as well as, four great nieces of which Zoe called him "Pappy Charles".
The memorial service for Mr. Charles Enoch is set for 11 AM on Saturday, August 7, 2021 at the Heritage Chapel of Imes Funeral Home, 1804 Highway 121 Bypass North, Murray. John Sales will officiate.
His family welcomes visitors from 5 PM – 8 PM on Friday, August 6, 2021 at the Heritage Chapel.
Please join family and friends in honoring the life of Mr. Charles Enoch by visiting www.imesfh.com and posting your tributes and memories.