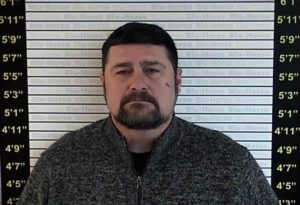 Mayfield, KY. (February 16, 2021) – At approximately 1:30 p.m. Tuesday, Troopers with Kentucky State Police, Post 1 observed a 2001 Toyota Tundra traveling South on Interstate 69 between Benton and Draffenville at a high rate of speed. As the Trooper turned around on the vehicle in an attempt to pull it over, the vehicle continued to drive recklessly through the snow and ice, reaching speeds of 95 mph, and reportedly ran off the roadway multiple times before crossing into Graves County. The vehicle pulled over South of the Graves County line. During the traffic stop, Troopers reportedly smelled the odor of alcohol and the operator showed numerous signs of impairment. The operator, William B. Woods, 45 of Gilbertsville, Kentucky, was taken into custody. During a search of the vehicle, Troopers located two half-empty bottles of liquor, multiple prescription medications, and two firearms. Through investigation, it was discovered Woods is a convicted felon and cannot possess firearms.
Woods was lodged in the Graves County Jail and faces charges in Graves County for Operating Motor Vehicle Under the Influence of Alcohol/Substances 3rd Offense (Aggravated Circumstances), two counts of Possession of Firearm by Convicted Felon, Resisting Arrest, and other traffic offenses. Woods also faces charges in Marshall County of Speeding 25 MPH over the Limit (Limited Access), Reckless Driving, and Driving Too Fast for Conditions.
The investigation is ongoing by Trooper William Propes.