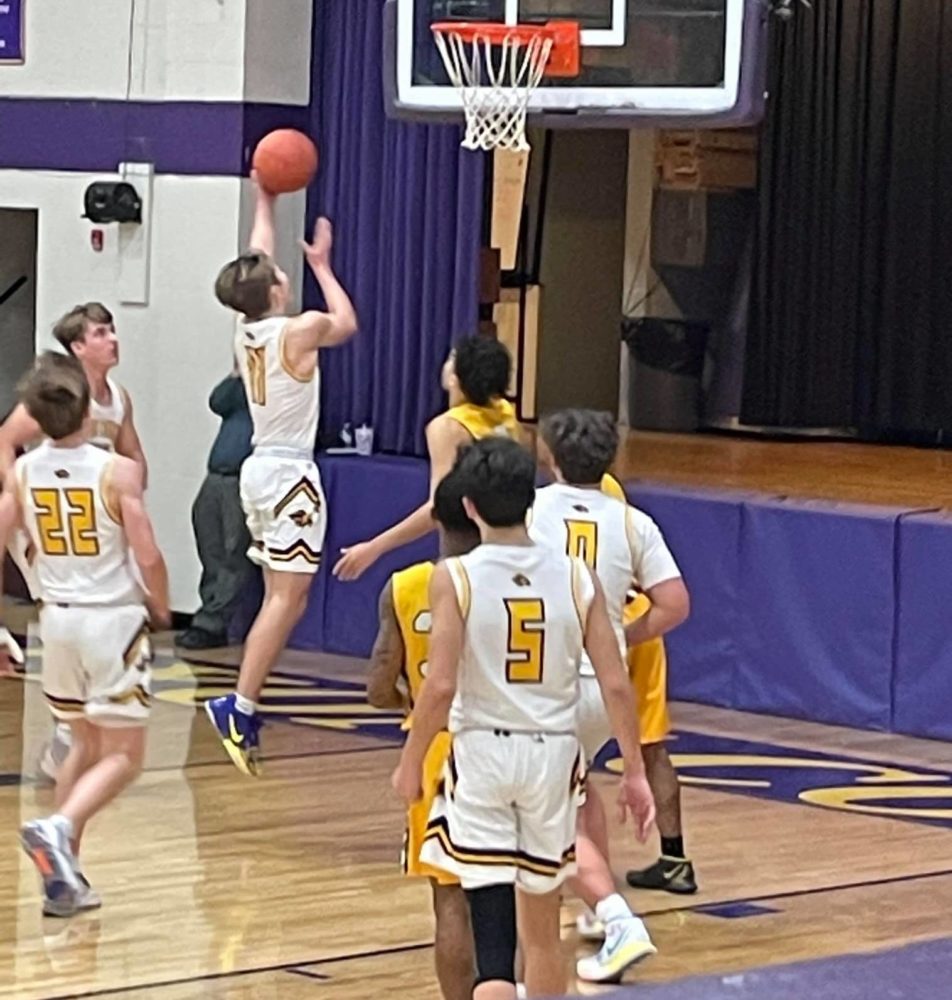 For the first time in over a decade, the Lyon County Lyons advance to the 2nd Region All "A" Championship game after they defeated University Heights Academy 79-77. They will meet Caldwell County on Saturday in Princeton for a chance to advance to the All "A" State Tournament at Eastern Kentucky University, Feb. 17-21.
Lead changes and ties were the name of the game in the pressure-packed four quarters in Eddyville. UHA led 19-18 at the end of the first quarter and the Lyons led by five at halftime at 44-39 after taking their largest lead of the game by seven points in the second frame. They were led in the first half by Jackson Shoulders with 17 points.
Hanging on to a two-point third quarter lead on a basket by Travis Perry, a three from KJ Crump put the Blazers back on top 51-50. The two teams exchanged leads again on buckets by Perry and Crump before Shoulders' and-1 play put the Lyons up 55-54. Two straight by Perry, points from Nick Whalin and a final basket from Perry, tied the Lyons largest lead of the game at 65-58 to start the final quarter.
A 10-3 run by UHA tied the game up at 68 with five minutes remaining. Shoulders put the Lyons up 71-68, DJ Quarles cut the lead to one point for UHA and the Blazers took the lead at 72-71 on a basket by Amani McGee.
Four straight points by Shoulders and free throws by Perry put the Lyons back up 77-73 followed by four points from Quarles to tie the game again at 77. Whalin's layup put the Lyons up 79-77 and with 2.7 seconds on the clock, a final long three attempt thrown up by Crump found the rim as the final buzzer sounded.
Second-year Head Coach Ryan Perry has led the Lyons to a 4-0 start and they hope to make it 5-0 when they meet Caldwell County on Saturday for the All "A" title. Lyon County ended UHA's run of eight straight 2nd Region All "A" titles.
UHA           19   20   19   19  –  77
Lyon Co.   18   26   21   14  –  79
UHA: Crump 19, Quarles 18, Bryan 17, McGee 15, Grubbs
Lyon County: J. Shoulders 28, Perry 27, Whalin 9, Bingham 6, Reddick 4, B. Shoulders 3, Gilbert 2