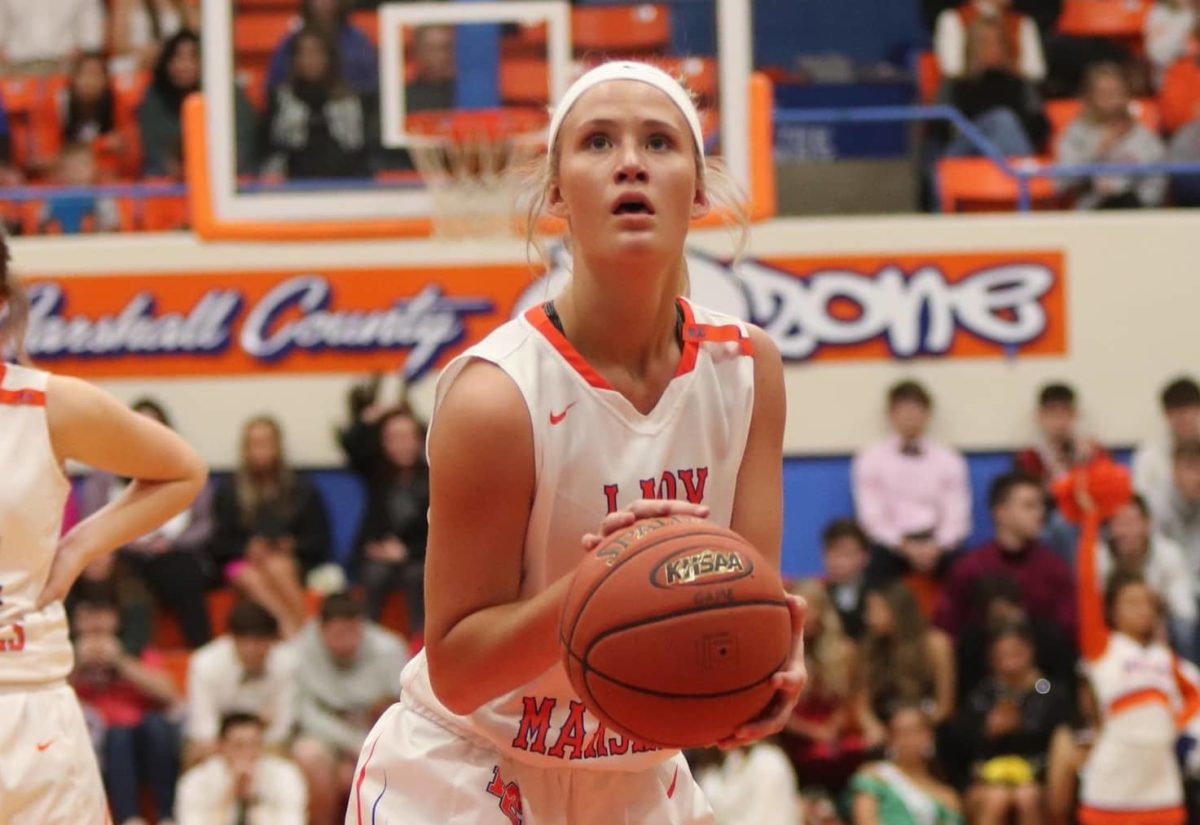 Three straight from three-point range by Jada Driver, fueled the Lady Marshals slow start at Webster County and they never trailed again, beating the Lady Trojans 54-36 on Monday night in Dixon, Ky.
Ranked 10th in the state's first AP poll of the season coming into the game, the Lady Marshals were looking for win number two and their first over Webster County after losing to the Lady Trojans last season and in the 2017-18 season. Webster County won the 6th District Championship last year over Henderson County before their season ended in a 2nd Region Tournament semi-final loss to Madisonville-North Hopkins.
Trailing 6-1 to start the game, Driver dropped in three of her four 3-pointers to put the Lady Marshals up 10-6. The next five points coming on a free throw by Cayson Conner and field goals from Halle Langhi and Presley Jezik for a 15-9 first quarter lead.
Led in the second quarter by Conner with seven of her eight first half points, the Lady Marshals out-scored the Lady Trojans 17-7 to lead 32-16 at halftime.
Webster County juniors Raigan Price and Mary Kate Rakestraw scored the first four points of the second half to draw the Lady Trojans to within 12 points – a bit of a second half slow start for the Lady Marshals that ended on a field goal by Conner. Webster County pulled to within 12 points two more times in the third quarter before a 9-2 Lady Marshals run finished it out on a 45-26 lead to start the fourth quarter.
Driver hit her 13th three of the season to open the fourth, the start of seven straight points – four from Halle Langhi – to lead 52-26. Rakestraw scored for Webster County, then committed her fifth foul of the game which sent Layne Pea to the line for one of two then Sophie Galloway followed with one of two at the line for a 54-30 lead. Karsyn Cates, an eighth grader, cut the Webster County final deficit by six points, dropping in two threes before the final buzzer.
Driver led the scoring with 16 points and she leads all Marshall County scorers through the first three games with 48. Webster County was led by Rakestraw and Price, each with 10 points. The JV Lady Marshals beat Webster County 60-54 in overtime.
Opening the season with three games in four days, the Lady Marshals have a break from competition until Friday when they travel to Murray for a district double-header with the Marshals against Calloway County.
Marshall County   15   17   13    9  –  54
Webster County      9    7   10   10  –  36
Marshall County: Driver 16, Langhi 12, Conner 12, Jezik 6, Galloway 5, Pea 3
Webster County: Rakestraw 10, Price 10, Karsyn Cates 6, Katelyn Cates 6, Shoulders 2, McDyer 2