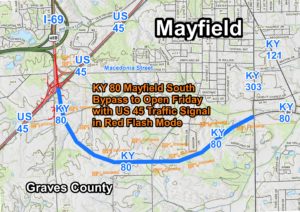 PADUCAH, KY (Nov. 18, 2020) — The Kentucky Transportation Cabinet (KYTC) plans to open the New KY 80 Mayfield South Bypass on Friday, November 20, 2020.
The new 4-lane highway extends westward from KY 303/Cuba Road dipping southward along the edge of Mayfield to meet U.S. 45 at a new intersection at the southwest edge of Mayfield. The 2 and ½ mile section of KY 80 is expected to be ready for traffic around 9 a.m., CST, Friday.
As part of that opening, a new traffic signal at the intersection of U.S. 45 and New KY 80 will be placed in red flash mode. At that time, U.S. 45 traffic will move to the new alignment through the intersection.
The intersection will function as a 4-Way Stop until the signal is placed in full green-yellow-red mode early next week.
Placing the signal in red flash mode and allowing it to function as a 4-/Way Stop will allow motorists to become familiar with changes in traffic flow created by the signal and new alignment.
The signal includes an interconnect with the rail crossing signal on the KY 80 leg of the intersection.
This new intersection and traffic signal is at U.S. 45 Graves County milepoint 14.7. Approximately 7,200 vehicles now travel through this intersection in an average day. Traffic volume is expected to increase when the New KY 80 Corridor is opened.
Jim Smith Contracting of Grand Rivers is the prime contractor on the $14.2 million KY 80 Mayfield South Bypass project.
To get traffic advisories and alerts via email go to https://public.govdelivery.com/accounts/KYTC/signup/13651 and click on counties in Kentucky you regularly drive through, or on any of the specialty corridors you travel. Be sure to check your SPAM filtering to assure Gov Delivery is on your approved list.
Timely traffic advisories for the 12 counties of KYTC Highway District 1 are available by going to www.facebook.com/kytcdistrict1. You do not have to be a Facebook member to access this page.
Navigate traffic at goky.ky.gov, at waze.com, or with the WAZE App.