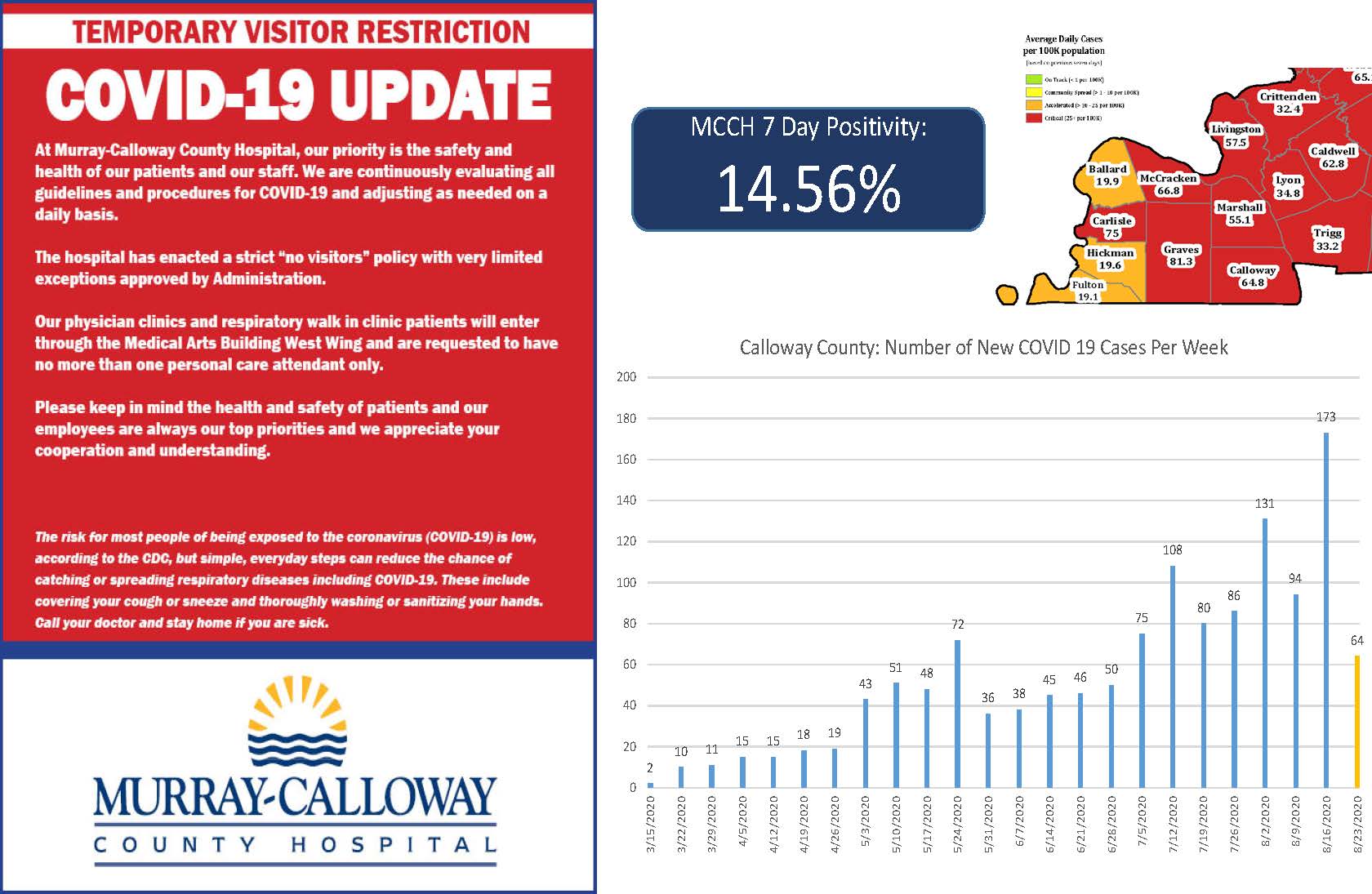 MURRAY, KY – Murray Calloway County Hospital is reinstating a 'NO VISITOR' Policy effective Thursday, November 19, 2020.
Due to the sustained and accelerating increase of new COVID-19 cases, incidence rate, and positivity in Calloway County, MCCH will be restricting visitors to the hospital, procedural areas, and clinics. There will be limited exceptions for minors, end of life situations, and those patients who need assistance from a personal care attendant. We are taking every precaution to continue to ensure that our patients can receive the care that they need in a safe environment. Please do not postpone necessary healthcare. In addition, when you are on campus at MCCH we request you adhere to the guidelines to protect our patients and staff from exposure. During this time of critical community spread, we ask for your compliance and cooperation.
There are currently over 100 active COVID-19 patients admitted to area hospitals. Please be diligent to wear a mask, wash your hands, and practice social distancing.
This visitation policy does not apply to Spring Creek Health Care Nursing & Rehab or the Anna Mae Owen Residential Hospice House.
Our physician clinic patients will enter through the Medical Arts Building West Wing and are requested to have no more than one personal care attendant only. If patients are able to come to their appointments alone, we would recommend they do so at this time.
Those needing COVID testing only should access Murray Medical Drive Thru clinic located off 9th Street at the West Entrance. Individuals who want to be evaluated and are experiencing symptoms should visit the Murray Medical Associates Walk-In Clinic. For more information, call 270.753.0704.
SYMPTOMS MAY INCLUDE:
Fever or chills

Cough

Shortness of breath or difficulty breathing

Fatigue

Muscle or body aches

Headache

New loss of taste or smell

Sore throat

Congestion or runny nose

Nausea or vomiting

Diarrhea
This list does not include all possible symptoms. CDC will continue to update this list as more is learned about COVID-19.
AND
Have been in close contact with a person known to have COVID-19 or live in or have recently traveled from an area with ongoing spread of COVID-19. Call ahead before you go to a doctor's office or emergency room. Tell them about your recent travel and your symptoms.
There are simple things you can do to help keep yourself and others healthy.
Wash your hands often with soap and water for at least 20 seconds, especially after blowing your nose, coughing, or sneezing; going to the bathroom; and before eating or preparing food.

Avoid touching your eyes, nose, and mouth with unwashed hands.

Stay home when you are sick.

Cover your cough or sneeze with a tissue, then throw the tissue in the trash.
If you have questions, or would like additional information, please contact Melony Bray, Public Information Officer and Marketing Director of Murray-Calloway County Hospital at 270.762.1381.