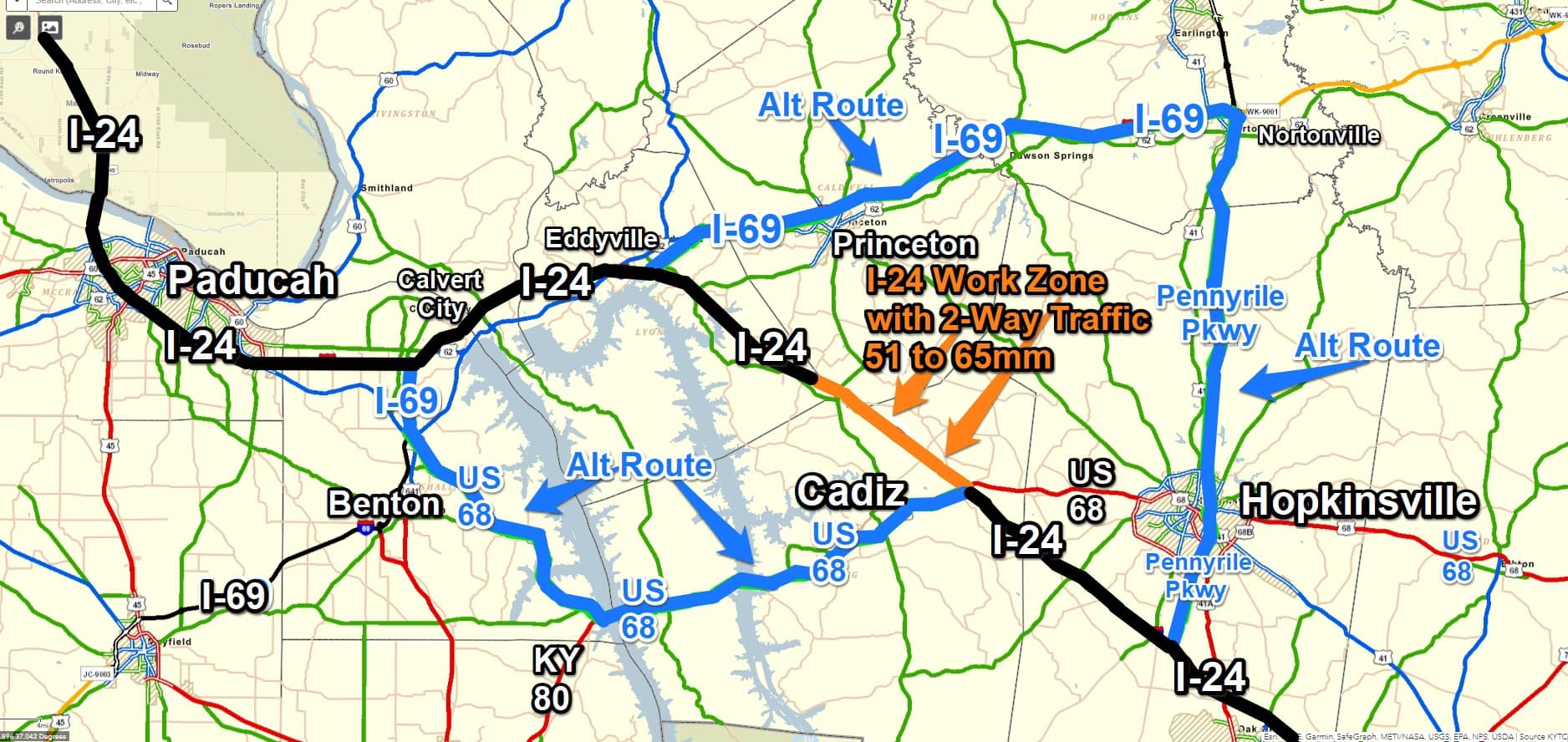 Two alternate routes offered to help reduce traffic congestion on 13-mile work zone 
PADUCAH, Ky. (November 16, 2020) —  In an effort to reduce travel delays along an extended Interstate 24 work zone, the Kentucky Transportation Cabinet advises holiday travelers to use one of two alternate routes to reduce traffic delays caused by an active project on Interstate 24. A 13-mile work zone with 2-way traffic and a centerline barrier wall will remain in place through the peak Thanksgiving travel period.
The I-24 work zone runs from the 51 to 65 mile marker with a 15 ft. width restriction westbound and a 12 ft. width restriction eastbound bound with a 55 mile per hour speed limit.
KYTC District 1 Chief Engineer Kyle Poat says drivers who plan to travel this section of I-24 can reduce potential delays by taking an alternate route.
"While we work to make improvements on I-24, we want to encourage travelers to plan ahead and know their route to avoid delays by choosing one of our two alternate routes," Poat said.  "We've been in a similar situation when a lane restriction in a neighboring county during the 2010 Thanksgiving holiday led to a significant three hour delay and six mile backup.   We want to encourage drivers to take advantage of these alternate routes to avoid any frustration and get to your destination safely and on time."
KYTC District 1 provided maps of 2 proposed alternate routes that add a minimal 15 minutes of travel time.
Alternate route 'A' for eastbound traffic takes I-69 South at I-24 Exit 25 to the U.S. 68 Draffenville Exit 47 Interchange, then heads east along U.S. 68 to Aurora and through Land Between The Lakes to return to I-24 at the Cadiz Exit 65 Interchange.  This alternate route with about 17 miles of 2-lane highway adds about 15 minutes of travel time.  The westbound version of this route runs from Exit 65 to Exit 25 via U.S. 68 East and I-69 North.
Alternate route 'B' for westbound traffic takes I-24 Exit 43 to The Pennyrile Parkway North, then travels Interstate 69 South to return to I-24 at Exit 43.  This alternate has a bit longer drive time, but is all 4-lane.  The eastbound version of this route runs from I-24 Exit 43 to Exit 82 via I-69 North, then the Pennyrile Parkway South.
Both routes allow cross-country travelers to avoid the I-24 work zone with extended traffic restrictions.
"The more cars we have use these alternate routes during peak travel, the better," Poat said. "Diverting some traffic to these alternate routes will also serve to reduce congestion and delays for cross-country travelers who stay on I-24 through the work zone."
Poat encouraged motorists to monitor the I-24 work zone for potential traffic backups by checking the traffic monitoring features at GoKY.ky.gov, the Google Maps traffic feature, WAZE.com, or by using the WAZE APP.  The WAZE APP will also suggest alternate routes when backups occur.  However, some of the parallel routes nearest the work zone are along rural secondary highways that can become congested quickly and are not suitable for commercial truck traffic.
In addition to the 13-mile work zone restrictions, the eastbound exit and entry ramps at the KY 139 Princeton-Cadiz Exit 56 interchange are closed in the work zone until around December 10.  The westbound ramps at the interchange are all open.
This I-24 work zone from the 51 to 65 mile marker includes a strictly-enforced 55 mile per hour speed limit. Radar speed monitoring trailers have been placed along the work zone to remind motorists of the reduced speed.  There is a centerline barrier wall that restricts westbound traffic to a 15 ft. maximum load width while the eastbound lanes have a 12 ft. maximum load width.   More than 22,000 vehicles travel this section of Interstate 24 in an average day.
Hall Contracting of Kentucky is the prime contractor on this $28,090,000 highway improvement project.  The project includes major concrete reconstruction work along the eastbound lanes of I-24.  There will be a later phase of concrete pavement repairs along the westbound lanes.  The target completion date is May 15, 2021.
Maps of the alternate routes are available at www.facebook.com/kytcdistrict1. You do not have to be a Facebook member to access this page.