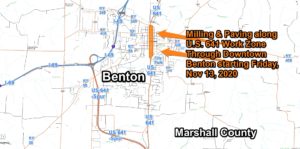 PADUCAH, Ky. (Nov 12, 2020)  — A contractor for the Kentucky Transportation Cabinet plans asphalt paving along the U.S. 641 work zone in downtown Benton starting Friday, November 13, 2020.
This work zone along U.S. 641 runs from mile point 7.98 near the Town Creek Bridge extending northward through downtown Benton to mile point 8.824 at the KY 348/5th Street intersection, a distance of about 8/10ths of a mile.  It includes all of the one-way sections along Main Street and Poplar Street in Benton.
Many of the utility upgrades along this reconstruction project have been completed.  This will allow the contractor to place base courses of asphalt to provide an improved driving surface during the winter months.  The contractor plans to maintain one lane of traffic flow in each direction at all times.  Motorists should be alert for paving crews in close proximity to traffic flow, as well as for trucks hauling asphalt to the paver.
The contractor will attempt to maintain entrances and access for businesses and residences along the work zone.  However, entrance closures will be required during the paving process. 
The crew will be working during daylight hours along about a 4 to 5 block section of the work zone at a time.  There will be no on-street parking in the downtown area while milling and paving crews are active.
The paving of base courses of asphalt along the entire work zone is expected to take about 2 weeks to complete. The contractor plans to return in the spring to pave the final driving surface.
Jim Smith Contracting of Grand Rivers is the prime contractor on this $3,325,189 highway improvement project.  The target completion date for all work on the project is June 1, 2021. 
To get traffic advisories and alerts via email go to https://public.govdelivery.com/accounts/KYTC/signup/13651 and click on counties in Kentucky you regularly drive through or on any of the specialty corridors you travel.  Be sure to check your SPAM filtering to assure Gov Delivery is on your approved list.
Timely traffic advisories for the 12 counties of KYTC Highway District 1 are available by going towww.facebook.com/kytcdistrict1. You do not have to be a Facebook member to access this page.
Navigate traffic at goky.ky.gov, at waze.com, or with the WAZE App.