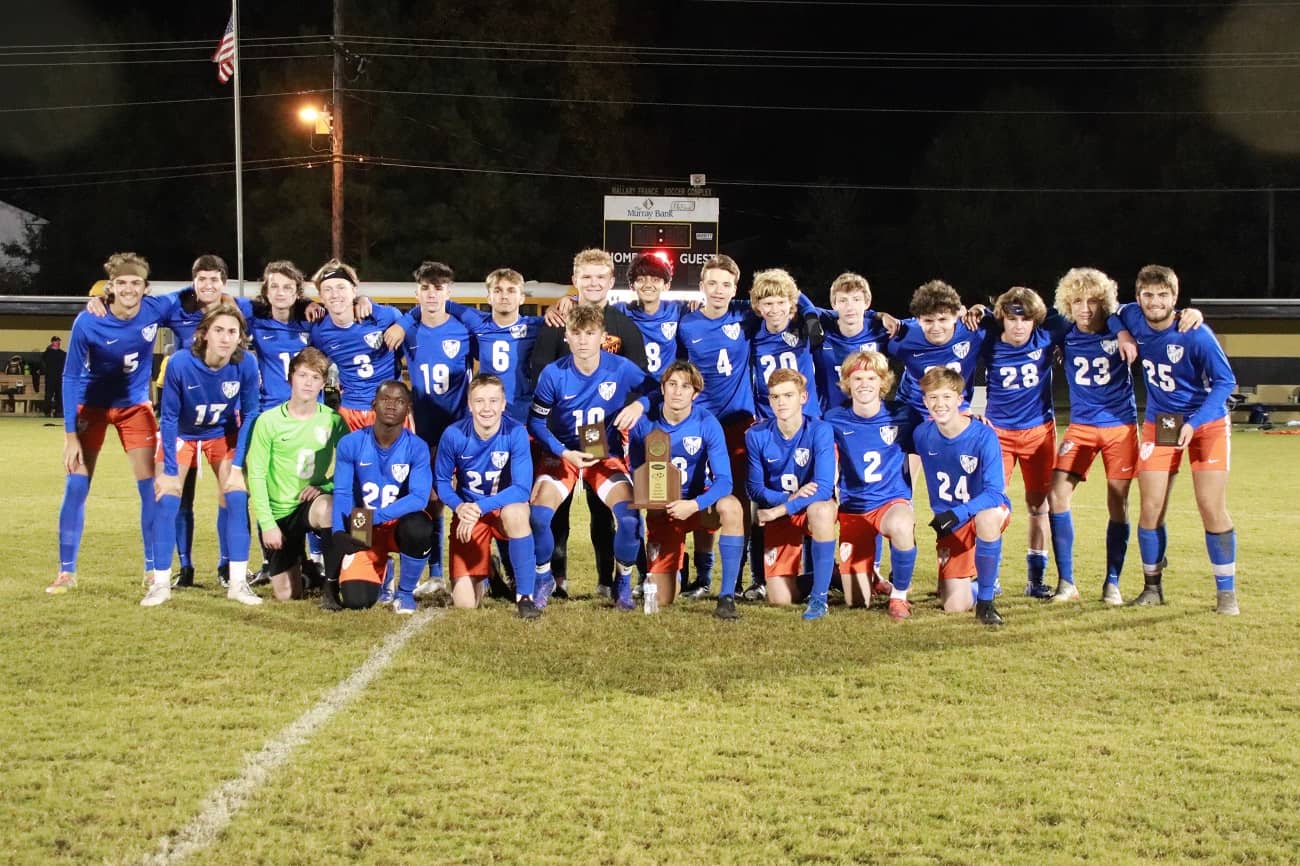 A third straight district title was on the line for the Marshals when they kicked off against Murray in Thursday's championship game in a rematch of the 2019 title game the Marshals won in penalty kicks 1-0.
At the end of 80 minutes, the Marshals raised their third straight district championship trophy, the 23rd in program history and the first for Head Coach Bryan Blevins.
"It feels good", Blevins said of his first district title as head coach. "I'm proud of the boys…I keep trying to tell myself to be happy and all I can think about is the things we should have done a little better. We were a little sloppy all game long but the bottom line was, we made plays when we needed to."
Scoreless for much of the first half, a good opportunity came on a penalty kick taken by Eric Hicks following a foul on Collin Riley that missed high over the goal. With eight and half minutes left before halftime, William Lynch slipped past Murray goalkeeper Nathan Rogers to knock in the first goal of the game and what could have been a 2-0 halftime lead after Collin Shadowen tapped the ball in the far right side, was called off when it was deemed he was off-sides.
Out of the half, a goal by Gabe Taylor tied the game up for Murray and it remained locked up until Shadowen scored in the 58th minute for the Marshals. With the Tigers looking to tie and the Marshals defending their lead, yellow cards made an appearance…the first one awarded to Riley and the second to Murray's Trey Boggess which resulted in a 3-1 game when the free kick taken by Hicks  found the net with 3:08 to go in the game. A couple more yellow cards were shown to Murray's Connor Blalock and Hicks before the final whistle.
They will play St. Mary on Tuesday night in the First Region Tournament at McCracken County. St. Mary lost 4-0 to McCracken County in the First District Championship.
Blevins said of playing St. Mary on a larger field compared to their 2-0 win on the Vikings home field earlier in the season, "We'll be able to get out and run next week and I think that will be in our advantage. They've got some good players…a kid in the back, a kid in the middle and a kid up top that can absolutely make plays and beat you if you let them."
All District Tournament Team:
Marshall County: Ben Burkeen, Tyler Treas, Eric Hicks, Drake May, William Lynch
Murray: Nathan Rogers, Carter Allen, Chase Renick, Gabe Taylor
Calloway County: Landon Houk, Dalton Puckett, Jojo Roblero
Graves County: Juan Garcia, Kaden Slack
Mayfield: Jesus Carmona, Maynor Mejia