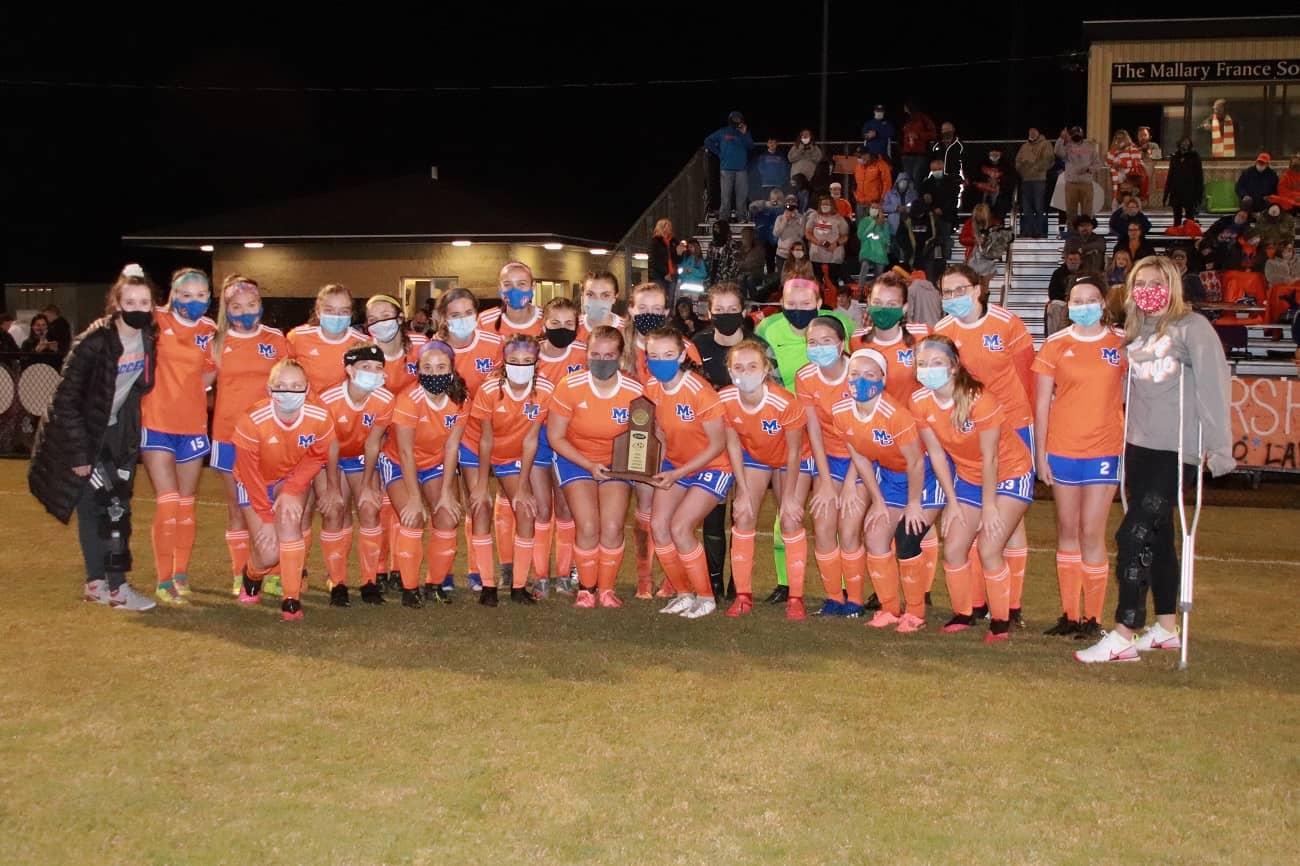 In a convincing 9-1 win over Murray, the Lady Marshals held up the Second District Championship trophy in Murray on Thursday, the fourth consecutive and 20th in program history. It was the 10th under Head Coach Michael Boone who also celebrated another milestone on Wednesday when he notched his 200th career win.
Seven minutes into the title game, Peyton Lamb put the first one in the net on an assist from Kallen Fuller followed four minutes later by goal number two off the foot of Hope Howard on an assist from Kelsey Crass. The lead was quickly cut in half on a goal by Murray's Angela Gierhart less than two minutes later and it was a 2-1 game.
It was back to a two goal lead following a corner from Kinsley Perry that found the net near the 23 minute mark of the half, which began to get a little chippy with a foul called on Crass and yellow card awarded to Riley Campbell on the same play. That didn't stop Crass from continuing to attack when just seconds after the foul, launched the ball high over goalkeeper Anastasia Bryson for a 4-1 halftime lead.
The five second half goals came from Lamb who finished off a direct free kick by Teague just over six minutes in. Teague scored 10 minutes later, sending a penalty kick into the right side of the net following a foul on Hope Howard. Lamb earned a hat trick with her third goal of the night to make it 7-1 and the final two goals came on free kicks by Whitley Watwood and Perry with her second goal of the game.
"It's like the dam broke and we got a couple calls that resulted in free kicks…two from outside the 18 that went straight in", Head Coach Michael Boone said. "Some frustrated fouls we picked up and a PK as well so if we play them again it's not 9-1."
The Lady Marshals took 21 shots compared to nine for the Lady Tigers. Parker Perry had a great game in the goal with seven saves and one save went to Phoebe Ramsey. Bryson recorded five saves for Murray.
"Our girls did a good job…they kept pressing", Boone said. "By the end of the game we had 11 subs on the field. I'm proud of them coming in, and most of them played 10 plus minutes and didn't allow a goal against most of their starters. Proud of their effort and happy to be district champs."
It was Boone's 201st win as head coach and he said he hadn't thought that much about it until seeing at last season's banquet the number of wins and thought, ""hey, eight from 200…that's pretty cool". Getting the 200th against one of his former players and assistant coaches Savannah Thielen, he said was bittersweet but added that he was pretty sure it was her that let the cat out of the bag that the 200th win was approaching.
"Coach Bradley set such a foundation of success and culture in the program that nobody could mess up so I've just been able to carry that on", Boone said. "We have fantastic parents and fantastic players who train the next generation to be the support group of the Lady Marshals. It's exciting but I'm happy with this being win number nine for the season that gets us into the regional tournament and playing the runner-up of District One…and that's what we wanted."
Monday, at McCracken County, the Lady Marshals will play St. Mary at 5:30. The Lady Vikings are the First District runner-up following their 4-0 loss to McCracken County. The Lady Mustangs will meet Murray in the second semi-final at 8:00.
All District Tournament Team:
Marshall County: Kelsey Crass, Kallen Fuller, Mia Teague, Whitley Watwood
Murray: Angela Gierhart, Abby Elmore
Graves County: Madeline Adams, Devanna Faulkner, Hannah Beth Elliott, Ellie Carter, Anna Whitaker
Calloway County: Elle Carson, Bailey Provine, Addi Shumacher
Mayfield: Grace Droboce, Deborah Garcia