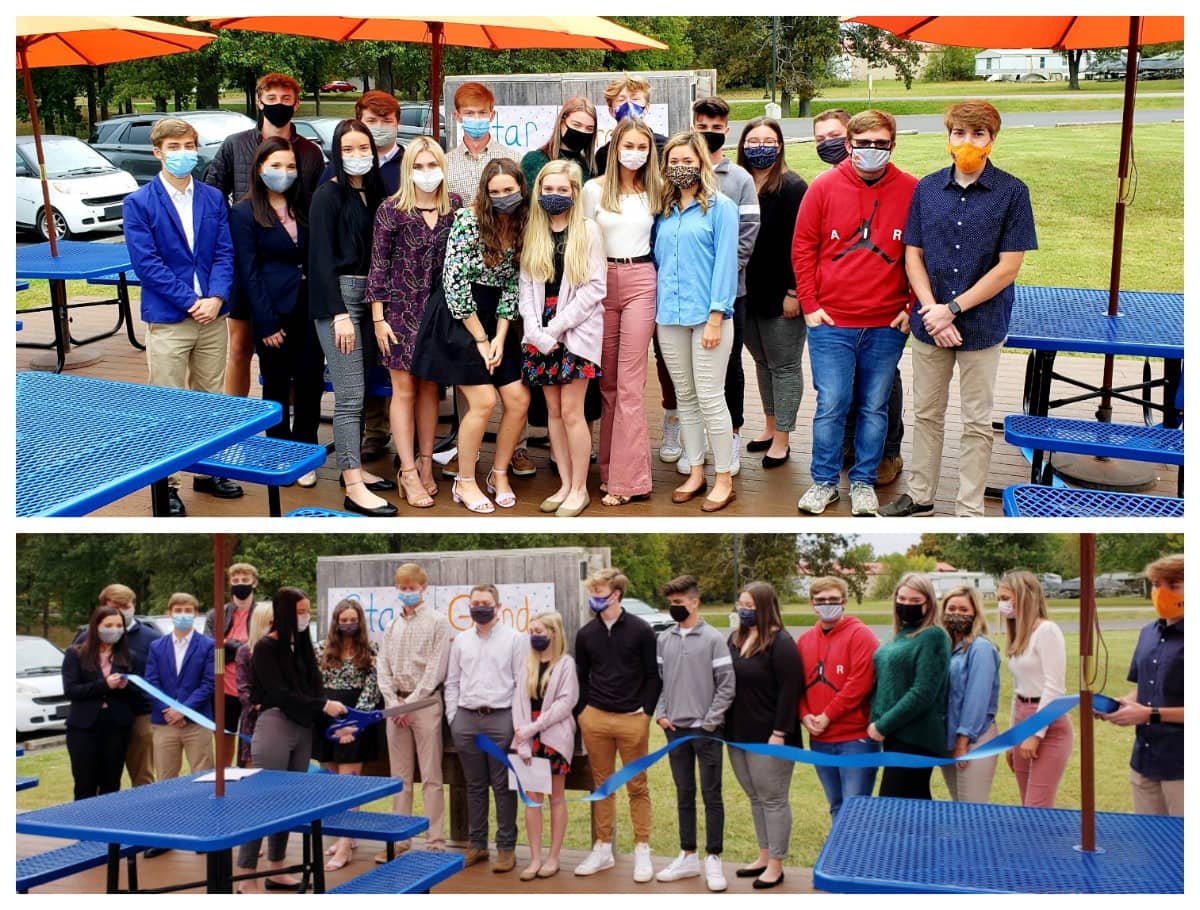 (BENTON, KY)-Marshall County High School's Star Bank, presented by CFSB, held its 30th annual Grand Opening. With the challenge that the pandemic has brought with virtually everything, it has with the student-run Star Bank as well.  However, the students have been determined to push forward!  This year's event was held outdoors due to COVID-19.  After an opening set of speeches by President Mia Jaco, Compliance Officer Ethan Morgan, Bookkeeping Manager Zoe Lewis and Assistant Vice President of Collections Brody Chambers, the ribbon was cut for the new school year and Star Bank is open for business.
The class, Financial Services I and II, is taught by Rebecca Phelps.  Phelps said, "We are so excited to get the bank open!  We have a very mature group of students this year and they are destined to do great things.  The experiences gained in client services as well as performance coaching and teamwork will help them well after their high school days are complete."
Star Bank has been beneficial for both the students at MCHS, as well as CFSB.  CFSB's Vice President, Director of Communications Jeremy Rose stated, "It is so rewarding for us to see these students learn about banking and more importantly, themselves.  Our team puts each of them through an interview process, which had to be held virtually this year.  The interviews include resumes and are very similar to what they will go through when they start applying for scholarships and jobs."  Over 30 students have gone on to careers in the financial industry, including 15 currently employed at CFSB.
2020 MCHS Star Bank
Mary Grace Thompson                               Chief Executive Officer/Public Relations
Mia Jaco                                                         President
Maci Brown                                                   Chairman of the Board/Liaison to CFSB
Dawson Martin                                             Executive Vice President
Madison Clark                                               Executive Secretary
Parker Kerrick                                               Vice President of Communications
Ryder Balentine                                            Vice President of Client Services
Layla Pickett                                                  Vice President of Creative Services/AC
Anna Noles                                                    Vice President of Marketing/Advertising
Abby Hurst                                                     Vice President of Social Media
Jase Strader                                                   AVP of Social Media/Assistant Cashier
Kaden Jameson                                             Head Teller
Zoe Lewis                                                       Bookkeeping Manager
Kalynn Forsythe                                            Cashier
Samone Cavitt                                               Assistant Cashier
Ryan English                                                  Auditor
Ethan Morgan                                               Compliance Officer
Isaiah Kirby                                                    Vice President of Collections
Brody Chambers                                           Assistant Vice President of Collections