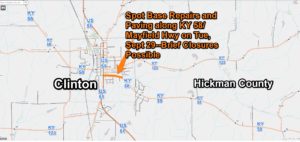 PADUCAH, KY (Sept 25, 2020) A contractor for the Kentucky Transportation Cabinet (KYTC) plans a work zone lane restriction along KY 58/Mayfield Highway in Clinton on Tuesday, September 29, 2020.
Spot milling and paving with base repair work is planned along a section of KY 58/Mayfield Highway in Clinton on Tuesday. This is along KY 58 between the U.S. 51/South Washington Street intersection at milepoint 10.1 extending eastward to College Street at milepoint 10.5.
Motorists should be alert for one-lane traffic with alternating flow controlled by flaggers. Some short closures are possible. Motorists may self-detour via side streets during the brief closures.
Some finish work may extend into Wednesday, if required.
Appropriate caution is required where equipment, flaggers, and maintenance personnel are along the roadway in close proximity to traffic flow.
To get traffic advisories and alerts via email go to https://public.govdelivery.com/accounts/KYTC/signup/13651 and click on counties in Kentucky you regularly drive through, or on any of the specialty corridors you travel. Be sure to check your SPAM filtering to assure Gov Delivery is on your approved list.
Timely traffic advisories for the 12 counties of KYTC Highway District 1 are available by going to www.facebook.com/kytcdistrict1. You do not have to be a Facebook member to access this page.
Navigate traffic at goky.ky.gov, at waze.com, or with the WAZE App.