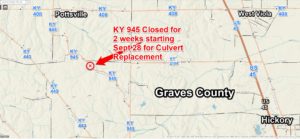 Paducah, KY (Sept 16, 2020) A contractor for the Kentucky Transportation Cabinet (KYTC) plans an extended closure of KY 945 in Graves County starting on Monday, September 28, 2020.
This extended closure of KY 945 at milepoint 3.1 is to allow construction of a pre-fabricated aluminum culvert that carries a branch of Wilson Creek under the roadway. This is along KY 945 southeast of the Pottsville community between Meridian Road and Pleasant Grove Church Road.
KY 945 is expected to be closed at this site for about two weeks. Motorists may self-detour via KY 440 and KY 408.
Construction of a pre-fab aluminum culvert for this site is designed to improve safety by reducing roadway flooding. The pre-fab structure speeds up the construction process to reduce the length of the closure to weeks instead of months.
The target completion date for this culvert replacement project is October 9, 2020.
To get traffic advisories and alerts via email or text message go to https://public.govdelivery.com/accounts/KYTC/signup/13651 and click on counties in Kentucky you regularly drive through, or on any of the specialty corridors you travel. Be sure to check your SPAM filtering to assure Gov Delivery is on your approved list.
Timely traffic advisories for the 12 counties of KYTC Highway District 1 are available by going to www.facebook.com/kytcdistrict1. You do not have to be a Facebook member to access this page.
Navigate traffic at goky.ky.gov, at waze.com, or with the WAZE App.