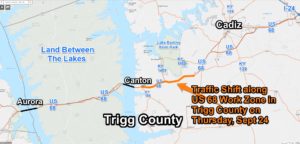 PADUCAH, KY (Sept 21, 2020) A contractor for the Kentucky Transportation Cabinet (KYTC) plans a traffic shift along the U.S. 68 work zone in central Trigg County during the day on Thursday, September 24, 2020.
Weather permitting, one lane of eastbound traffic will be established along the new eastbound lanes from the U.S. 68 Lake Barkley Bridge at Canton extending eastward to the KY 164 intersection. Both eastbound lanes will then be open along the remainder of the new alignment into Cadiz.
One lane of westbound traffic will be traveling on the new westbound lanes of U.S. 68 from the Averitt Lumber Road intersection at milepoint 13.95 extending westward to Canton. This one-lane traffic arrangement westbound will facilitate paving of the final driving surface along the westbound lanes, as well as final paving of side road connections and the multi-use trail.
Motorists should be aware that this continues to be an active work zone with paving crews working in close proximity to traffic flow.
The contractor hopes to complete the final driving surface along U.S. 68 between Averitt Lumber Road and the Lake Barkley Bridge around October 15, weather permitting.
The U.S. 68 Construction Corridor in west-central Trigg County covers about seven miles of U.S. 68/KY 80 between mile point 9.4 at Boyd's Landing Road near Canton extending eastward to near the intersection with U.S. 68-Business at mile point 16.355 at the west edge of Cadiz.
Rogers Group is the prime contractor on the $54.2 million design-build project. Construction of the 7-mile-section is about 84 percent complete.
As a reminder, the U.S. 68/KY 139/South Road intersection at the south edge of Cadiz has an active work zone to allow construction of an R-Cut for the Intersection. Work is expected to take 3 to 6 months to complete. Motorists should be prepared to encounter one lane traffic on U.S. 68 near this intersection.
To get traffic advisories and alerts via email go to https://public.govdelivery.com/accounts/KYTC/signup/13651. Click on counties in Kentucky you regularly drive through, or on any of the specialty corridors you travel. Be sure to check your SPAM filtering to assure Gov Delivery is on your approved list.
Timely traffic advisories for the 12 counties of KYTC Highway District 1 are available by going to www.facebook.com/kytcdistrict1. You do not have to be a Facebook member to access this page.
Navigate traffic at goky.ky.gov, at waze.com, or with the WAZE App.