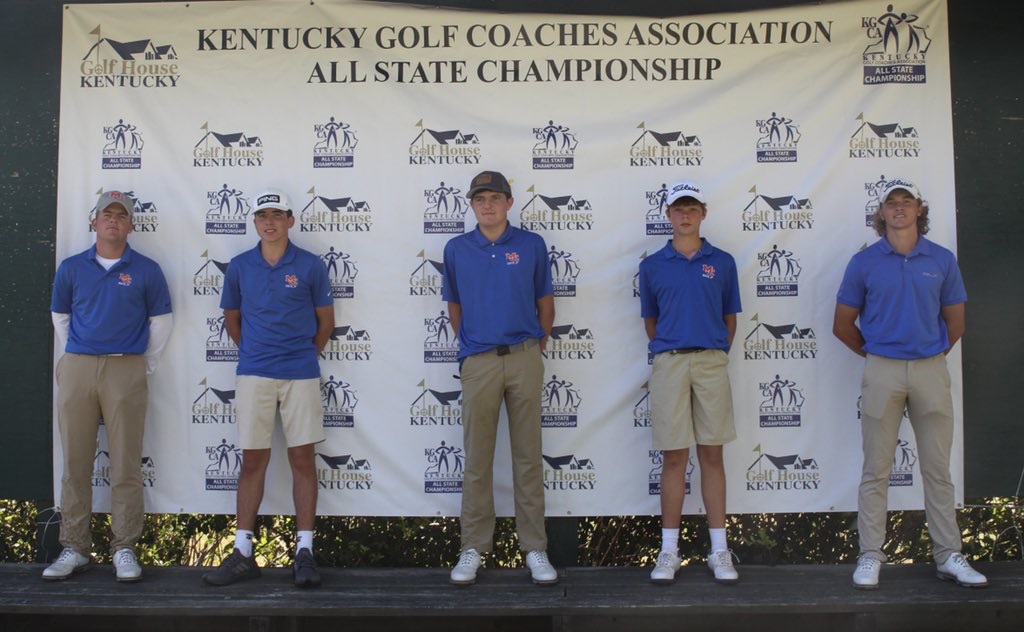 Among the top 15 teams in the state and 21 individuals, based on Kentucky Golf Coaches Association All-State points earned throughout the season at high school invitationals, the Marshals finished eighth in the two-day All-State Championship held at the University Club of Kentucky at +51 (306-317=623).
Madison Central won the team title at +17 (301-288=589), second went to Trinity at +18 (300-290=590) and third to St. Xavier at +28 (290-310=590). St. Xavier led Lexington Christian Academy by seven strokes, Trinity by 10 and Madison Central by 11 after the first day. A big second day swing for Madison Central shooting 13 strokes better and Trinity 10 better led to their top two spots after St. Xavier dropped 20 strokes on Sunday.
Jay Nimmo led the Marshals at 1-under par (71-71=142) to finish T2. Camdyn McLeod placed T50 at +14 (77-80=157), Trey Wall 57th at +15 (78-80=158), David Jack Morris 76th at +23 (80-86= 166) and Preston Futrell 87th at +31 (87-87=174).
Medalist honors went to Ryan Wotherspoon from Cooper who finished 3-under par (69-71=140), winning by two strokes over Nimmo and Jackson Finney of St. Xavier at 1-under (70-72=142).
The Marshals will now prepare for the Sept. 28 Region One Tournament at Murray Country Club and play for a possible third straight title.