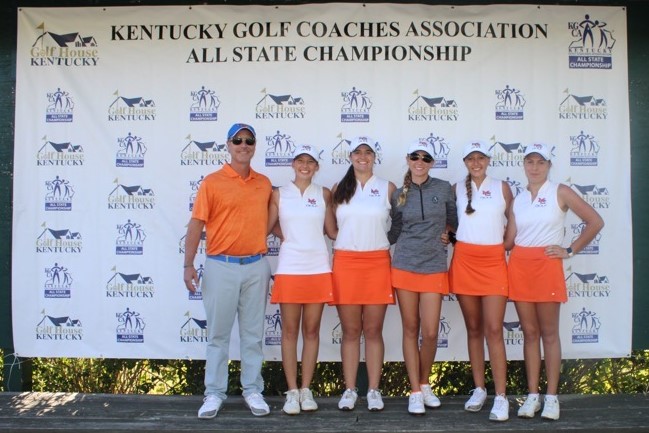 The Lady Marshals are the KGCA All-State Champions following their 32-stroke victory at the University Club of Kentucky this past weekend in Lexington. They beat both the 2019 state runner-up South Warren who finished second and the 2019 State Champion Lexington Christian Academy who finished third.
At the conclusion of Saturday's first round, they led by 12 strokes over Madison Central and went on to shoot 12 strokes better on Sunday to earn the 32 stroke win, finishing at +46 (317-305=622). Both South Warren (332-332=654) and LCA (333-321=654) finished at +78.
The Lady Marshals team total of 322 over the two days was 78 strokes better than last year's result at the All-State Championship when they finished seventh.
The top 15 teams in state point rankings are invited to compete in the first Kentucky Golf Coaches Association All-State Championship.
Individually, Trinity Beth finished second after leading by two strokes on day one. She finished 1-under par (70-73=143) for the tournament, just one stroke back of winner Macie Brown of Bullitt East at 2-under (72-70=142).
Savannah Howell took third at even par (74-70=144) just two strokes off of first. Megan Hertter rounded out the top 10 with a tied at eighth place finish at +8 (79-73=152). Elsie Riley finished 67th at +42 (94-92=186) and Katie Roberts 68th at +43 (98-89=187).
The team's focus will turn to the Sept. 29 Region One Tournament at Calvert City Country Club. They will be aiming for their fourth consecutive regional championship.