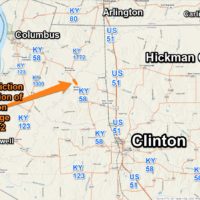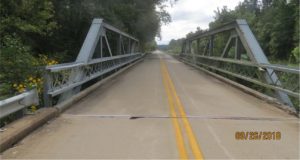 PADUCAH, Ky. (Sept 15, 2020) — The Kentucky Transportation Cabinet plans a daytime work zone lane restriction on a section of KY 58 in northwest Hickman County on Tuesday, September 22, 2020.
This lane restriction along KY 58 between Clinton and Columbus is to allow a detailed inspection of the Obion Creek Bridge at mile point 4.92. This daytime work zone is along KY 58 between KY 1540 and KY 1772.
This work zone is expected to be in place from approximately 8 a.m., CDT, to about 2 p.m., Tuesday.
Motorists should be prepared to encounter one lane traffic with alternating flow controlled by flaggers. Appropriate caution is required where equipment, flaggers, and inspection personnel are along the roadway in close proximity to traffic flow.
Constructed in 1928, the KY 58 Obion Creek Bridge has a 100 ft. 6-panel Pratt pony truss main span. It is one of 3 pony truss structures still in service on roadways in KYTC District 1.
All Kentucky bridges get a detailed inspection every 2 years, with long-span river and lake bridges getting an extra walk-through inspection annually. Bridges with reduced load limits get additional safety checks from time to time.
Timely traffic advisories for the 12 counties of KYTC Highway District 1 are available by going to www.facebook.com/kytcdistrict1. You do not have to be a Facebook member to access this page.
Navigate traffic at goky.ky.gov, at waze.com, or with the WAZE App.