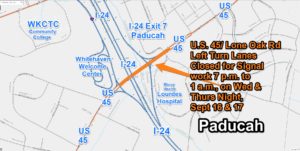 Paducah, KY (Sept 14, 2020) The Kentucky Transportation Cabinet (KYTC) plans night traffic signal work along U.S. 45/Lone Oak Road at the I-24 Paducah Exit 7 Interchange on Wednesday and Thursday night, September 16 & 17, 2020.
This work along U.S. 45/Lone Oak Road between McCracken County mile point 7.962 and mile point 8.186 will require the left turn lanes to be closed at 3 signals in and near the Interstate 24 Paducah Exit 7 Interchange. The night work will include signals at the U.S. 45/Lone Oak Road ramp and connector road intersections, as well as the Kennedy Road/McAuly Street intersection at the entrance to Mercy Lourdes Hospital.
An electrical contractor and KYTC District 1 Traffic Group personnel will be reworking the 3 signals to add protected/permissive yellow flashing arrows for the turn lanes. The turn lanes will be closed at each intersection to facilitate this work.
Motorists should be alert for bucket trucks and electrical personnel working in these intersections from 7 p.m., CDT, to 1:00 a.m., on Wednesday night and Thursday night.
During the night left turn lane closures, motorists should drive past the work zone to find a safe place to turn around and return from the opposite direction to make a right turn into the appropriate ramp, connector road, or side street.
Appropriate caution is required where equipment, flaggers, and electrical personnel are working in the roadway in close proximity to traffic flow.
This work to install flashing yellow arrows for the turn lanes is designed to improve traffic flow along U.S. 45/Lone Oak Road through the I-24 Paducah Exit 7 Interchange.
Approximately 25,300 vehicles travel U.S. 45 through the Exit 7 Interchange in an average day.
To get traffic advisories and alerts via email or text message go to https://public.govdelivery.com/accounts/KYTC/signup/13651 and click on counties in Kentucky you regularly drive through, or on any of the specialty corridors you travel. Be sure to check your SPAM filtering to assure Gov Delivery is on your approved list.
Timely traffic advisories for the 12 counties of KYTC Highway District 1 are available by going to www.facebook.com/kytcdistrict1. You do not have to be a Facebook member to access this page.
Navigate traffic at goky.ky.gov, at waze.com, or with the WAZE App.