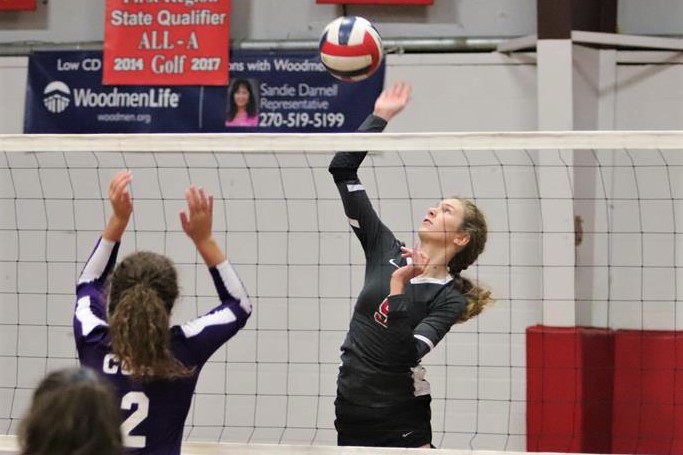 Reigning 4th District champions and 1st Region runner-up Christian Fellowship Lady Eagles, are off to a 4-1 start in the 2020 season. Despite losing six talented seniors to graduation from last year's 27-9 squad, the Lady Eagles underclassmen have seamlessly stepped up to fill the void under Head Coach Suzie Burnett who is starting her 11th season with CFS.
They opened the season last Thursday with a 3-2 win (10-25, 25-22, 22-25, 25-19, 15-10) over Graves County. Leading the way for the Lady Eagles in kills was Emma Fletcher (13) and Lillian Burnett (13). Rhema Howard led in assists with 17 and in service aces with three. In digs, Gracie Howard had 16, Burnett 15, Cameron Slayden and Brecksyn Etheridge both with 10.
The Lady Eagles fell one win short of defending their 2019 1st Region All "A" Classic title on Saturday, losing to Ballard Memorial 2-1 (22-25, 25-11, 13-25) in the championship game. To get the the title game, CFS won four matches over Hickman County 2-1 (25-18, 23-25, 15-9), Carlisle County 2-0 (25-14, 25-13), Community Christian Academy 2-1 (25-15, 24-26, 25-19) and Murray 2-0 (25-17, 25-15).
Over their five games in the All "A" Classic, Burnett led in kills with 39, in blocks with 22 and digs with 34.  Fletcher recorded 34 kills and eight aces. Gracie Howard had 17 digs and led in aces with 18. Rhema Howard recorded the most assists with 69.
Ballard Memorial is undefeated at 7-0 and will advance to begin play in the All "A" State Tournament on Sept. 18 at Eastern Kentucky University against the winner from Region 2.
CFS will play their home-opener on Tuesday against district opponent Murray starting at 5:30 with the JV match.
CFS All "A" Classic stat leaders:
CFS 2, Hickman 1
Kills: Emma Fletcher 10, Lillian Burnett 9
Blocks: Lillian Burnett 5
Assists: Rhema Howard 22
Digs: Lillian Burnett 5
Aces: Gracie Howard 3
CFS 2, Carlisle County 0
Kills: Lillian Burnett 9, Gracie Howard 5
Assists: Rhema Howard 11
Digs: Lillian Burnett 4, Cameron Slayden 4
Aces: Gracie Howard 6
CFS 2, CCA 1
Kills: Lillian Burnett 10, Emma Fletcher 9
Blocks: Lillian Burnett 6
Assists: Rhema Howard 21
Digs: Lillian Burnett 15, Gracie Howard 11, Emma Fletcher 9
Aces: Emma Fletcher 5
CFS 2, Murray 0
Kills: Lillian Burnett 6
Assists: Rhema Howard 5
Digs: Cameron Slayden 4
Aces: Gracie Howard 7, Zailey McClain 5
Ballard 2, CFS 1
Kills: Emma Fletcher 11
Blocks: Lillian Burnett 4
Assists: Rhema Howard 10
Digs: Lillian Burnett 10
Aces: Brecksyn Etheridge 3
Schedule download: 2020-CFS-Volleyball-Schedule