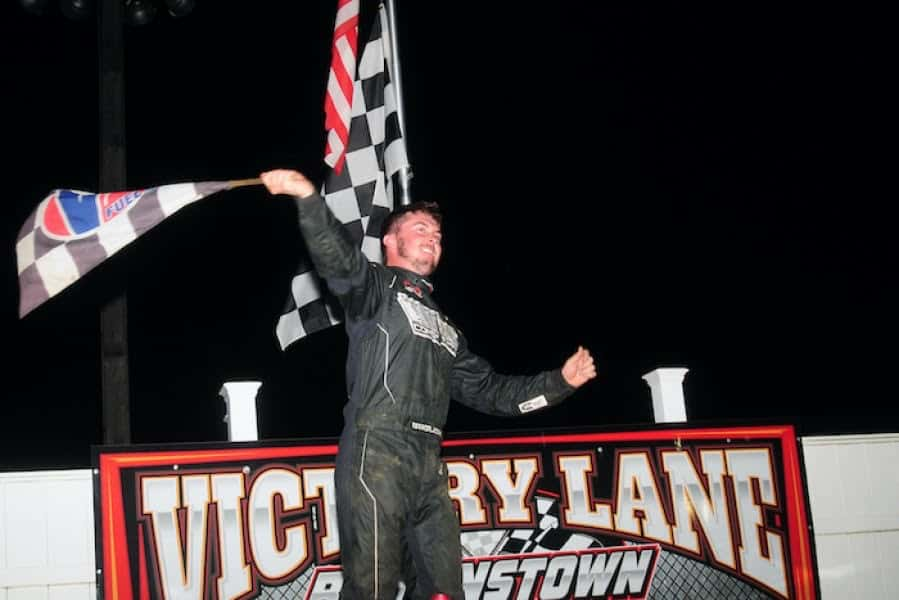 Tanner English is leading the Rookie of the Year points standings in the Lucas Oil Dirt Late Model Series this summer. English has been chasing points throughout the summer and has maintained 10th place this season. He is working and driving full time for Riggs Motorsports and drives the 81E car for Scott and Tara Riggs, based out of Norris City, Ill.
With an off-weekend in the Lucas Oil Dirt Late Model Series, English took the #96 car to Ponderosa Speedway in Junction City, Ky. on Friday to compete for $4,000 in the Ironman Series. He set a new track record with a 12.280 and ran second in the 40-lap feature.
He then headed to Brownstown, Ind. and competed in the $10K to win 16th annual Hall of Fame Classic. English had the third quickest time overall, finished third in the third heat race and started 11th in the A-Main.
Four laps into the A-Main on the first caution, he had worked his way up to fifth and with two laps to go, took the lead to win the 50-lapper after a duel with Josh Rice of Verona, Ky. over the last three laps. This was English's second trip to victory lane in the Hall of Fame Classic – winning in 2017.
Kent Robinson of Bloomington, Ind., led the majority of the laps before Rice edged him out with three laps to go and just one lap later, English took the lead and the checkered flag.
Read more on the race at dirtondirt.com
More photos below from the win. Photos by Mark Schaefer, www.schaefer11.smugmug.com