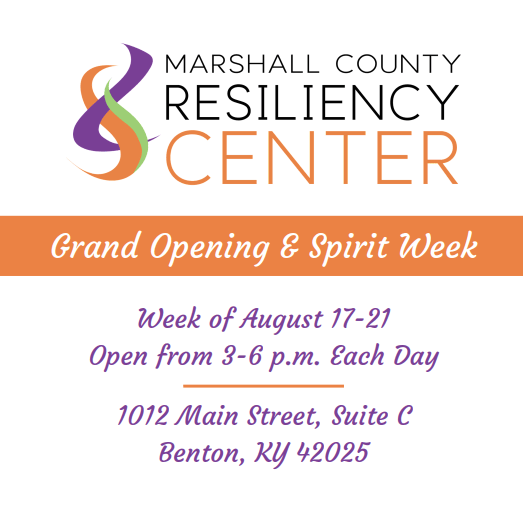 Paducah, KY – The Merryman House Domestic Crisis Center will celebrate the grand opening of the Marshall County Resiliency Center by inviting the community to a Spirit Week, the week of August 17-21, 2020, at its physical location at 1012 Main Street, Suite C, in Benton, Ky.
All community members are welcome to walk through the Resiliency Center and speak with staff on any day that week from 3-6 p.m. each afternoon. However, groups are invited to come on specific days to be spotlighted: Monday- Emergency Management Services; Tuesday- elected officials; Wednesday- school personnel, parents and students; Thursday- businesses, community organizations and churches; Friday- community members. All state recommendations and mandates will be followed in regard to COVID-19.
"The Merryman House Domestic Crisis Center is so excited to announce the physical opening of the Marshall County Resiliency Center to the community after only being able to offer telehealth services through the spring," Executive Director Dr. Mary Foley said. "We want to show up for our community and its needs in every way we can, especially considering the added stress we have all collectively taken on since the beginning of the pandemic. We so look forward to safely meeting those who are looking to access services as well as those who would like to partner with us."
The Marshall County Resiliency Center (MCRC) was developed by and is a program of the Merryman House Domestic Crisis Center (MHDCC) to serve as a comprehensive place of healing to the community at large after the events of January 23, 2018 at Marshall County High School. The Center serves as a free and confidential resource that offers support and care to victims of crime residing in Kentucky's eight-county Purchase Region.
MHDCC believes in the innate resiliency of all people, in sharing resources and tools that strengthen individuals' ability to empower themselves, to be resilient and heal, and to create meaningful change in their lives. The MCRC aims to connect with people to help them access their resiliency, release and transform painful life experiences, and move toward healthy lives.
Providers at MCRC offer a trauma-informed perspective— with an understanding of the nature of trauma and its impact on the mind, body, and spirit.
BACKGROUND INFORMATION:
What is the Marshall County Resiliency Center?
A resource of the Merryman House Domestic Crisis Center (MHDCC) t

o assist victims of crime with adapting to change, stress and trauma in healthy and flexible ways. Overall, MCRC's goal is to assist individuals and our community build resilience.
      •   A community-based place where people can connect with others and participate in free              services.
 What kind of services does MCRC offer?
•             Trauma Therapy
•             Activities for Adults, Teens and Children
•             Expressive Arts
•             Spiritual Enrichment Services
•             Community Engagement/Educational Events
•             Support Groups
•             Self-Assessment Tools to Help Determine Your Personal Needs
•             Victim Resources and Referrals to Community Partners
•             Support during ​criminal trial for the families and wider community
 What is the cost for services?
•             All services are free for all victims of crime in the Purchase Region of Kentucky.
Spirit Week flyer: RC-Spirit-Week-Invitation
###
About
Merryman House, a 501(c)(3) non-profit corporation, is committed to saving, building and changing the lives of victims of domestic violence. It has been serving the eight-county Purchase Region as the state-designated provider since 1978. Merryman House offers residential and non-residential programming as well. It has five outreach offices located in McCracken, Marshall, Graves, Fulton and Calloway counties. Merryman House serves in excess of 1,000 victims per year, and all services are free and confidential.
If you would like more information about the Merryman House, please contact Dr. Mary Foley, Executive Director of Merryman House at 270-443-6001; email at maryf@merrymanhouse.org; or visit the website at www.merrymanhouse.org.