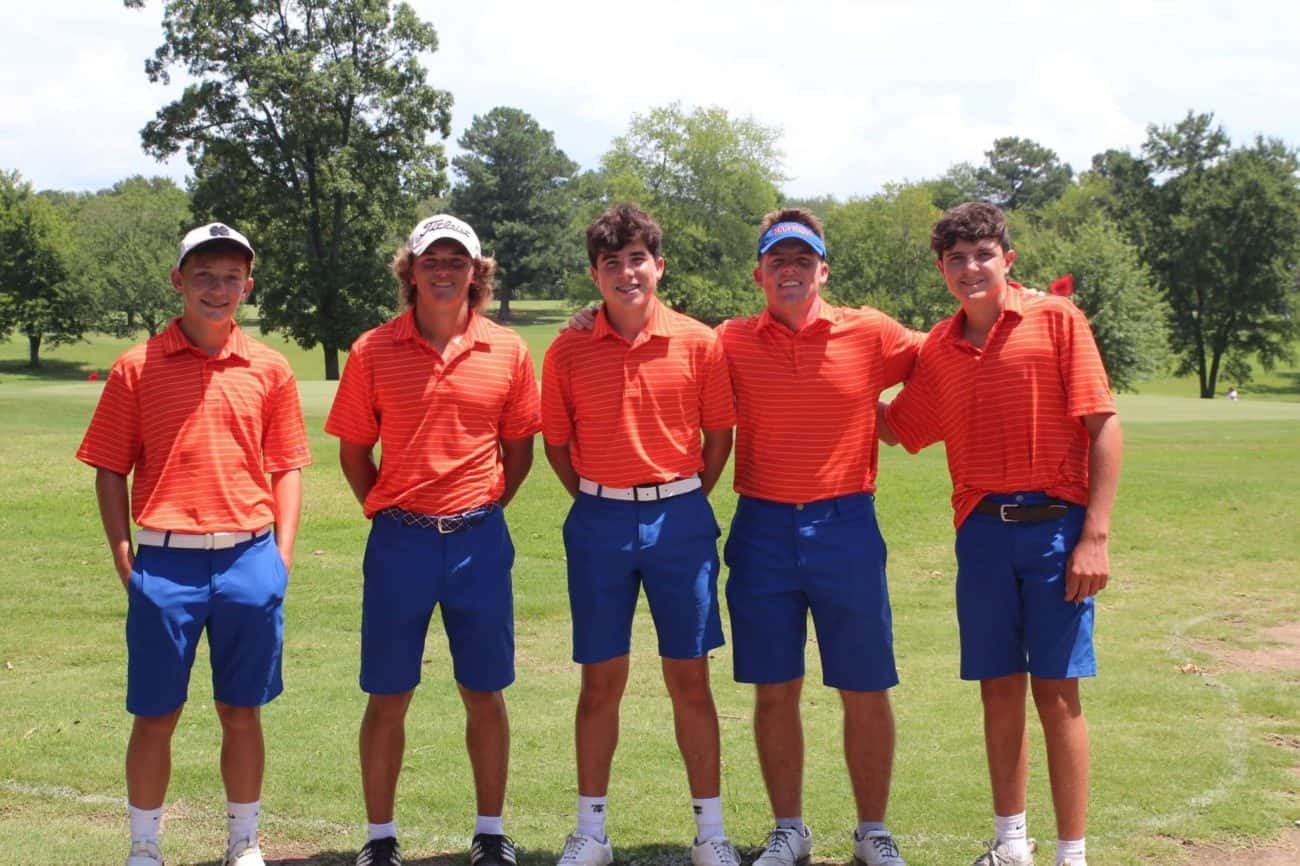 Marshall County boys golf opened the 2020 season Friday at Murray Country Club in the Murray Invitational.  The rain held off for the first event of the season and the Marshals won by by 14 strokes in the field of 12 teams with a score of 308. St. Mary placed second with 322 and Trigg County third with 341.
Medalist honors went to Marshall County's Jay Nimmo by carding a 6-under par 66.  He was followed by St. Mary's Rocco Zakutney who shot 70 (2-under) and a four-way tie for third place between St. Mary's Payton Purvis, Marshall County's Camdyn McLeod, McCracken County's Garret Rikel and UHA's Jiles Wyatt who all shot 77.
"It was great to begin the golf season and our players were excited to be playing competitive golf finally", Coach Keith Bell said. "I was proud of all our players and their effort today.  I'm sure all of our players found some areas where they need to work on their game and we will continue to do just that.  Jay had a tremendous round today shooting 6-under par. This effort comes after just competing in an AJGA event in Missouri earlier in the week."
The Marshals will return to Murray Country Club in late September for the Region 1 Tournament to defend their title and hope to earn a sixth straight state tournament appearance.
They head to Bowling Green Country Club to play in the Gator Invitational on Monday and from there will travel to Lexington to compete on Wednesday in the Kentucky Cup. They will play against high level competition and some of the top teams in the state in both of these events.
Marshall County results:
Jay Nimmo (66), Camdyn McLeod (77), Trey Wall (81), Hayden Powell (84), Preston Futrell (90)
B Team: Ryan Stokes (86), David Jack Morris (88), Gunner Hoover (89), Tate Scillian (92), Drake Butler (93)
Murray Invitational team results:
Marshall County, 308
St. Mary, 322
McCracken County, 327
Trigg County, 341
Marshall County 'B', 355
Crittendon County, 367
Murray, 381
Calloway County, 385
UHA, 392
Paducah Tilghman, 401
Graves County, 430
Caldwell County, 492
Murray 'B', 499
Top Individual Results:
Jay Nimmo (Marshall), 66
Rocco Zakutney (St. Mary), 70
Payton Purvis, (St. Mary), 77
Garrett Rikel (St. Mary), 77
Camdyn McLeod (Marshall), 77
Jiles Wyatt (UHA), 77
Hunter Reynolds (Trigg), 80
Trey Wall (Marshall), 81
Camryn Beatty (McCracken), 82
Tyler Drew (McCracken), 83
Hayden Powell (Marshall), 84
Trey Carr (Trigg), 84