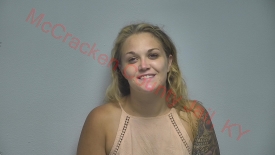 On July 30th, 2020 at approximately 8:30 pm, a McCracken County Sheriff's Deputy attempted to stop a vehicle on John Puryear Drive near Exit 11. The vehicle began to elude the deputy by traveling onto Interstate 24, eastbound, at a high rate of speed. Once inside Marshall County, the vehicle left the south side of the roadway and came to an sudden stop. The two occupants exited the vehicle and began fleeing from the deputy on foot. The operator of the vehicle, 24-year-old Kaylin Herzog of Ledbetter, KY, was taken into custody after a foot pursuit through a wooded area. Once Herzog was placed into custody she was able to slip out of the handcuffs, pull away from the deputy, and flee on
foot a second time. Herzog was again taken into custody after another brief foot pursuit.
During a search of the vehicle deputies located drug paraphernalia and asmall quantity of methamphetamine.
Deputies continued to search the area throughout the night for the passenger of the vehicle, a white male, but were unsuccessful in locating him.
The McCracken County Sheriff's Department was assisted on scene by the Paducah Police Department, Marshall County Sheriff's Department, Kentucky State Police, and Stinnett's Wrecker Service.
Herzog's charges:
One headlight
First degree fleeing and evading police (motor vehicle)
Speeding 26mph or greater
Reckless driving
Two counts of first degree fleeing and evading police (on foot)
Escape 2nd degree
Resisting arrest
First degree possession of methamphetamine 2nd offense
Drug paraphernalia
Open container of an alcoholic beverage in a motor vehicle
Driving on DUI suspended license
No registration plates
No registration receipt
Failure to produce insurance card