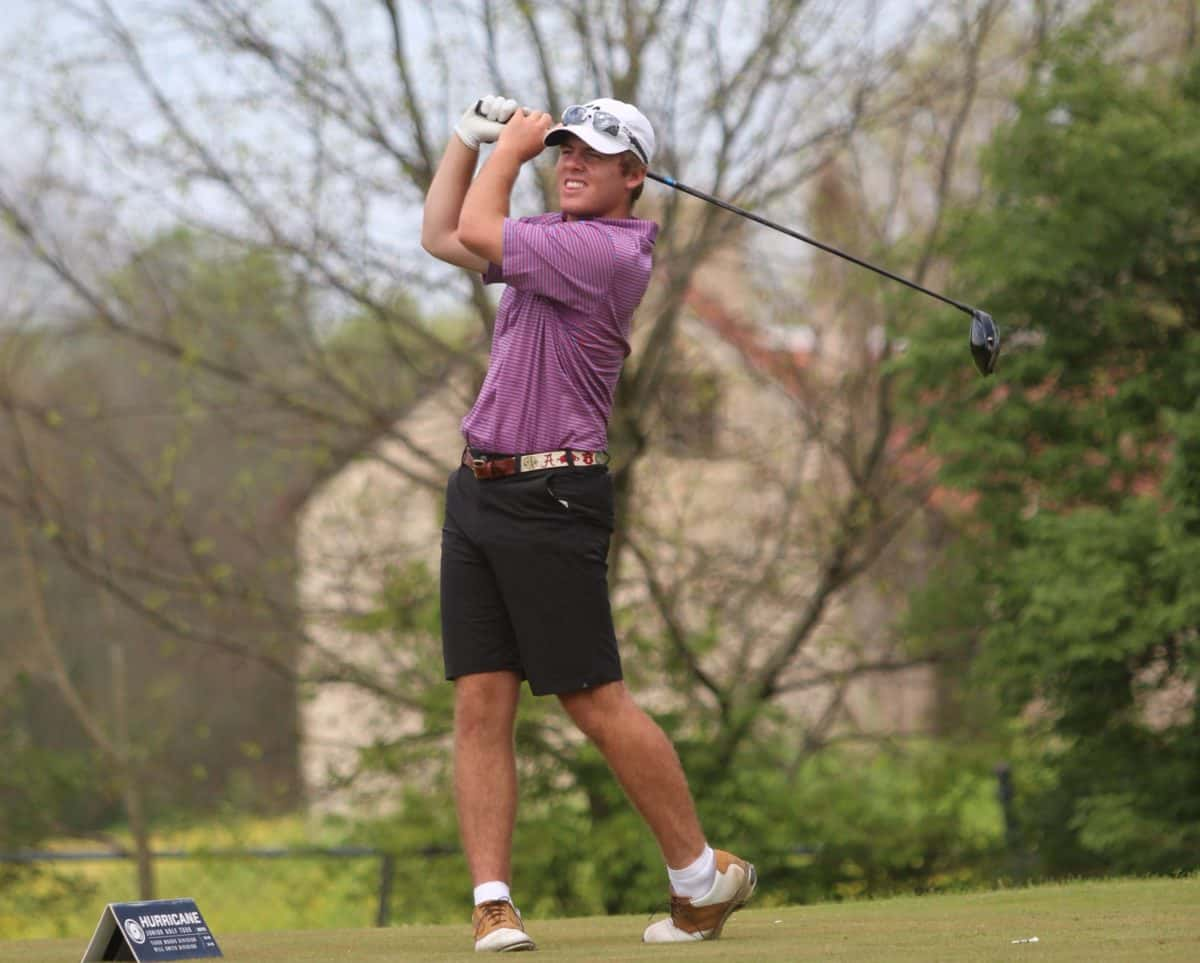 Following a win at the Benton Golf and Country Club Men's Invitational shooting a pair of 65's this past weekend, Jay Nimmo will tee it up at the Irvin Cobb Golf Championships at Paxton Park in Paducah this coming weekend with an 11:33 a.m. tee time on Saturday.
Sandwiched between those two events, he is currently playing in the AJGA Open in Alton, IL at the Olin Spencer Golf Course. Jay sits tied for 10th at even par, seven strokes off the lead heading into Thursday's final round of the three-day tournament.
The 2019 Kentucky Mr. Golf is currently ranked 24th in the nation in the class of 2021 and 85th overall by Junior Golf Scoreboard.
Golf is one of the few sports that has been able to resume play with restrictions in place, following event cancellations throughout March and April.
Jay was back on the course May 16-17 in a Hurricane Junior Golf Tour (HJGT) event at the UK Big Blue course in Lexington where he won medalist honors by seven strokes, finishing 8-under (66-70=136) for the tournament.
Jay followed up that win with a 16th place finish at +14 (81-73=230) among an elite field of players from across the US at the prestigious Dye Junior Invitational in Carmel, IN at Crooked Stick Golf Course.
June 1-2 at the Golfweek Junior Tour event at Elks Run Golf Club in Batavia, OH., Jay finished T7 at +4 (70-76=146) and from there headed to Greensboro, NC for the AJGA Invitational held at Sedgefield June 9-12. He finished T25 in a field of 75, finishing the three-day event at +8 (72-71-71=288), playing against another elite field from across the country.
Back home for bit, Jay played in Calvert City Country Club's Early Bird and finished T3 at 5-under par (70-69=139) and followed that up with a second place finish in the Sneds Tour at Windyke Country Club in Memphis June 17-18, shooting 7-under (65-72=137), just three strokes behind the winner.
Jay finished out the month of June at the Future Masters Tournament at Dothan Country Club in Dothan, AL. Among a large national field of 232 competitors, he finished T30 at +3 (67-74-72=213).
July began at the AJGA Open on the Otter Creek Golf Course in Columbus, IN where Jay finished T26, shooting 1-over (72-70-75=217) in the three-day event. Last week in the Kentucky Junior Amateur at Boone's Trace National Golf Club in Richmond, Jay finished T16 at +1 (73-72=145).
Following this weekend's Irvin Cobb Golf Championships, Jay's busy schedule doesn't let up with a few more major events lined up this summer including the AJGA Bass Pro Shop in Missouri, AJGA Justin Thomas in Goshen, Ky., The Southern Junior in Arkansas and Kentucky Amateur in Lexington.
The reigning Kentucky State Champion and future Mississippi State Bulldog will help lead the Marshall County High School team to a possible sixth straight trip to the KHSAA State Golf Championships this fall.