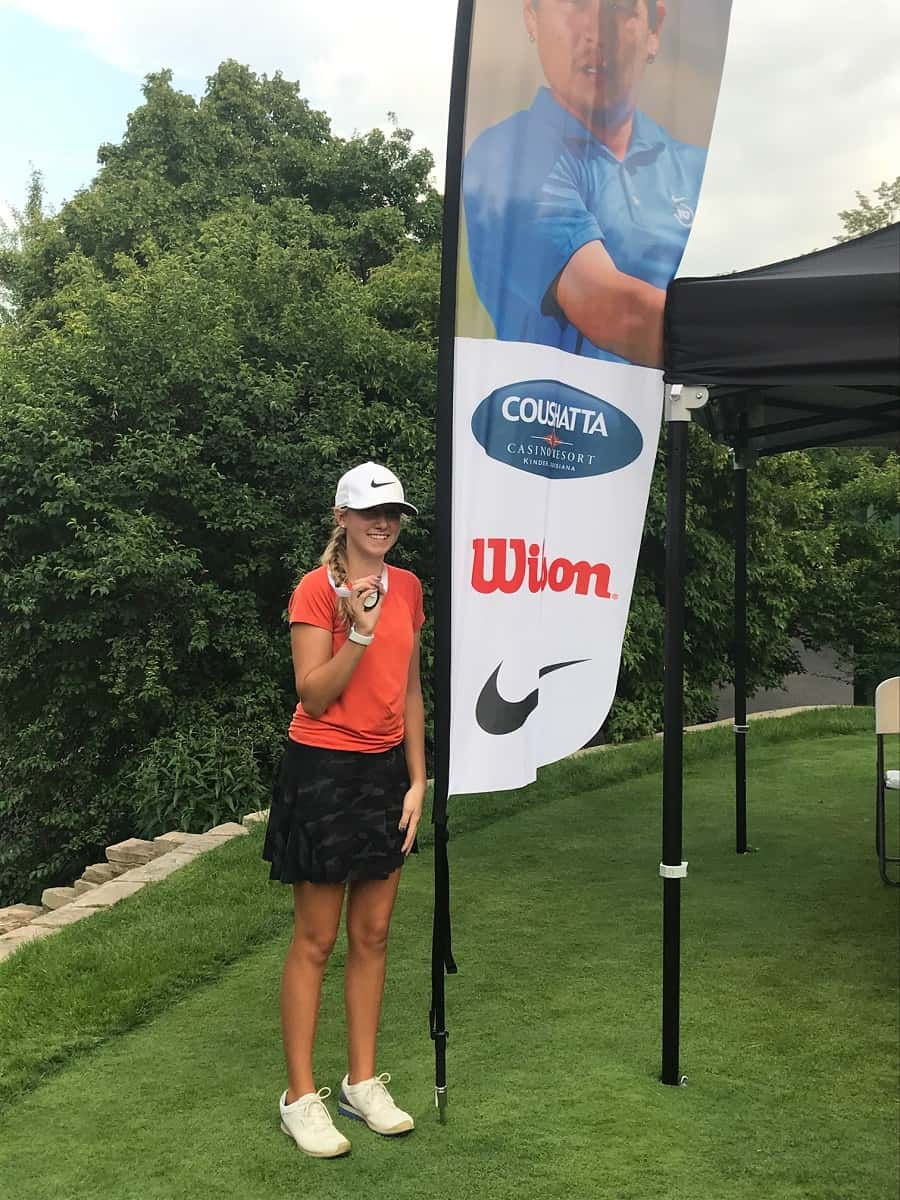 A first place finish for 13-year-old Trinity Beth (75-74) in the Hurricane Junior Golf Tour (HJGT) College Prep Tournament at Vanderbilt Feb. 29-Mar. 1, was followed by a halt in sports due to the current coronavirus pandemic.
As golf events were allowed to ramp up, Trinity picked right back up where she left off, with another first place finish on May 30-31 in the HJGT Ambassador Series at Weissinger Hills in Shelbyville, Ky, winning the 15-18 division (74-71).
That was the start of a really great summer so far in which she has placed in the top three of several events including a first place finish in the Notah Begay III Chicago Regional Qualifier July 6-7, one of 22 across the country. The win places her in the 3-day Notah Begay III Junior National Championship in November in Louisiana at Coushatta Resort and the final round will be televised live on the Golf Channel. Trinity claimed one of just 24 qualifying spots in her age group after a sudden death playoff in which she birdied the second playoff hole for the win (72-71).
Following her first place at Weissinger Hills, Trinity took third (75-72) in the Future Tour Championships in Greenville, Miss., 13-18 division. She followed that up with another third place finish (78-76) on June 13-14 in the HJGT Tennessee Junior Open at Champions Run in Rockvale, Tenn. in the 14-18 division.
Trinity finished second (72-72-75) in the 15-19 division June 26-28 in the Golfweek Junior Tour Championship held at Indian Ridge in Oxford, Ohio. She finished Championship Division runner-up (77-73) in the Kentucky Girls Junior PGA Championship held July 1-2 at the University Club in Arlington.
This past weekend, Trinity was medalist in the Kentucky PGA Junior Tour Marshall Strong Classic held at Calvert City Country Club., winning the Championship Division by seven strokes (72-76).
An incoming seventh grade student at North Marshall Middle School, Trinity will be member of the Marshall County High School girls golf team this season.
She will tee it up on Thursday and Friday in the Kentucky Girls Junior Amateur at Cherry Blossom in Georgetown before heading to Atlanta for an AJGA event.