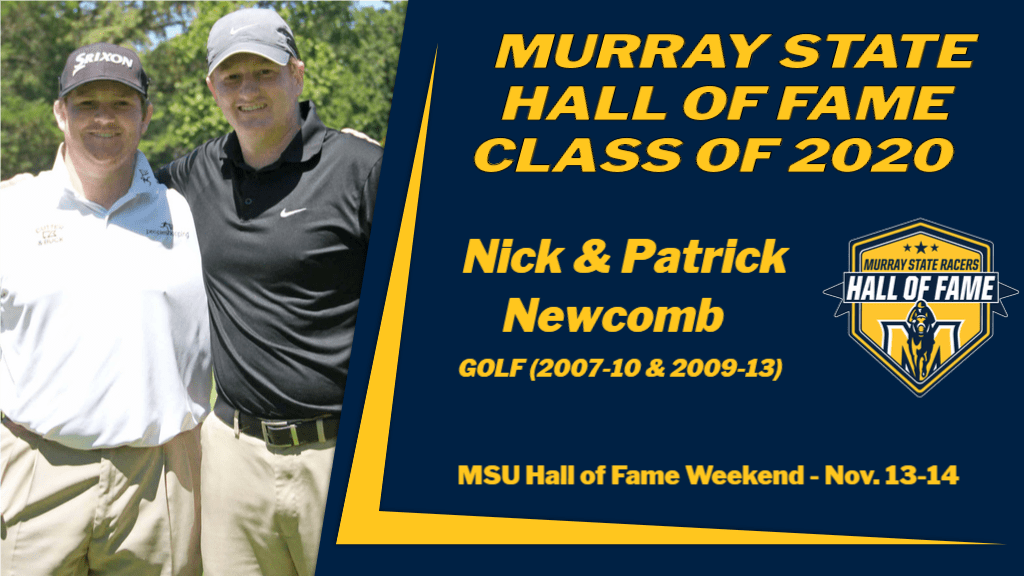 Murray State Athletics is proud to introduce the class of 2020 of the MSU Hall of Fame.
The 2020 class is being released in alphabetical order on GoRacers.com daily. So far, Murray State Baseball great John Beaton (1965-66), Jenna Bradley of softball (2010-11), Tara Isbell of soccer (2007-10), Coach Billy Kennedy of men's basketball (2006-11) and Jackie Mounts of women's basketball (1975-79) have been announced.
The sixth and seventh members of the 2020 class feature the first set of brothers, Nick and Patrick Newcomb, to be selected to the Murray State Hall of Fame.
Out of Benton, Kentucky, Nick Newcomb (2007-10) was the first to arrive at MSU to play for Coach Eddie Hunt in 2007. Patrick Newcomb (2009-13) joined the Racers when Nick was a senior. The Newcomb boys led the Racers to the 2010 Ohio Valley Conference championship along with teammates Cameron Carrico, Chris Griffin and Jared Wolfe. The Racers' dominant win of 18-shots, marked their first OVC title since 1991 and still the program's most recent championship.
After outstanding prep careers at Marshall County High School in Benton, Kentucky, the Newcomb brothers combined for 19 team wins and 11 individual titles at Murray State (three by Nick and eight by Patrick). Nick won the OVC Tournament individual championship twice (2008 & 2010) and Patrick won it once in 2013 after being runner up in 2012. They produced three OVC Golfer of the Year awards, Nick in 2010 and Patrick twice in 2012 and 2013.
Both played in the USGA United States Amateur with Patrick advancing to the quarterfinals in 2012. Nick played in the event in 2006 and the USGA PubLinks Amateur. Patrick won a pair of Kentucky State Amateur titles in 2011 and 2012. He also played in one NCAA Regional after he won the OVC championship in 2013.
The Newcomb's success in amateur golf led them into the world of professional golf where they still compete today.
They both began their pro journey in the Peach State Tour. In 2013, Nick finished in the top-10 of the money list and also played events on the Dakotas Tour. Patrick played in South Africa on the Sunshine Tour in 2015 and since played 44 events on the PGA Latinoamerica Tour where he won the Honduras Open in 2017. In 2011, Nick played in a pair of Nationwide Tour events and Patrick played in one in 2012 and also qualified for a pair of PGA Tour events, the McGladrey Classic and the Greenbrier Classic in 2014 and 2015. Patrick Newcomb won his first pro event in 2015 in Paducah, Kentucky at the Irvin Cobb Championship and added an additional Cobb title in 2016. Nick also claimed a Cobb championship in 2018.
"My reaction was great excitement and the thought that it's cool that my brother and I are going in together," Nick Newcomb said. "I figured it would happen and it's neat that it's together. I think MSU was a good perfect storm for me. I always thought my strength was my work ethic and Coach Hunt just let me be me and let me play and I thrived in that environment. Murray provided me the freedom to be the player that I could be. I loved playing for Eddie, He loves to win and so do I and he knew me very well and how to coach me. He's so good to his players."
"Obviously, I am very excited to go in with my brother," Patrick Newcomb said. "Nick and I were far enough apart growing up that I was the little brother and never really got to join him. So when Coach Hunt was recruiting me, Nick told me that we could do something special together if I'd come to Murray State. I became a Racer and played with Nick for that one season and we won a championship. He's been a huge part of my career and I can never thank him enough. This is big for our parents as well. Our dad, Monty, and mom, Melissa, are very excited and so are our grandparents."