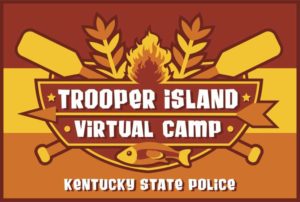 Ky. State Police Launch Virtual Kid's Camp Today
WHAT: Ky. State Police 'Virtual' Trooper Island Camp
WHEN: Tues., June 30, 2020 at 10:00 a.m. ET
WHERE: Trooper Island Facebook page at https://www.facebook.com/TrooperIslandCamp/ and/or the KSP YouTube channel https://www.youtube.com/user/kentuckystatepolice/
WHO: Virtual Camp is open to all kids across Kentucky and beyond. Trooper Island Camp staff will host video episodes geared toward children with additional activities they can do at home.
WHY: Trooper Island Camp was established in 1965 and has never missed a summer of hosting children at camp. Due to health concerns from the COVID-19 Pandemic, KSP chose to host a virtual format this year.
*Parents can register their children for camp at TrooperIsland.org.
Kids can earn a camp patch and certificate for completing all the camp episodes.